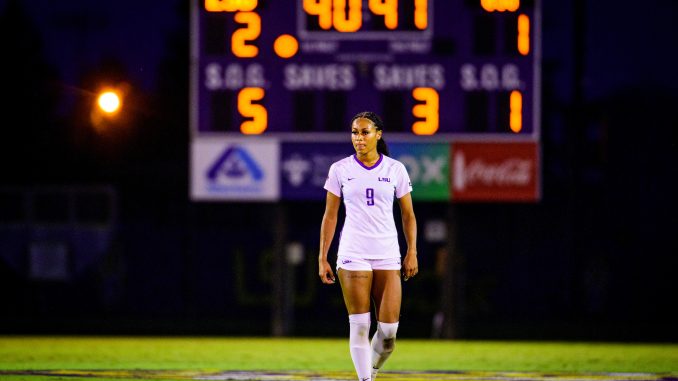 LSU's fourth-year soccer coach Sian Hudson identified it as the next logical step in her program's growth.
After winning 10 matches and reaching the second round of the NCAA Tournament in 2022, Hudson would like for the Tigers to advance another level and experience the Sweet 16.
With 22 letterwinners back, including eight returning starters, LSU opens its 2023 season at home at 6 p.m. Thursday against South Florida.

"Each year that I've been here we've shown the ability to take a step," Hudson said. "We want to be one of the best programs in the country and each year I think we've taken a step. This past season we went to the second round of the national tournament and maybe if we hadn't run into the defending national champions (Florida State) in the second round, maybe we would have ideally made the Sweet 16 last year. Each year I think it's about taking one step forward."
Hudson has guided LSU to 29 victories, navigating the program through a difficult winless COVID-19 campaign in 2020 to the second round of the NCAA Tournament last season. The Tigers scored a 3-1 first-round win over Lamar at home to advance to the second round, falling 4-1 to fourth-ranked and defending national champion Florida State.
LSU, which split exhibition matches with Denver (1-0 loss) and Air Force (2-1 win), embarks on '23 season with eight non-conference matches that begin with South Florida and Sunday's home match with Southern Mississippi at 4 p.m. The Tigers, who travel to Texas on Aug. 24 and host Southern on Aug. 27, begin Southeastern Conference play at Ole Miss on Sept. 15.
"One of our goals is to establish ourselves as one of the top two teams in the SEC West and make sure we're competing for a top spot," said Hudson, whose team was 4-2-4 in league play last season. "In the SEC Tournament we want to get to a final. That's really important. The SEC Tournament is a difficult week with so many games in a short period of time."
LSU graduated the heart of its defense in fifth-year senior center backs – first team All-SEC choice Lindsi Jennings and Shannon Cooke – the Tigers return veteran defenders in graduate student Maya Gordon and fifth-year senior Rami Noel.
Gordon started in 18 of 19 matches a year ago and combined on a back line for five shutouts. Noel started in 16 of 19 matches and scored a goal and added an assist.
They'll play in front of a familiar face in goalie Mollee Swift, a graduate student, who has positioned herself to be one of the program's best at her position. The native of Papillion, Nebraska ranks third in career saves (238) and wins (25) following a standout '22 season with 77 saves and five shutouts.
Hudson said she has three sophomores in Oklahoma transfer Hali Hartman, and returning letter winners Jocelyn Ollivierre and Laney Gonzales, that figure into the equation in the back line. Sophomore Raelyn Prince (2 goals, 2 assists) and junior Tori Gillis also factor in the team's depth in the midfield.
"They leave big shoes to fill," Hudson said of Jennings and Cooke, who are both playing professionally. "Mollee Swift coming back is huge for us and I expect big things from Mollee. Just having that experience in goal, I think we have one of the best ball-playing goalies in the country."
Gordon, a team captain this year, and Noel along with Swift are three of LSU's five players named to the SEC's preseason watch list along with sophomore midfielder Ida Hermannsdottir and senior forward Mollie Baker.
Hermannsdottir started in 16 of 21 matches in '22 and is part of a talented returning midfield. She led the Tigers with seven goals, ranking ninth in the SEC in goals per games (0.37), and had two game-winning goals against Grambling State and Vanderbilt. She was named to the SEC's Freshman team and was the state's Freshman of the Year.
Baker scored four goals and was second on the team with six assists. She had a team-high 17 shots on goal and delivered the game-winning goal against Kentucky and returning sophomores Sage Glover and graduate student Taylor Dobles (2 goals) are among the team's top frontline threats.
"Two years ago, we were in the first round and last year in the second round," Hudson said of the NCAA. "For us this year is about us taking take step to the Sweet 16."