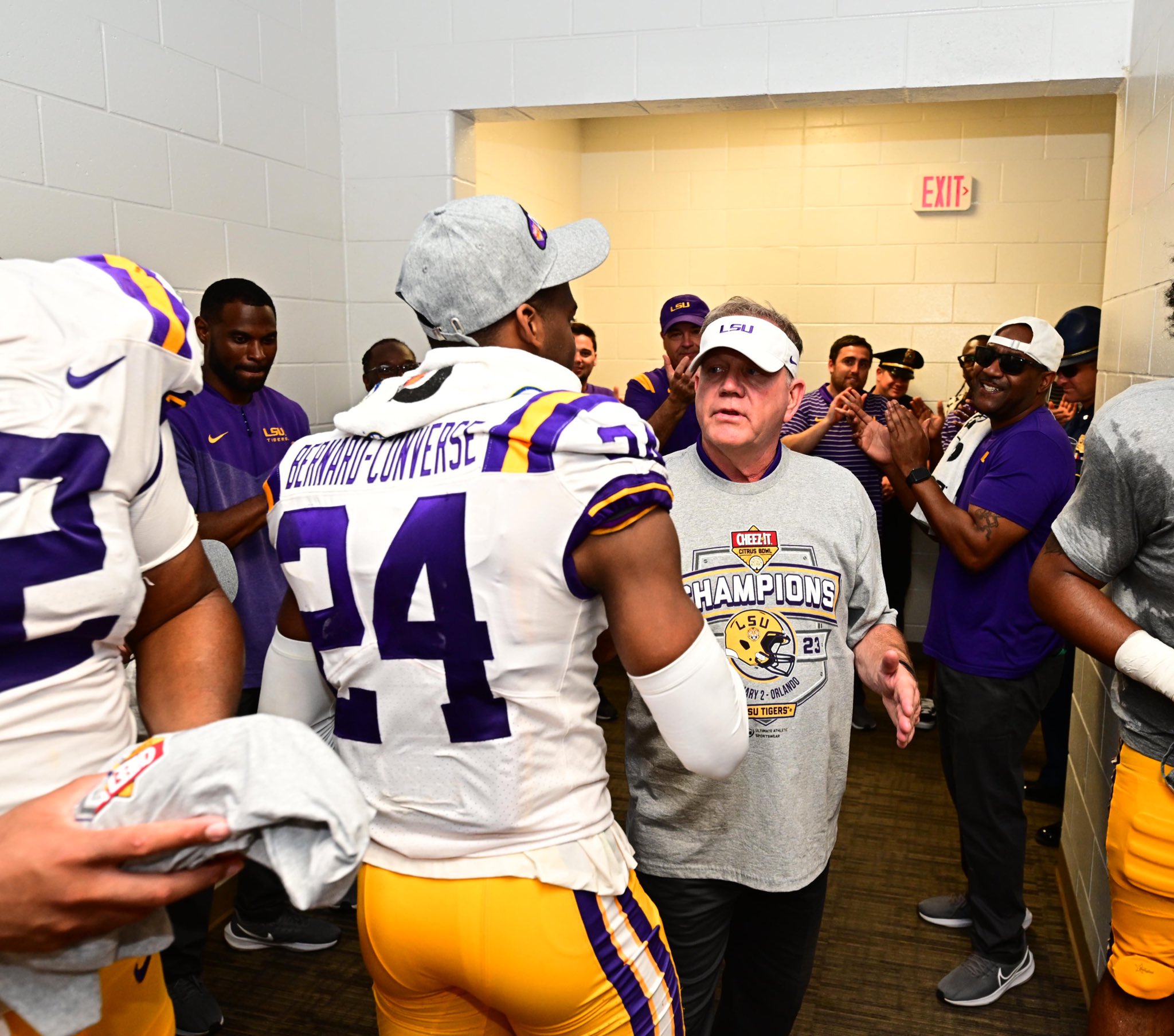 A lot can happen in one season. A lot did for the LSU football team.
It's hard to fathom the Tigers could go from one of the most frustrating losses in school history to perhaps its most magnificent bowl performance, excluding those that produced national championships.
It took LSU nearly three quarters to get its first touchdown of the season against Florida State, and then it scored with no time remaining to apparently tie the game, only to have its chance ripped away by failure to execute the game's easiest scoring play.
By the end of the season, LSU scored nine touchdowns to tie a bowl record for points in a 63-7 win over Purdue in the Citrus Bowl, and having more fun than even bowl games should allow.
The capper touchdown came on a 99-yard interception return by scout player Quad Wilson, son of LSU assistant Frank Wilson, who drew a penalty for running on the field to hug his son.
When was the last time you saw that? When was the last time you saw such a transformational season?
The record (10-4) won't make 2022 unforgettable but the way it happened will. It looks an awful lot like a stepping-stone to something greater.
"That carries on into next year," LSU coach Brian Kelly said. "They understand if they stick with their process and preparation, they're going to be a really good football team. We got that accomplished today."
LSU's season has been a rebuilding back from perhaps the most depleted bowl team to pull on a uniform in last year's ugly loss to Kansas State. With only 39 scholarship players and a new coach coming in, no one expected success to come so fast.
That was the genius in athletic director Scott Woodward hiring Kelly, easily the best coach available. It wasn't a sexy hire to say the least and a downright bad fit, which was the long-hanging fruit of adjectives for many sports writers at the time.
A young coach without Kelly's experience never could have managed what Kelly did. He's not going to win a coach of the year award, there are too many other coaches who have soared higher. But he should get votes in every one of those COY competitions.
His rebuilding job is nowhere near complete.
LSU suited up 65 scholarship players and even though it was facing a depleted Purdue team without its coach starting quarterback and two top receivers, it didn't have enough to flesh out a three-deep roster.
That's going to change when the next haul of transfers and freshmen hit campus. It's probably too much to expect a national championship next season, but LSU surely will be a contender for a playoff spot and a possible preseason top 10 ranking.
LSU, not Alabama, will return a highly productive starting quarterback and even losing receivers Kayshon Boutte and Jaray Jenkins and three-fourths of the defensive line, the team that faces Florida State in the Sept. 3 season opener in Orlando will be better than the one that lost in New Orleans in September.
As old school as Kelly is, he obviously realizes clamping down on his young players has its limits. He seems to have a feel for walking the hairline difference between discipline and trust. Don't grouse about lack of control when a seldom-used player goes coast to coast and his dad tops off the pile up.
Kelly wasn't even mad as his assistant.
"He's happy to take that 15-yard penalty," Kelly said.
A microcosm of the team's development is the growth of Citrus Bowl MVP Malik Nabers, who did things he hasn't done since playing in his backyard. He completed two passes, one a 5-yard scoring play to Jayden Daniels, for 50 yards and had nine catches for 163 yards and a TD.
In the opener, he had one of those games – two muffed punts that were recovered by Florida State – that makes a player want to crawl into a hole and hide, but he emerged as a supremely confident player who will take the mantle as the lead receiver next season as a junior.
The smartest thing Kelly did was alternate quarterbacks Daniels and Garrett Nussmeier in the bowl game while allowing freshman Walker Howard to play the final quarter. It's likely Nussmeier is going to leave with Daniels returning, but Kelly gave him a chance to show other teams what he can do while at the same time giving him a confidence boost if he wants to stay.
Kelly did quash any idea of a quarterback controversy: Daniels is still the starter and all three will likely show up for spring practice.
The big bowl victory was also a great recruiting advertisement.
LSU sure looked like a place to come and have fun while winning. There are a few more signatures that could vault the Tigers upward on national signing day and maybe entice some denizens of the transfer portal to give LSU a second look.
No one knows better than Kelly improving on 2022 will be harder than turning the ship around this year. LSU won't surprise anyone, and the back end of the roster will be young. The Tigers will need some freshmen to step up and play.
But they won't need a miracle to win 10 games – or more.