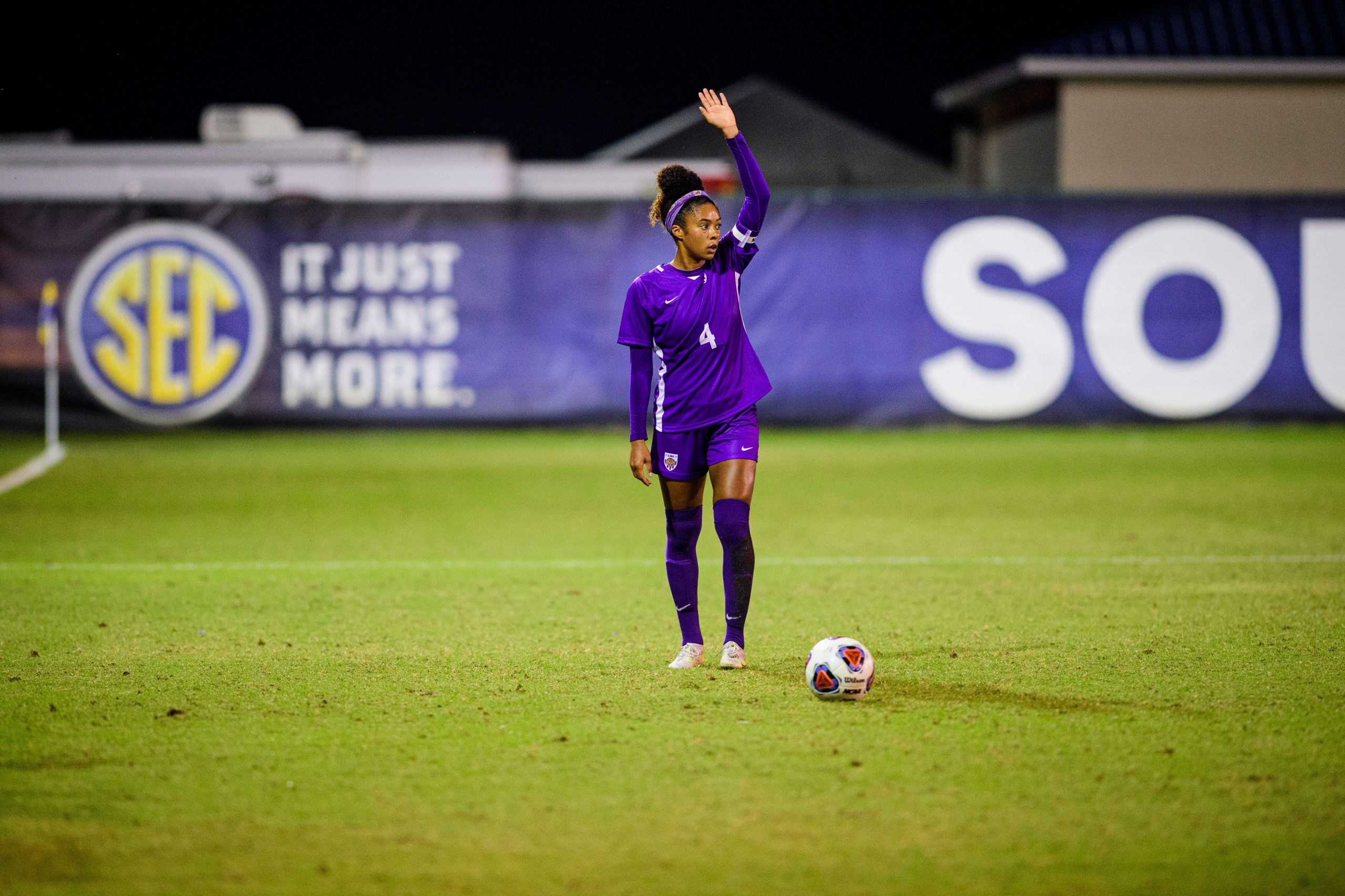 By all accounts Chiara Ritchie-Williams was incredibly behind in the recruiting process. By soccer standards, she was approaching the 90th minute and headed for overtime.
Former LSU soccer coach Brian Lee was in London on a recruiting trip, checking in on a friendly match in March 2017. Two of his commitments – Shannon Cooke and Tinaya Alexander – were playing for an Arsenal Ladies youth team, along with Ritchie-Williams, against an Olympic Development Program team with future LSU players Taylor Dobles and Maya Gordon.
Afterward, Alexander approached Lee and asked him to speak with Ritchie-Williams.
"I guess he might have been slightly impressed by what he saw," Ritchie-Williams said.
A week later Ritchie-Williams and her father Colin met with Lee, who was still in England, and a month later she signed with the Tigers without ever having left her hometown of London and stepped foot on the campus in Baton Rouge.
"It was crazy," said Ritchie-Williams, a member of England's U19 National team. "I started the process incredibly late. I had a few options in San Diego and New York and was also looking at South Carolina and I thought it was fate. I did a Skype tour and was impressed with what I saw. I also kind of trusted Tinaya and Shannon. I had to take this opportunity and it was the best decision I ever made."
Five years later, Ritchie-Williams is regarded as one of LSU's most respected players, one who will have her economics degree in December (she's a three-time member of the SEC's Academic Honor Roll), yet remains hopeful of realizing her dream of playing professional soccer.
"All of her teammates and coaches love who she is as a person and what you get on the field is absolute heart and determination. … everything she's got," LSU soccer coach Sian Hudson said. "She'll probably go down as a legend at LSU and I truly hope we can have a good NCAA run and see her off in style."
Ritchie-Williams is among a group of seven players that began their careers at LSU by taking part in NCAA play and will finish in postseason play when the Tigers (11-7-1) travel to Memphis (13-4-2) in a first-round match at 1 p.m. Sunday.
It's a fitting conclusion for a transcendent player such as Ritchie-Williams that's literally never left the field – err pitch – since her arrival in 2017.
She'll leave as the school's career leader in games played (96), games started (93) and an even more impressive minutes played with 8,417 for an average of 87.7 per game.
"I took it as an opportunity, and it was something where I didn't want to have any regrets with," Ritchie-Williams said. "You have to perform on the field, and I'd like to think I do that fairly consistently. It's just a mentality where I play each game like it's my last and to provide what I can for the team at a given moment and leave everything on the field."
During her career, Ritchie-Williams has shown that her durability is a close second to her versatility. After arriving at LSU with a primary background as a center back, she learned to adapt and thrive where under three different head coaches where she played in the midfield – earning All-SEC second team laurels as a freshman – center back and doing both in the same season under Hudson a year ago.
Ritchie-Williams has served this year as a holding midfielder where her leadership and communication remain two of her greatest attributes.
"She's the ultimate team player," Hudson said. "She goes about her job without any fuss. She gives her absolute best on the field. For her team she leads by example in everything she does on and off the field. She's always taking care of her teammates, making sure she puts an arm around someone's shoulders when people are upset, and she can motivate."
Hudson said Ritchie-Williams was at her best during the team's most pivotal moment of the season when LSU upset No. 4 Arkansas in the regular-season finale to not only reach the SEC tournament but remain in contention for the NCAA tournament as well.
Ritchie-Williams played defensive center-midfield, served as a box-to-box midfielder and when Lindsi Jennings went down with an injury, she took over at right back.
She's more than lived up to her role as the team's primary captain (Cooke and Maddie Moreau are also captains), with a band she wears on her sleeve with immense pride.
"My role has developed as a leader," she said. "I think if you would have asked me two years ago, I would have probably shied away in moments of adversity. It was something I had to learn and get better at and Sian helped me with that. It's not in my character to be the loudest or the biggest voice in the room but it's something I've grown to learn and a skill I have now."
Ritchie-Williams has been at the heart of trying to facilitate her team's offense, especially on counter attacks, where on defense she tries to clog the central part of the field and neutralize the opponent in their final third of the field. Her organization and interaction with teammates are vital in helping to defend set pieces that often provide the difference between winning and losing.
One thing that's remained elusive over her nearly 8,500 minutes of playing time that spans 96 games is that Ritchie-Williams has never scored in a goal in college. She's picked up two assists – one her freshman year and one this season – but in 35 career shots, including 12 on frame, she's never experienced the euphoria associated with scoring a goal.
"It's killing me because I get asked about it every day," she said with a smile. "I'm working on it. One day when everything goes well …. That's something I'm looking to add to the books soon."