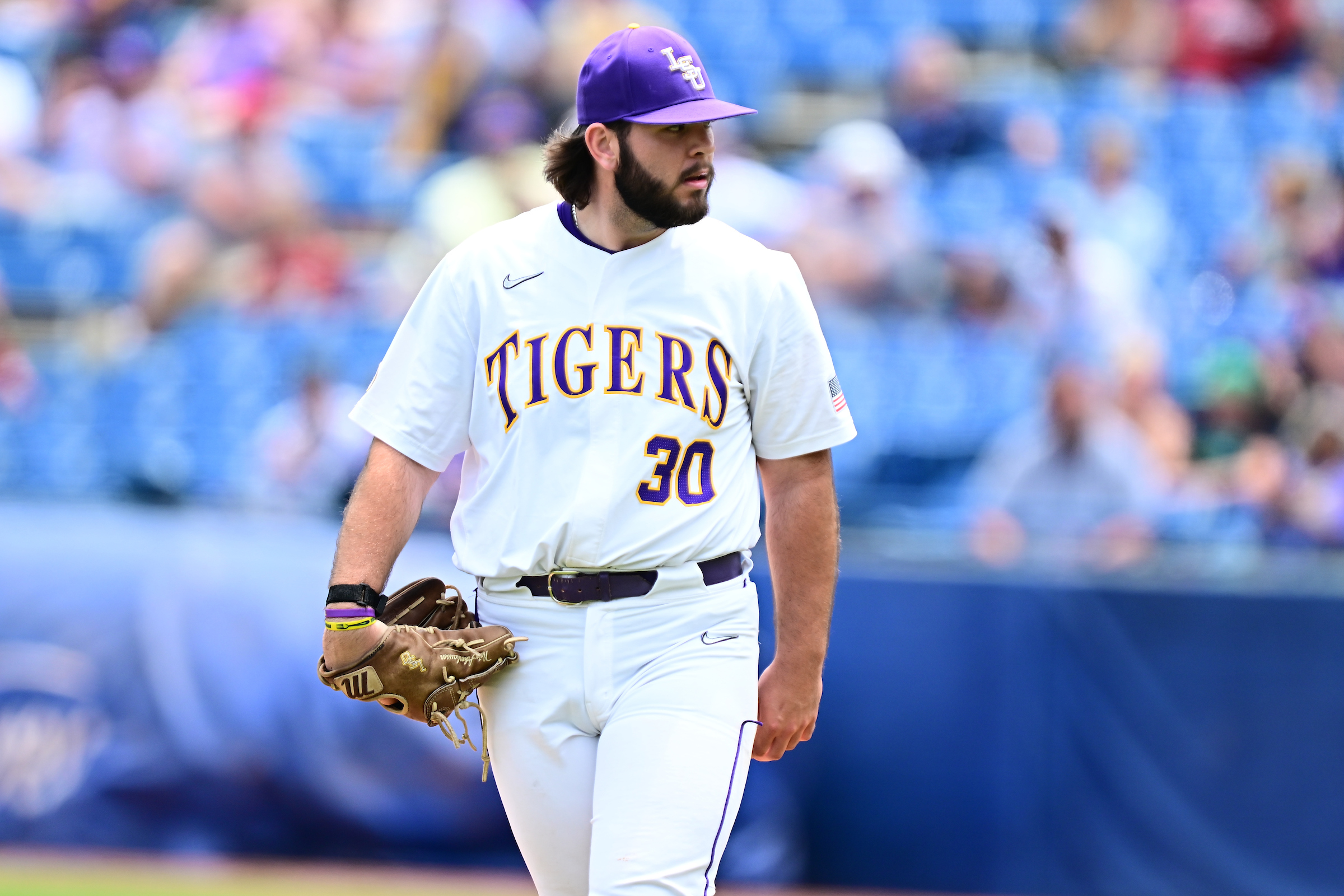 LSU had just taken a 6-1 lead over South Carolina in the bottom of the fifth in Wednesday's opener of the Southeastern Conference Baseball Tournament.
The Gamecocks tried to make up the difference in the top of the sixth, scoring on a bases-loaded walk when Tigers' coach Jay Johnson summoned reliever Nate Ackenhausen from the bullpen.
Fellow reliever Sam Dutton was unable to restore order in relief of starter Thatcher Hurd with a run-producing walk to Talmadge LeCroy with one out, opening the door for Ackenhausen to come in with the bases loaded and the tying run at the plate.
Not only did Ackenhausen, a junior college signee from East Oklahoma State College, get left-handed batting Gavin Gases looking at strike three for the second out, but was able to get Will Tippett to ground back to the mound.
Ackenhausen went on to pick up his first save since the second game of the season with his longest outing of the season – 3.2 innings of scoreless relief – to help LSU remain in the winners' bracket of the SEC Tournament with a 10-3 victory at Hoover Metropolitan Stadium.
"I've always been confident," Hurd said. "It's just about surrendering the results to the process and just build off every outing. You can learn a lot from failure, and you learn from success. So, keep building off it. But I've always been confident."
The Tigers (42-13) advance to Thursday's game against Arkansas at 4:30 p.m.
The performance of Hurd (4-2) and Ackenhausen went a long way in the success of the Tigers. The duo allowed three runs on five hits with five walks and 10 strikeouts.
"So, he's been a part of eight wins in the decision," LSU baseball coach Jay Johnson said of Hurd. "I think it's shortsighted to not look at the success that he's had, and we put him in and left him in at Georgia because he had the stuff to get us through a really good lineup. That's a really good lineup that was scoring a lot of runs early. He's executing at a high level. And when you've got a guy like Paul (Skenes) doing what Paul's doing, it can distract a little bit, but he's had a great season, and looking forward to more out of that from him."
Hurd, who last pitched 5.0 innings in a relief effort at Georgia last week, went 5.1 innings for his longest outing since throwing six innings in a 11-0 victory against Butler on March 6.
In that outing, Hurd allowed a pair of ninth-inning home runs in relief that tied the game before LSU won 8-5 in 12 innings.
"Yeah, I thought I was able to command the fastball," Hurd said. "I was trying to go right at them, throw it right over the white. Best way to do it."
Hurd made his 10th start of the season, bringing in a hefty 6.59 ERA, but retired the first 12 batters he faced and was bolstered by a 2-0 lead. He lost his no-hit bid in the top of the fifth on Ethan Petry's solo homer – his 22nd of the season and his third in three games against the Tigers.
LSU increased its lead with four runs in the fifth to make it 6-1 when Hurd was replaced after one out in the inning after a bases-loaded walk to Petry. He threw 56 of 100 pitches for strikes, walking two and striking out four.
For Hurd, who had a 21.17 ERA in three SEC outings earlier this season, it was an extremely positive outing.
Hurd gave an assist to the team's ace Paul Skenes for borrowing his glove after his own broke.
"I've been using Paul's hand-me-down," he said. "And it's got good mojo, so I'm going to keep rolling with it."
Dutton walked LeCroy on a full-count offering, reducing LSU's lead to 6-3, when the 6-foot-2, 240-pound Ackenhausen came in to get the final two outs and left the bases loaded, getting his team out of further trouble.
"It was really great to see him deliver, and then I thought he got stronger as the game went along," Johnson said. "He was fresh. He was ready today. And I mentioned that plan that we had coming into the week. Using him today was a big part of that, and really proud of how Nate performed."
LSU extended its lead with two runs in both the sixth and seventh innings and Ackenhausen retired South Carolina in order in the eighth. He pitched around two of his three walks, getting his sixth strikeout and a pop up to Ben Nippolt at second base to finish the game.
"That's what he does," Hurd said of Ackenhausen said. "He came in, suffocated the strike zone, picked me up in a big way, picked us up in a big way. That was awesome, and that's what he's done all year."