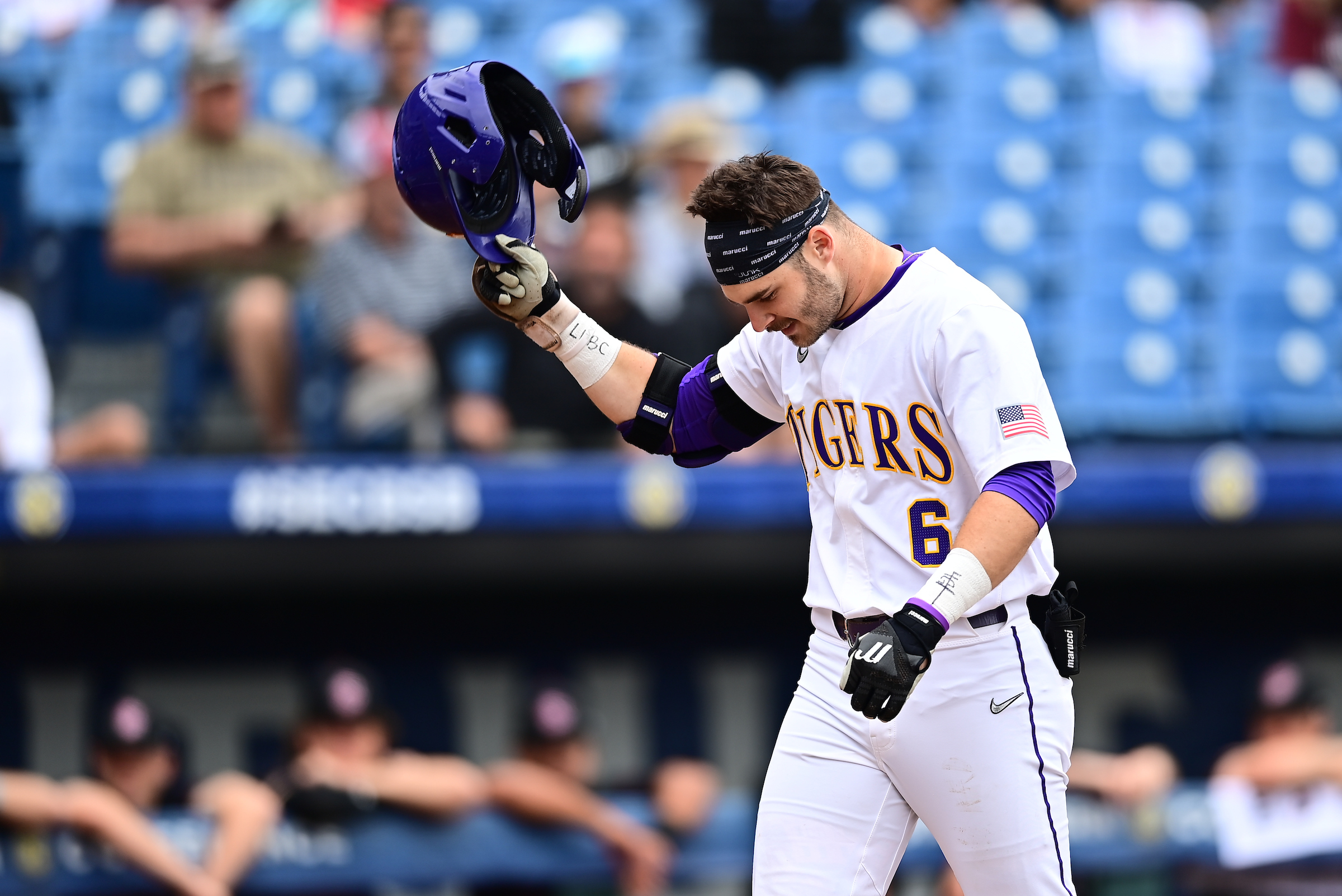 No. 3 seed LSU pounded out 12 hits and Thatcher Hurd combined with Nate Ackenhausen to throttle one of the nation's most potent offenses as the Tigers dominated No. 6 seed South Carolina, 10-3, in a second-round game of the SEC Baseball Tournament on Wednesday at the Hoover Met.
Four different LSU hitters had multiple hits, including two apiece by Dylan Crews, Josh Pearson, Tommy White and Brayden Jobert, whose two-run homer in the second inning started the offensive onslaught.
Hurd (4-2) pitched 5.1 innings and gave up three runs on four hits while striking out three and walking two. Hurd retired the first 12 batters in order through the first four innings before giving up his first hit in the fifth. He threw a total of 100 pitches, his high for the season.
LSU (43-13) moves on to the third round of the tournament Thursday against Arkansas at 4:30 p.m., while South Carolina (39-18) moves into the loser's bracket of double-elimination portion of the event.
LSU, ranked No. 5 nationally, appeared to break open a close game with a four-run fifth inning. Jobert, Gavin Dugas and Crews led off the inning with consecutive singles, loading the bases. Pearson and White both walked, forcing in two runs, and then sacrifice flies by Tre' Morgan and Hayden Travinski brought in two more.
The outburst stretched LSU's lead from 2-1 to 6-1.
"Offensively, we did a little bit of everything we do pretty well today," LSU coach Jay Johnson said. "We're excited to get to tomorrow's game after getting this one under our belt."
But after the Tigers sent 10 men to the plate in the bottom of the fifth, the Gamecocks came right back in the top of the sixth, sending nine batters to the plate, scoring a pair of runs to cut it to 6-3, and driving Hurd from the game.
LSU's offense kept pouring it on, however, to eventually put it well out of South Carolina's reach.
"It was a really good performance by our team," Johnson said. "It starts with Thatcher. Great start. Had command of all his pitches. Really got himself reset when he got into any type of trouble, whether it was the count or runners on base, and he did a terrific job. We played a very clean game defensively, and when your pitcher pitches like that, it makes it much easier to do that."
Left-hander Nate Ackenhausen was brilliant in relief for LSU, earning his second save of the year after pitching the final 3.2 innings and allowing no runs on one hit with three walks and six strikeouts.
"With Nate, we didn't have him for a while this season (due to injury)," Johnson said. "Of all the games he's pitched in, we've only lost one time when he's pitched. So he's a key part of the staff. I was really proud of him and how he executed today."
South Carolina starting pitcher Eli Jones (4-5) was charged with the loss, as he allowed four runs on five hits in 4.0 innings with one walk and three strikeouts.
The Tigers scored two more runs in their half of the sixth, with Morgan and Travinski producing RBI singles that stretched their lead back to 8-3. Then they added two more insurance runs in the next inning, effectively sealing the deal.
LSU opened the scoring in the bottom of the second when, with two outs, Jordan Thompson walked and Jobert followed with a towering two-run homer that traveled clear out of the park over everything in right field. It was Jobert's 10th home run of the season.
That 2-0 lead held until the top of the fifth when South Carolina's Ethan Petry led off by launching a towering home run, his 22nd of the season, over the wall in left-center, making it 2-1.
The Tigers nonetheless got a decent performance on the mound from starter Hurd, a transfer from UCLA who entered the game with a 6.59 ERA for the season. He had a no-hitter going through the first four innings before giving up the homer to Petry and then struggling with his command an inning later when he was driven from the game after walking in a run. But even that came after a nine-pitch battle with the formidable Petry.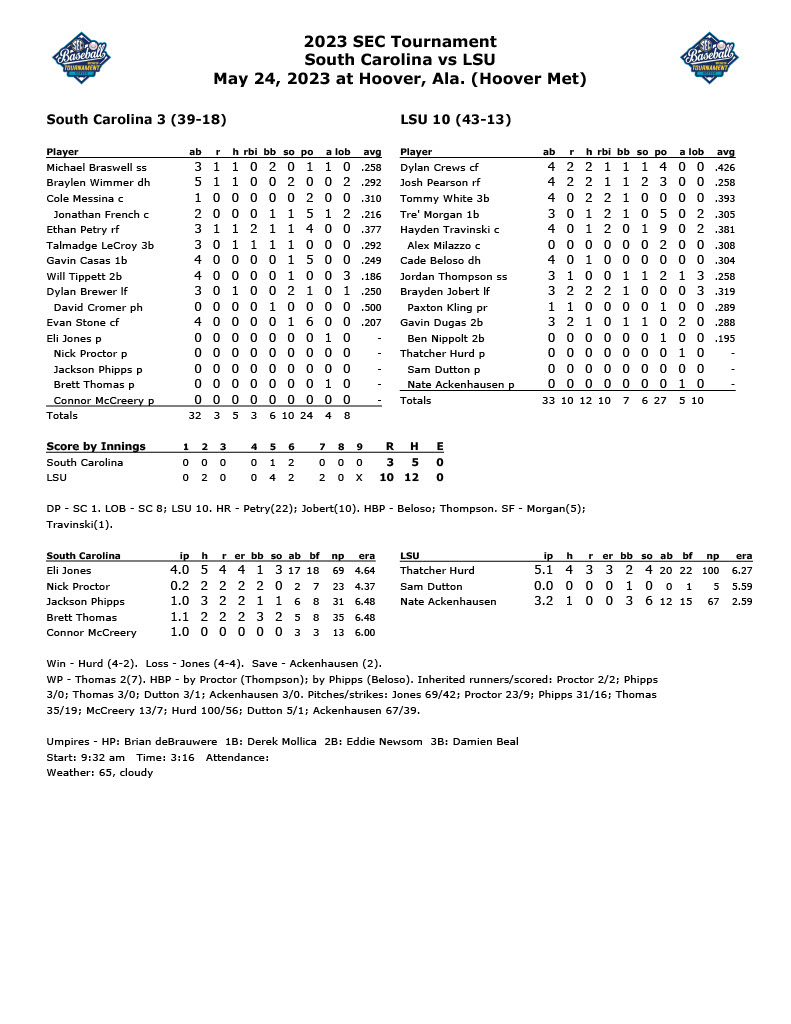 HOW IT HAPPENED
B2 | With two outs, LSU's Jordan Thompson walked. Jobert followed with a two-run homer. LSU 2, South Carolina 0.
T5 | South Carolina's Ethan Petry led off the inning with a solo home run to left field. LSU 2, South Carolina 1.
B5 | Jobert, Dugas and Crews singled to open the inning, loading the bases. Josh Pearson walked, scoring Jobert. Tommy White walked, scoring Dugas. Tre' Morgan's sacrifice fly scored Crews and advanced Pearson to third. Hayden Travinski's sac fly scored Pearson. LSU 6, South Carolina 1.
T6 | With one out, Braswell and Wimmer singled and French walked, loading the bases. After a nine-pitch at-bat, Petry walked, scored Braswell. LSU replaced starter Hurd with reliever Sam Dutton, who walked Talmadge LeCroy, scoring Wimmer. LSU 6, South Carolina 3.
B6 | With one out, Crews walked. Pearson singled, advancing Crews to second. White flied out to right, advancing Crews to third. Morgan singled up the middle, scoring Crews. Travinski singled through the left side, scoring Pearson. LSU 8, South Carolina 3.
B7 | Jobert walked to start the inning. Paxton Kling pinch ran for Jobert and advanced to second and then third on consecutive wild pitches. Dugas walked. Crews singled to center, scoring Kling and advancing Dugas to second. One out later, White singled to right-center, scoring Dugas. LSU 10, South Carolina 3.
Served Up Fresh 🍳 https://t.co/CgBXFjhM2I

— LSU Baseball (@LSUbaseball) May 24, 2023