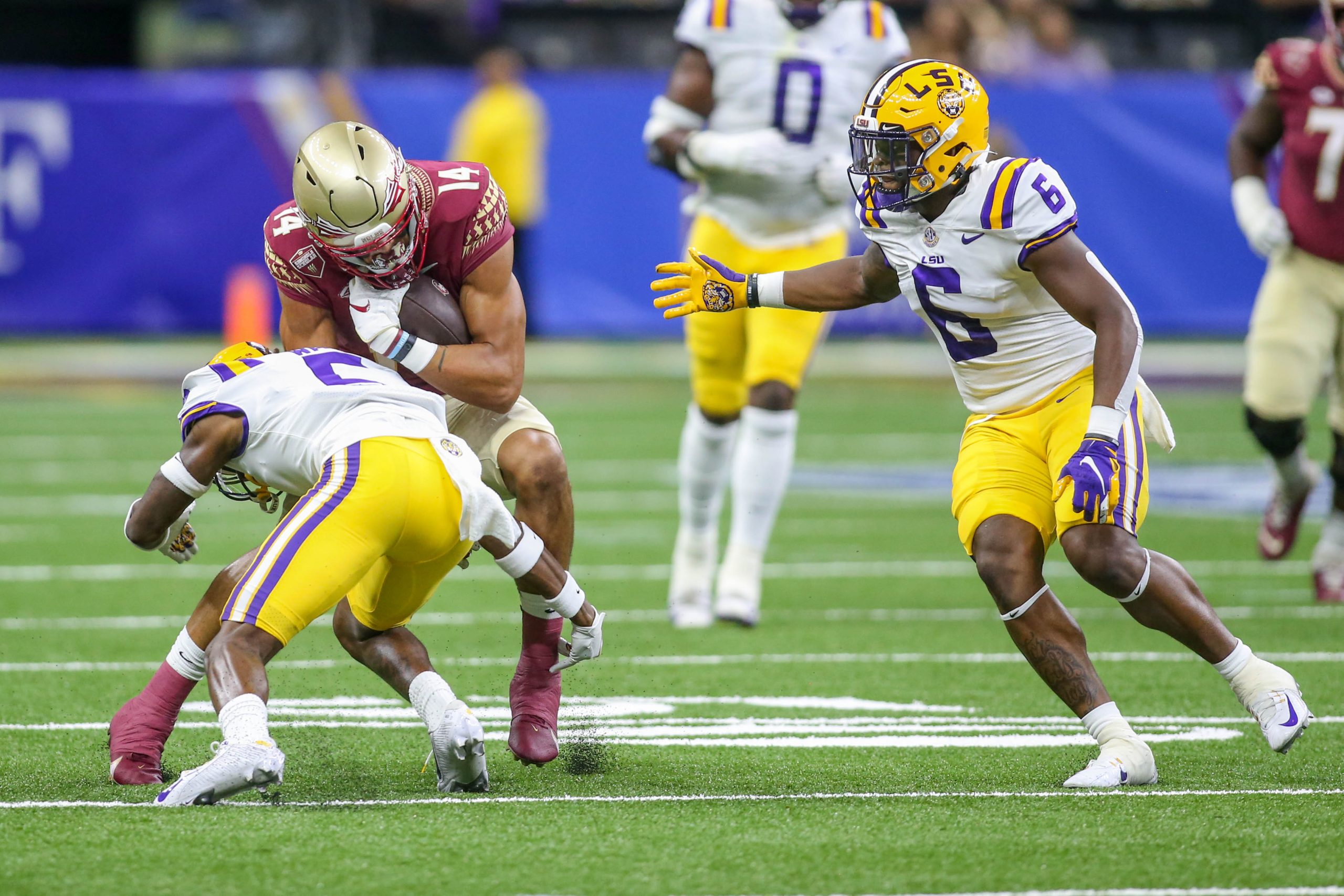 It's supposed to be why talented defensive backs go to LSU. For the tradition of DBU and what it takes to uphold that position's level of play.
With LSU (1-1) hosting Mississippi State (2-0) in the Southeastern Conference opener for both teams at 5 p.m. Saturday, it's games like these with opponents with a reputation for moving the ball through the air that have transfer cornerback Mehki Garner excited.
The game will be televised by ESPN and aired locally by 98.1-FM.
"Opportunities like this," Garner said of reputation LSU's secondary looks to defend. "When we have weekends and teams like this. It's a straight Air Raid. This is how we show we are the best secondary there is in the nation. It actually pushes me to go harder. The standard is the standard."
Quarterback Will Rogers leads the SEC in passing with 763 yards and nine touchdowns and triggers a Mississippi State offense that ranks second in the league in passing (385.0), third in scoring (44.0) and fourth in total offense (486.5).
But there's more to the Bulldogs' offense than just Rogers throwing to an array of wide receivers. They're adept at running the ball with backs Jo'quavious Marks and Dillon Johnson as well as catching the ball out of the backfield, combining for 2,787 total yards the previous two seasons.
"Slowing it down is really about the fundamentals of football," LSU football coach Brian Kelly said. "I've used this analogy, and maybe some might not think it's a very good one, but it fits for me and the way my brain works. It's really like going against the triple option. The phases of it are such that they run it so well. From a defensive perspective, you have to be so good at your assignments first and foremost.
"And then you've got to tackle, you got to fight for every yard," Kelly said. "And if you try to get too cute, or try to come up with schemes, they've seen it all. Mike's (Leach) seen it everywhere. He's been running this longer than anybody else. Play sound and fundamental defense tackle. Try to get Will Rogers off his spot. If he is just comfortable in a three-man rush all day, it's easy for him. He's obviously leading the SEC in passing yards per game for a reason because he's efficient. He doesn't get rattled. And you know, he's got to take what you give him and so the best way I would characterize him is disciplined. And he's a highly efficient quarterback in terms of percentage and very accurate and throwing the football."
Rogers has completed 78% of his passes (77 of 98) and has spread the ball around from Johnson (12-73) to wide receivers Rufus Harvey (11-115-TD), 6-foot-5 senior Caleb Ducking (10-129-3 TDs) and 6-2 sophomore Rara Harvey (11-115-TD).
This marks the second trip to Tiger Stadium for Leach who led a 44-34 upset of then defending national champion LSU in 2020. Quarterback K.J. Costello passed for an SEC record 623 yards and five touchdowns and LSU became the first reigning national champion to lose its opening game since 1998.
"They all have their unique environments, traditions and things like that and obviously Tiger Stadium is one of most unique and exciting and one of the best," Leach said. "We're definitely looking forward to playing there."
LSU will have an all-hands-on-deck approach in the secondary.
Kelly said after Thursday's practice that he expects to have transfer cornerbacks Sevyn Banks of Ohio State and Colby Richardson of McNeese State available to be part of the team's rotation. Oklahoma State transfer Jarrick Bernard-Converse and Garner provide experience at the opposite corner position, but the Tigers also have experience at safety in Major Burns and Greg Brooks and nickel Jay Ward and Sage Ryan.
"If you play too much man, if you play too much three-man rush, if you try to be one dimensional defensively, that's where you get in trouble," Kelly said. "This is really about trying to change up your looks so they don't see the same thing every time. But they're going to run what they run. They just run it better than you can defend it in three days of preparation. I know you're going to get sick of the triple option analogy but it's so true of the Air Raid concept. They run it better than you can defend it in three days. So, you better tackle. You better have a really good plan on some of the things that they really like to do, or you're going to get exposed."

Kelly also said that senior John Emery Jr. will make his 2022 debut after a two-game suspension. The former Destrehan High standout missed all of 2021 because of academics and will be part of a running back rotation led by Armoni Goodwin (17-99-2 TDs) and Penn State transfer Noah Cain (17-74-2 TDs).
Arizona State transfer Jayden Daniels will start his third game at quarterback and has combined for 478 yards and six touchdowns. He's the team's leading rusher with 19 carries for 132 yards and a touchdown and has completed 77% of his passes (35 of 45) for 346 yards and five TDs.
"Everyone is important," LSU defensive end Sai'vion Jones said. "The other weeks are behind us. It's time to move onto SEC week. We need to up our game more than it was before."