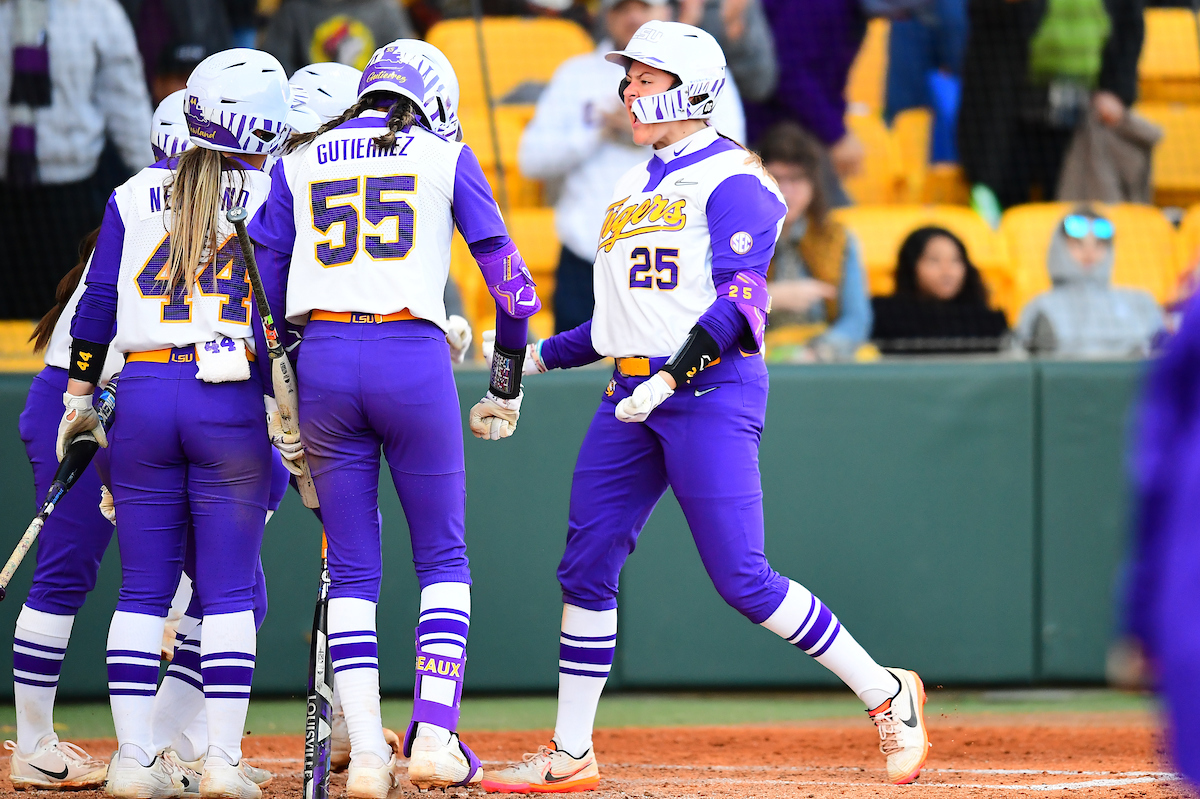 LSU graduate student Georgia Clark's seen it before. A team that may have been unable to live up to expectations during the regular season catches fire in the postseason and rides that momentum as far as it can take them.
Clark witnessed such an example in 2019 when as a freshman, Florida became reinvigorated enough to capture the Southeastern Conference Tournament championship and rode that wave all the way to the Women's College World Series.
Although she stopped short of making such a prediction, Clark's optimistic about her team's chances entering this year's SEC Tournament on heels of a series win over then No. 10 Georgia to close out the regular season. The No. 14 and sixth-seeded Tigers (40-14) open play at 10 a.m. Wednesday in the single-elimination event against No. 11 Ole Miss (29-25) at Arkansas' Bogle Park in Fayetteville, Arkansas.
The game will be televised by the SEC Network and carried locally by 107.3-FM.
"Some of the most successful teams maybe didn't have the regular season that they wanted but knew the (SEC) tournament was their time to turn it on," Clark said. "My freshman year, Florida was kind of on the bubble and then they just completely went on a tear and made it to the World Series. Doing things like that can accelerate you as a team.
"It's bonus games that we're going to be able to go out and have fun and kind of prove to the (NCAA selection) committee that we should get to host a Regional and maybe potentially host a Super Regional," Clark added. "It's really important for us to go out there and show off who LSU softball is."
LSU opened its final series with a 3-1 setback against Georgia and because of rain, was forced to play a doubleheader Sunday which the Tigers responded with victories of 2-1 and 9-1, respectively.
Not only does LSU have 40 wins, but the Tigers also improved their RPI to No. 6 nationally and can further solidify their NCAA postseason plans to host a NCAA regional with a favorable performance in the SEC Tournament. An opening-round win would advance the Tigers to Thursday against third-seeded Auburn which received a first-round bye at 10 a.m.
"It's about continuing the one-pitch mentality," LSU softball coach Beth Torina said. "Just keeping that one pitch, the one at bat, the next play kind of mentality. If you get too far ahead of yourself, you get in trouble. We have to take on Ole Miss at 10 a.m. and worry about the next pitch after that."
Torina didn't discount the lift Sunday's doubleheader sweep gave her team.
"It was a good day for our program. It was as good a day as you could have asked for," Torina said. "Beating a team that's as talented as Georgia just helped us in every possible way. From RPI, rankings, confidence …. We got all of that Sunday."
LSU remains the SEC's most successful program in the SEC Tournament with 45 wins but has been knocked out of the first round of the event in two of the past three years.
The Tigers last reached the league's championship game in 2017 and last won the event in 2007.
It's been six weeks since LSU last faced Ole Miss, taking that series 2-1 in Oxford, Mississippi on the strength of back-to-back pitching performances of freshman Sydney Berzon. After the Rebels took advantage of three errors and defeated staff ace Ali Kilponen 5-1 in the first game, Berzon picked up consecutive complete-game victories, allowing one run on eight hits with 13 strikeouts.
"She had a really good weekend. She was excellent and able to keep them off balance," Torina said of Berzon. "She has continued to grow since then. She's definitely an option for us albeit Game 1, Game 2, wherever we use her. I know you're going to see her coming up."
Kilponen (13-6, 2.12 ERA, 108 Ks) had a dominant three-hit showing in Sunday's 2-1 victory over Georgia with seven strikeouts. Berzon (13-7, 1.34, 114 Ks) is part of a staff with the league's fourth-best earned run average of 1.97.
LSU put together the SEC's third-best batting average (.314) and tied for first in fielding percentage (.978).
Junior third baseman Danieca Coffey tops the Tigers with a .395 average, two homers and 23 RBIs and junior center fielder Ciara Briggs is next at .354 with two homers and 21 RBIs.
Junior catcher Ali Newland, the league's reigning Player of the Week, is batting .336 with five homers and 34 RBIs. Junior shortstop Taylor Pleasants, who didn't play in the first game against Ole Miss, has a .333 average with eight homers and a team-high 46 RBIs followed by Clark at .304 with a team-best 12 homers and 41 RBIs.
Ole Miss, which has lost six of its last eight games, is led by senior left fielder Tate Whitley (.323, 7 RBIs) and senior transfer second baseman Keila Kamoku (.301, 7 HRs, 22 RBIs). The Rebels top two pitchers are junior Aynslie Furbush (8-6, 2.14 ERA, 53 Ks) and sophomore Catelyn Riley (6-5, 2.49, 51 Ks) with Riley getting te 5-1 win over the Tigers.
"I think the team is peaking at the right time," Clark said. "Sometimes we've kind of back slid at the end of the regular season. For us having this momentum is huge, to capitalize on it moving forward."