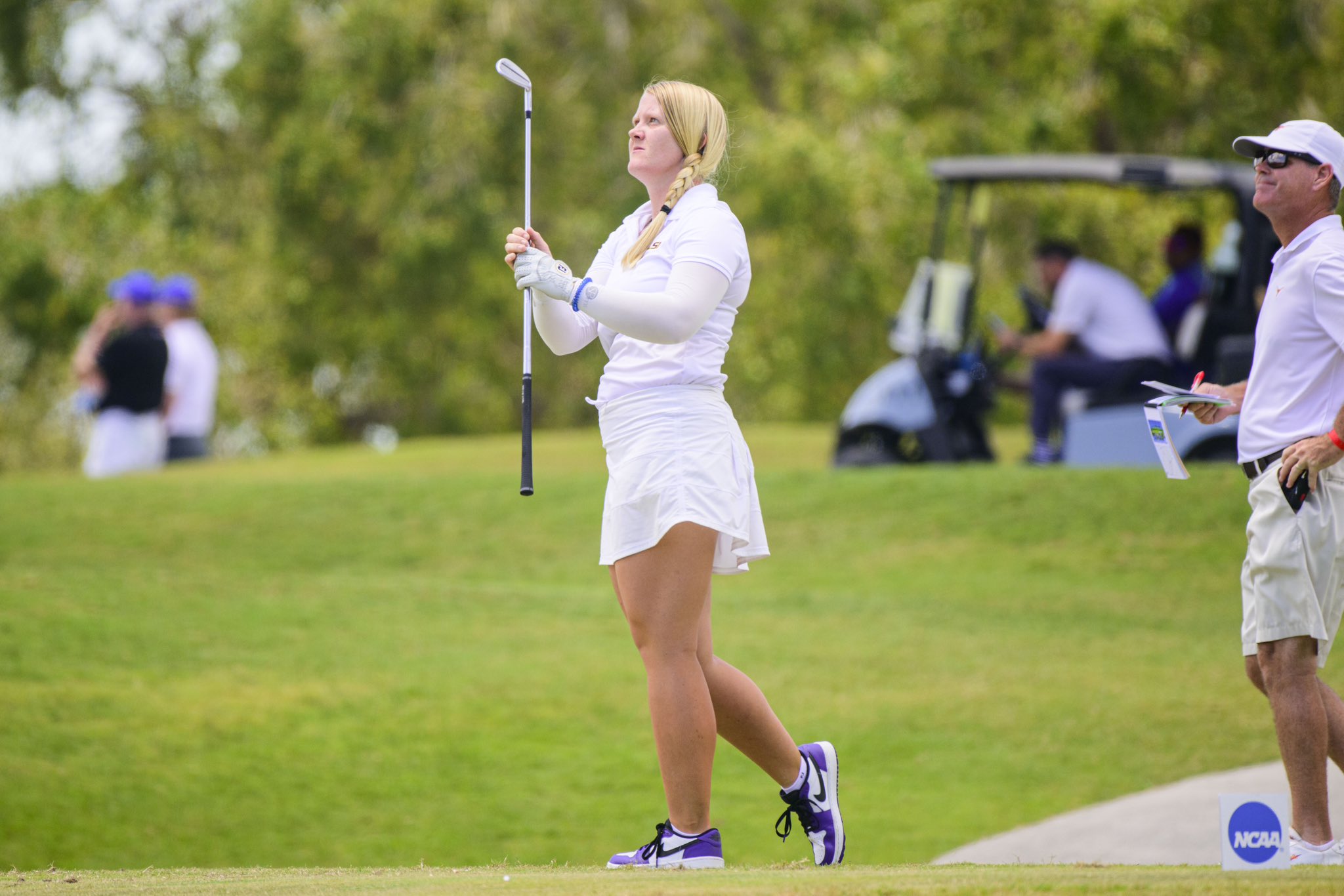 PALM BEACH GARDENS, Florida – The LSU women's golf team will to rally in Wednesday's final round of the 2023 NCAA Palm Beach Gardens Regional.
LSU finds itself five shots off the cut line for one of the five team spots that will advance to the NCAA Championships in Scottsdale, Arizona.
Six NCAA women's regionals will conclude on Wednesday and will advance the 30 total teams that will take part in this year's tournament. LSU is trying to advance for the third consecutive year.
LSU improved its score by two shots on Tuesday, shooting an 8-over par 296 to stand at 18-over 594, tied with Arkansas (297-297) for seventh place. The fifth and final qualifying spot is actually a tie for fourth held presently Texas at 13-over par 589 (298-291) and South Florida (296-293).
UCF is between Texas and the LSU-Arkansas tied at 15-over par after rounds of 300 and 291.
LSU senior Latanna Stone continues to shine with three birdies on Tuesday. She finished with a 1-under 71 and after back-to-back 71s stands at 2-under 142, two shots out of the lead, moving up a spot into a tie for third.
Stone has had seven birdies in her first 36 holes of play over this course which the PGA Tour plays the Honda Classic on. The Riverview, Florida native is the tournament leader on par 5 holes at 5-under par and only four players have made more birdies than she has recorded in the first two rounds of the event.
"Latanna has had two solid rounds out here," LSU women's golf coach Garrett Runion said. "Two rounds under par on the Champ Course. That's really great consistent play. She's been consistent for us all spring. Really, Aine' (Donegan) and Ingrid (Lindblad) have and they have been doing the heavy lifting this week. This is regionals and anything can happen. (Wednesday) things will happen. We've had the good fortune of being near the lead and having a chance to win every tournament this spring and right now it's a different feeling. I'm just glad we've still got one more round to go to give it a shot to advance and I think they will rise to the occasions because I know they don't want their season to end here in South Florida."
Lindblad posted a 1-over 73 on the day and moved up four spots to T12 in the individual standings at 3-over 147. Donegan posted a 3-over 75 and is at 5-over 149 after two rounds. Carla Tejedo was LSU's other counting score at 5-over 77 and is at 12-over 156.
Stone's 5-under on the par 5 holes has helped LSU lead the field in par 5 play at 6-under par. LSU has handled the par three holes on "The Bear Trap" with apparent ease (the 15th and 17th), while dropping eight counting shots over the two days on the par 4 16th hole that has an approach shot over water to the green.
NCAA PALM BEACH GARDENS REGIONAL
PGA NATIONAL CHAMPIONS COURSE
Second Round Team Results (Par 288-576)
1 Michigan State 285-296 – 581 +5
2 Northwestern 300-284 – 584 +8
3 Duke 298-290 – 588 +12
T4 Texas 298-291 – 589 +13
T4 South Florida 296-293 – 589 +13
6 UCF 300-291 – 591 +15
T7 Arkansas 297-297 – 594 +18
T7 LSU 298-296 – 594 +18
9 California 302-299 – 601 +25
10 Alabama 299-303 – 602 +26
11 Penn 306-306 – 612 +36
12 Quinnipiac 315-322 – 637 +61
Individual Top 5 (Par 72-144)
1 Sara Byrne, Miami, 70-70 – 140 -4
2 Kelly Sim, Northwestern, 70-71 – 141 -3
T3 Latanna Stone, LSU, 71-71 – 142 -2
T3 Brooke Biermann, Michigan State, 69-73 – 142 -2
T5 Melanie Green, South Florida, 72-72 – 144 E
T5 Jess Baker, UCF, 72-72 – 144 E
LSU Scores
T3 Latanna Stone – 71-71 – 142 -2
T12 Ingrid Lindblad – 74-73 – 147 +3
T26 Aine Donegan – 74-75 – 149 +5
T51 Carla Tejedo – 79-77 – 156 +12
T61 Edit Hertzman – 79-83 – 162 +18