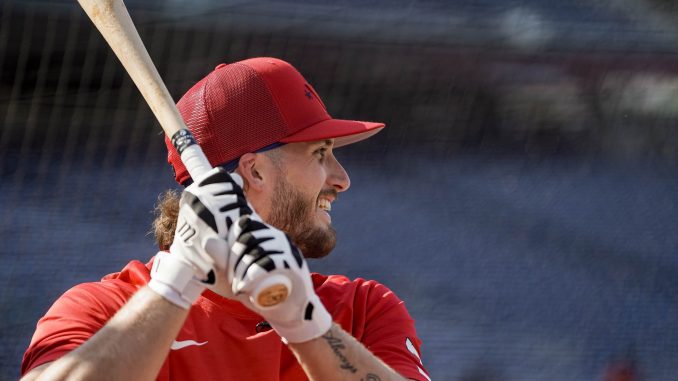 Former LSU All-American and Golden Spikes Award winner Dylan Crews followed up the end of one streak with the start of another.
Crews, 0-for-5 in his first game Saturday with the Fredericksburg (Va.) Nationals, hit his first professional home run on Sunday and former Tiger teammate Gavin Dugas also homered in an 8-5 victory.
Crews, the No. 2 overall pick of the Washington Nationals who signed a $9 million contract – a record for a position player – had three hits in three plate appearances with three runs scored in a rookie league game in the Florida Complex League.
"I just saw a breaking ball up, and was able to get to it," Crews told MILB.com. "I wasn't really trying to do anything special with it. Just trying to get to the pitch and was able to hit one out. So, it felt good. It felt really good."
Two days later Crews was promoted to Washington's High-A affiliate Fredericksburg (FredNats) of the Carolina League and failed to successfully reach base for the first time in his last 72 games. The Southeastern Conference Player of the Year reached base in all 71 of his games with LSU which captured its seventh national championship, defeating Florida 18-4 in the CWS finale on June 26.
"I've dealt with pressure my whole life, so it's nothing new to me," Crews said. "I see pressure as a privilege, and I use it to my strength. I go out there and just do me at the end of the day. I know how to handle it."
Crews hit his second homer of the season in Tuesday's 11-2 road win over Lynchburg, Virginia. His grand slam off the scoreboard in right-center field, increased the FredNats' lead to 8-2 in the seventh inning.
Fredericksburg (18-18) moved into second place in the division in the second half of the season. They trail first-place Carolina (Milwaukee Brewers affiliate) by 5 ½ games with 29 remaining.
Crews, batting second in the lineup, crushed a 3-2 pitch in Sunday's game to left-center field. His first homer traveled 416 feet and came in his ninth plate appearance.
"Swinging at my pitches, not trying to expand," Crews said for his success. "I'm trying to get one percent better every day, really. It's a work in progress, trying to get acclimated. Just going back to the basics, seeing the baseball, and driving through the middle of the field."
For LSU fans, the day turned more memorable once Dugas stepped into the batter's box in the fifth inning.
Dugas, the starting second baseman for the Tigers this season, was drafted in the sixth round by Washington and played two games in rookie ball before getting called up, along with Crews, to Fredericksburg. He crushed a 0-1 pitch well over the left-field fence for a three-run lead.
"You can't draw it up any better," Crews said. "I'm so happy for that kid (Dugas). That kid deserves everything, and he's one of the hardest workers I've ever seen. I'm very happy for him, and I'm very excited to be able to share this moment with him. It was a great day for us."