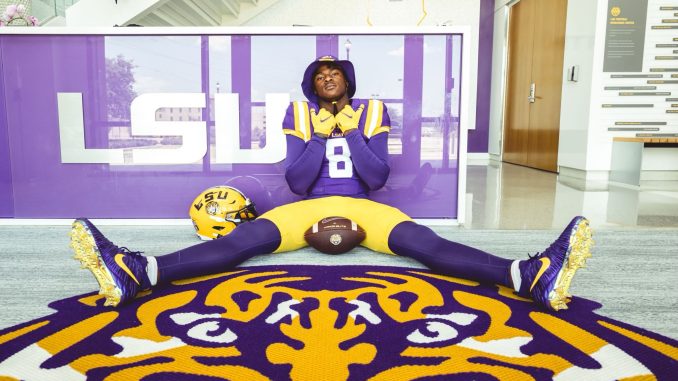 With 23 commitments, LSU's current recruiting class is positioned as high as No. 8 nationally before the Tigers kickoff the 2023 season on Sept. 3 against Florida State.
LSU has a sizeable opportunity Thursday to move up higher – possibly within the top five – where the Tigers are finalists for two of the nation's top players in five-star edge rusher Colin Simmons and four-star running back Caden Durham of Duncanville, Texas.
They've both scheduled news conferences at Duncanville High at 1:45 p.m. Thursday to announce their commitments.
"If they sweep them both they're jumping up to a top five-range class," On3's Bengal Tiger editor Shea Dixon said on Tuesday's Tiger Rag Radio. "If you get Durham and not Simmons, then you're moving up to nine or eight."
LSU has five players nationally ranked in the top 200 per On3, led by Zachary tight end Trey'Dez Green (No. 73) and cornerback Cai Bates (No. 92) of Orlando. Denham Springs safety DaShawn McBryde is the Tigers highest-rated commitment at No. 73 per 247Sports.
The Tigers have also experienced their share of success recruiting in Texas with four players a part of the Class of 2024 – wide receiver Jelani Watkins of Houston, offensive lineman Ory Williams of San Marcos, cornerback Davhon Keys of Aledo and former Jonesboro-Hodge linebacker Xavier Atkins, now of Humble.
LSU's class has one edge rusher in Ruston's Ahmad Breaux, while the Tigers' class is devoid of a running back.
Simmons, a 6-foot-2 ½, 225-pounder, is the No. 1 ranked player at his position and in Texas by On3, ESPN and Rivals. On3 ranks him the nation's fourth overall player and No. 7 by ESPN.
He'll choose between LSU, Texas and Miami.
"(There are) Reasons to believe through his actions and words that LSU's in a good spot, but I also look at Texas and the work they've put in," Dixon said. "He's their No. 1 in-state priority as the top player in Texas. You know the Longhorns aren't going to give up. The more people you talk to the more you feel like it's kind of coin flip."
Simmons was part of Duncanville's Class 6A-Division I state title team with a school-record 22 ½ sacks in 2022. He recorded 79 tackles with 33 TFLs. He was named the Dallas Morning News' Defensive Player of the Year and Defensive MVP of District 11-6A.
Dixon noted that by his organization's count, Simmons has made an even number of trips to LSU and Texas. He paid an official visit to Texas in late June and followed that with an unofficial trip to LSU for the 'Bayou Splash' along with Durham.
"LSU's put themselves in good position by continuing to build on that relationship with Colin," Dixon said. "Even with him being an out-of-state kid, it's clear he's understood the LSU vibe. What they're trying to sell as a program with Brian Kelly at the helm. I think he really enjoys LSU which is why you've seen him spend so much time around the program."
Dixon's convinced LSU's made up enough ground to overtake Oklahoma for Durham's pledge.
Rivals.com ranks the 5-9, 195-pound Durham, a two-sport standout, the No. 63 overall player, No. 7 running back and No. 11 prospect in Texas. He's also a sprinter that excels in the 100 and 200 meters.
"LSU kind of went with a Durham-or-bust approach to his recruitment," Dixon said. "For a long time, people thought he would end up at Oklahoma. His mother was a sprinter there. He has an offer from Oklahoma in football and track, but LSU came on very strong. Frank Wilson led that charge as running backs coach and (LSU track assistant) Benny Brazell on the track side, a former LSU two-sport standout made the offer for LSU track. I think that really put them in good position and they continued to work it from there."
Durham was among Duncanville's offensive leads in '22, rushing 210 times for 1,960 yards and 36 touchdowns. He also caught 9 passes for 93 yards and a score.