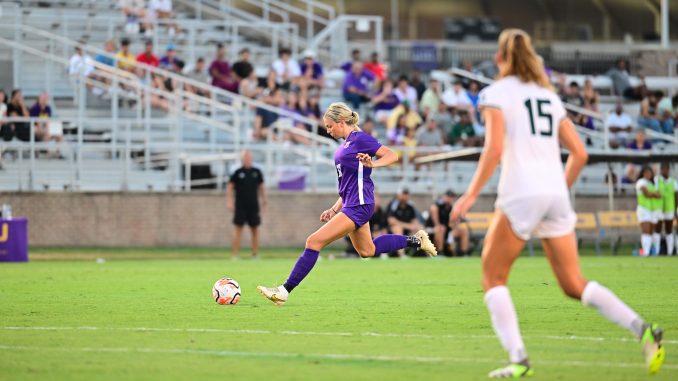 LSU's soccer team opened the 2023 season at home Thursday with a 1-0 defeat at the hands of South Florida before a crowd of 1,258 – the biggest in more than a decade for an opener.
"Obviously, I'm really disappointed to lose our home opener. I felt we had some really good moments in the game, but we just didn't capitalize," LSU soccer coach Sian Hudson said. "Overall, we just weren't clinical enough in the final third with our final action, whether it be service or a shot."
LSU returns to action Sunday at 4 p.m. against Southern Mississippi Golden Eagles at LSU Soccer Stadium. The match will be streamed live on SEC Network+.
Sophomore midfielder Ida Hermannsdottir took a pass from Taylor Dobles and pushed a shot on goal wide six minutes into play. Senior forward Mollie Baker later sent a ball to Hermannsdottir, who slipped a pass into midfielder Raelyn Prince for a shot into the side netting.
USF's Georgia Brown gave the Bulls a 1-0 lead with a header off a corner from Gentiana Fanaj.
Jaden Humbyrd's header was saved in the second half by USF's Arden La-Rose and Rammie Noel's long-range attempt was also saved in the final 10 minutes of play.
LSU's Mollie Swift recorded four saves.
"We need to be better. We'll refocus for Sunday and be locked in and take care of business." said Hudson.