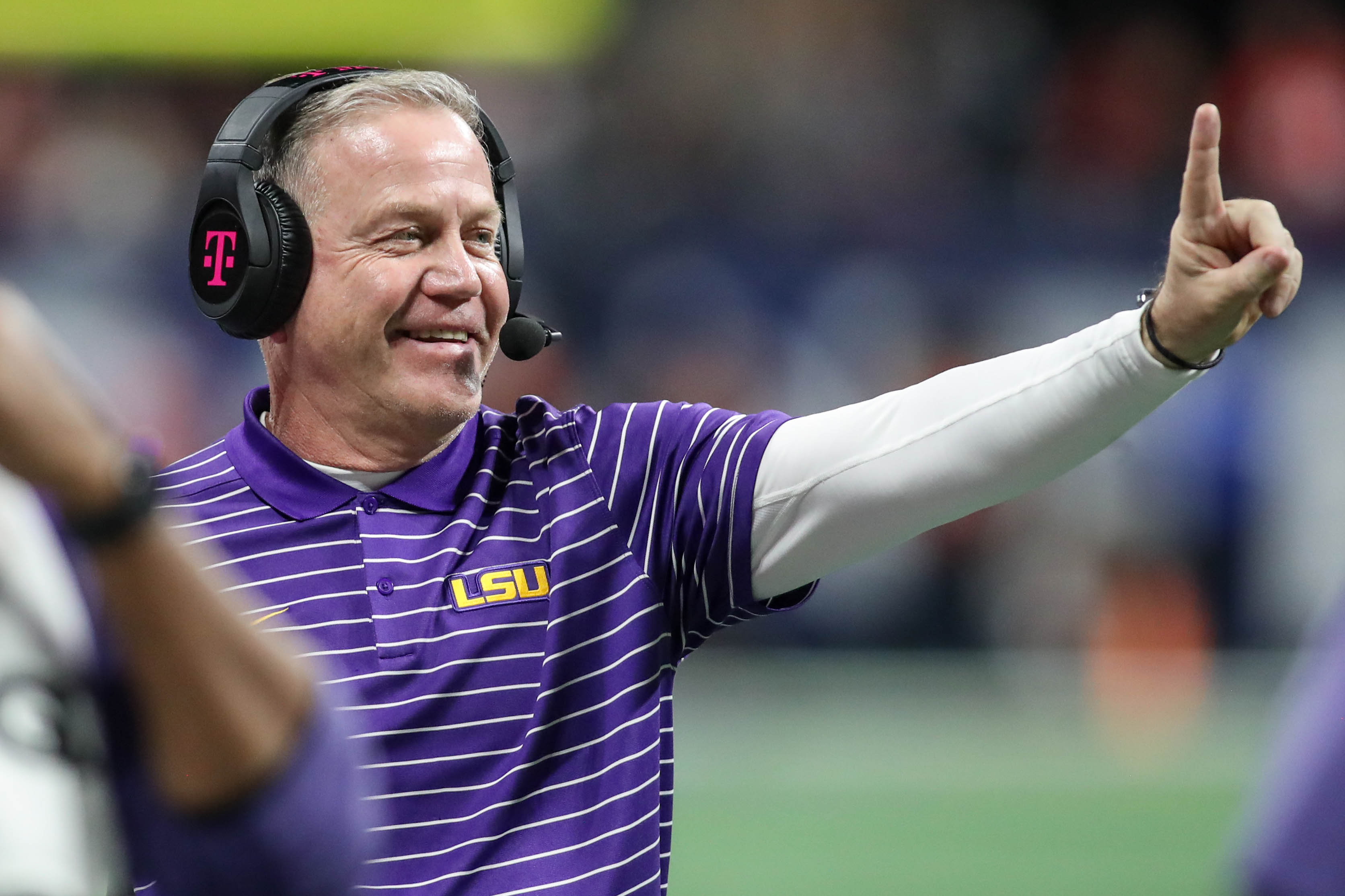 LSU football coach Brian Kelly believes his second edition of the Tigers extracted exactly what they needed from spring practice which ends with Saturday's version of a spring game inside Tiger Stadium.
The game is scheduled for 1 p.m. and will be streamed on the SEC Network+ channel and broadcast on 104.5/104.9. Admission is free of charge.
LSU announced this week that the game's format will have an offense versus defense scrimmage along with some special teams work.
The format for the scrimmage portion will be offense vs. defense for four quarters or as long as time permits. There will be two 15-minute quarters for the first half followed by a pair of either 10 or 12-minute quarters in the second half.
LSU will use a special scoring system for the defense as that unit will be awarded seven points for a turnover or fourth down stop. The defense will be credited with five points for forcing a missed field goal and two points for a pass breakup, missed two-point conversion or a missed point-after touchdown. The defense will receive one point for a sack or a tackle for loss.
Offense and special teams will have normal scoring.
A lot has happened in the past year since Kelly put LSU through a spring game, four months after becoming the team's head coach. He was new in town and hit the ground running, trying to rebuild a roster that had plummeted to 39 scholarship players in the Texas Bowl.
On top of an abbreviated signing class, Kelly and his staff were major players in the NCAA transfer portal to simply provide LSU with an opportunity to conduct a spring game.
One such player that made his debut in the game was Arizona State transfer Jayden Daniels at quarterback, beginning a battle with Myles Brennan, Garrett Nussmeier and Walker Howard. By the end of spring, Brennan had given up football and left the Tigers with three quarterbacks on the roster, two of which remain, in Daniels and Nussmeier.
LSU devised a patch-work offensive line for the game, had limited available running backs and a rebuilt defense welcomed a handful of newcomers from the transfer portal.
The Tigers, led by Daniels, went 10-4 overall, captured the SEC's Western Division, played in the SEC Championship Game and won the Citrus Bowl over Purdue.
The familiarity of the faces that are back on the roster gave Kelly comfort this spring, a group with knowledge of the day-to-day operations and expectations of the program.
"I think most coaches would want first and foremost to be healthy and go through the spring," Kelly said of his objectives this spring. "We were very healthy. I think they really learned how to prepare the right way. We did have a lot of new players that needed to be educated in the way we practice. I thought that they learned. We had some moments early on that we had to stop and teach, but I told them, that I was really proud of the way they adapted after we pointed out that we weren't practicing quite the way I wanted to.
"I thought the last two weeks were outstanding," Kelly continued. "So, injury free, practicing the right way. And then developing the continuity that we needed with the transfers on defense, and then the young players on offense. I think we hit all of those and at the same time I think we feel that we also through our strength and conditioning program we're a better football team from a standpoint of all of the returners as well."
LSU should have the look of a more mature team, a roster that's been developed with players from within the system, plus the addition of fewer players from the transfer portal.
Not all of those players have been available this spring, forcing fans to wait on their return for the fall when LSU opens the 2023 season on Sept. 3 against Florida State at Camping World Stadium in Orlando, Florida.
Some of those players such as running backs Josh Williams and Armoni Goodwin have sat out the entire spring to recover from surgery and are expected to be 100% for the fall. Starting center Charles Turner III has also missed the spring and defensive tackle Maason Smith, who suffered a torn ACL in last year's Florida State game, has returned to non-contact drills but will not participate in the spring game.
The help LSU's acquired through the transfer portal has been more on the defensive side of the ball where linebacker Omar Speights of Oregon State, linemen Paris Shand of Arizona, Bradyn Swinson of Oregon, Jalen Lee of Florida, Jordan Jefferson of West Virginia (injured) and Ovie Oghoufo all figuring into the team's two-deep roster this fall.
The Tigers also took measures for the second straight year to fortify their secondary the additions of cornerbacks Zy Alexander of Southeastern Louisiana, Denver Harris of Texas A&M, JK Johnson of Ohio State and Duce Chesnut of Syracuse (injured).
Moreover, Kelly also has gotten an early look at mid-year high school signees such as tight end Mac Markway, defensive linemen Jaxson Howard and Da'Shawn Womack, running back Trey Holly, wide receivers Kyle Parker and Jalen Brown, quarterback Rickie Collins and defensive backs Ryan Yaites and Javien Toviano.
"I think I've made this clear a couple of times is that I didn't want to get too far ahead in the sense of not focusing on the attention to detail necessary to build the solid foundation of a program," Kelly said. "But at the same time, you want to see cleaner execution. You want to see a preciseness. Last year we were trying to figure out who the five offensive linemen were. We've got a pretty good sense of what that looks like.
"So, I think we go into this with the first unit should look like a first unit, top offense in the country," Kelly added. "You should go into the spring game going, 'Ah hah. That looks pretty good'. And then defensively the ideal situation would be the guys out of the portal, they're going to help. Those are really good additions."