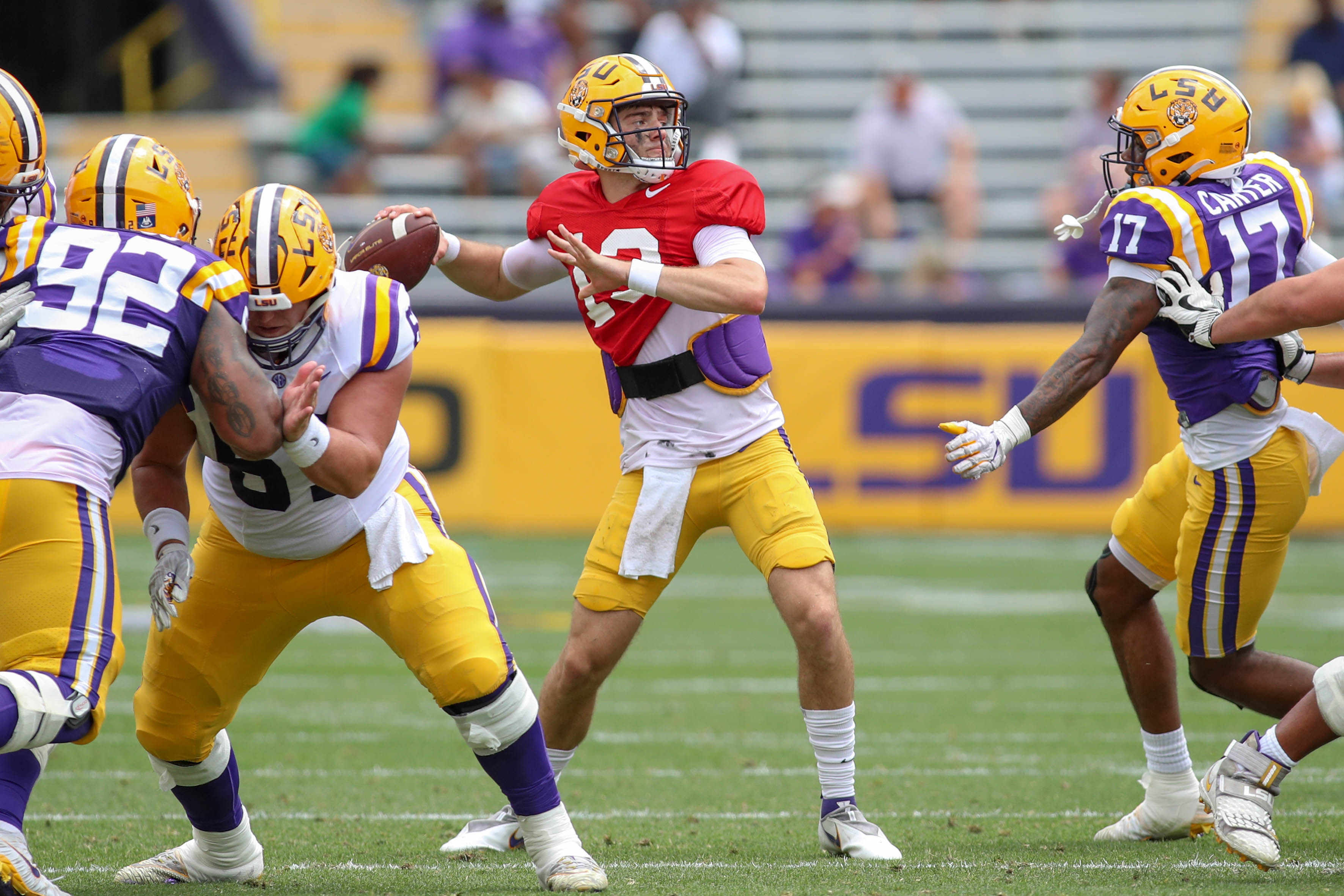 The old saying about quarterbacks is that f you have two, you don't have any. Good news, Tiger fans, LSU has three.

So, what does THAT mean?

It's good news, folks. Only fans want clarity at this point in the 2022 season. Coaches want competition over the next four months, so LSU has the best possible talent at the most important position on the team when the season opener against Florida State in the Caesars Superdome arrives.

None of the three – senior Myles Brennan, transfer Jayden Daniels and redshirt freshman Garrett Nussmeier – are a finished product and all three seem to be bringing something to the table based on the spring game results. Walker Howard is out of the discussion because he's simply not ready. He might be beating somebody out a year or so from now, though.

This is a good example of why having a veteran coach like Brian Kelly at the helm helps. He's been through these battles before, albeit not with the transfer portal and NIL looming and creating accelerated player movement. It sounds like he's convinced Brennan to stay put, although that could change this month. Maybe Nussmeier will be the one to hop the next train out. Right now, college football is wide open.

I've got to think Brennan is the odds-on favorite or he wouldn't have come back, and if he was leaving he'd be gone by now. There is no substitute for experience, and he's got the biggest comfort zone as far as being an LSU quarterback. Daniels' running ability might make him more versatile, but there is so much more to the position that fans take for granted.

Brennan's biggest advantage is having been around for now his sixth season. That's an ability the other three can't access. The most underrated ability of a quarterback is his ability to get the offense confident in him getting the team up and down the field. He speaks from authority, and it isn't like he's a statue in the pocket. He has some running ability even if it's nothing like Joe Burrow's.

All three are starting with a new offense but, again, Brennan's experience at adapting will serve him well. He's had some terrible luck with injuries, so he will be driven by another intangible to compete and maybe even turn himself into an NFL prospect in the process.

Having a three-headed monster at this point is also helpful in that Daniels could end up winning some games for LSU by coming off the bench and giving an opponent a completely different look in the middle of a game. I always liked what Bill Arnsparger did with Tom Hodson and Mickey Guidry during his tenure, playing them both. Guidry guided LSU to some key wins in that time.

Brennan and Daniels are so different in their styles, it might net LSU a win or two if the situation presents itself. And if Daniels wins the job, what are the odds of a quarterback who weighs less than 190 pounds making it through an SEC schedule healthy? Daniels was listed at 175 on his arrival from Arizona State and now the number is up to 185 on the posted roster, which may be slightly padded. In today's game, any quarterback weight under 200 is dicey at best.

Brennan's strength came out in the spring game. He was efficient and the best of the three when it came to checkdowns and audibles. He threw for only 99 yards but remember this is a spring game and what you see is what coaches don't mind other coaches seeing. Brennan has a strong arm and there was no need to prove that again.

Daniels was less consistent and that would be expected. The same with Nussmeier being more on target. Daniels has the highest ceiling, the most improvement to make, and he will get better. LSU fans should be encouraged also that offensive coaches talked about Nussmeier's ability to fit passes into tight windows. I could go on all day about how much coaches love quarterbacks who don't throw interceptions.

The main message to fans right now is to not stress over this. Quarterback might be the healthiest, most mature, position on the team. All four guys have dreams of playing in the NFL and the coaches will often remind them they haven't seen real competition until they get to the big leagues, where development can take more than the five years of eligibility they have in college.

Brennan's sense of urgency – it's his last shot – will put him over the top. Meanwhile, have some appreciation for having so many good ones on hand. As the story unfolds, it might put a new spin on an old saying.