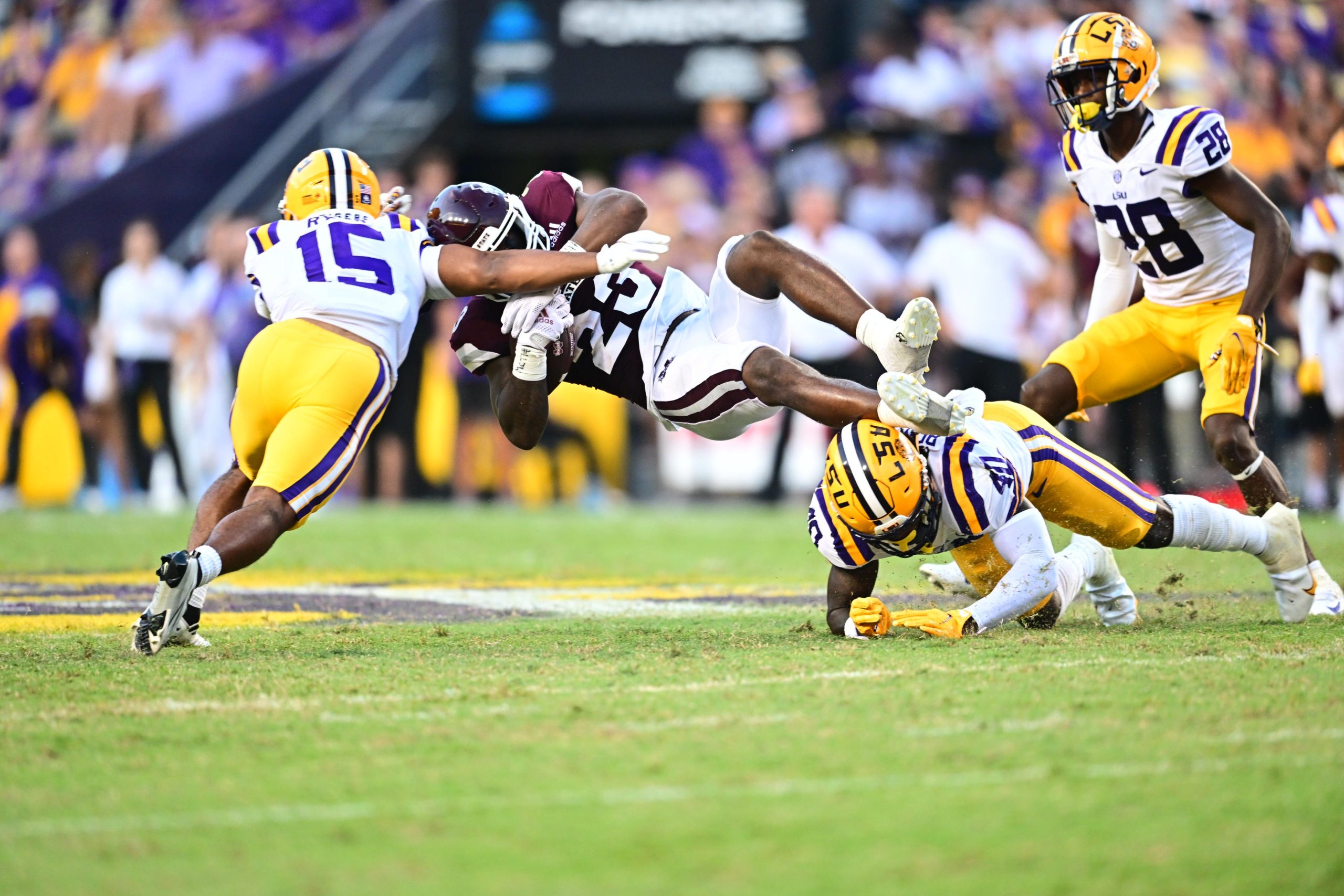 The last time LSU faced a spread-based offense, Tennessee put up 40 points against a defense that didn't have one of its leading tacklers on the field for much of the game.
First-year head coach Brian Kelly explained that because of the linebacker position freshman Harold Perkins Jr. played, he would have been involved in a defensive matchup against a faster receiver which kept him off the field for the majority of the game and resulted in only three tackles.
With LSU (5-2, 3-1 in SEC) hosting No. 7 Ole Miss (7-0, 3-0) in a key Southeastern Conference matchup at 2:30 p.m. Saturday, the Tigers will be facing a spread-heavy offense, thus potentially putting Perkins in a difficult position against an offense that's one of the fastest in the nation.
Perkins is tied for second, along with Jay Ward and Greg Brooks Jr., on the team with 31 tackles, but Kelly said that it's his athleticism and ability to run that may warrant more playing time against Ole Miss.
"So, you know, we feel like many of you. We've got to get him on the field in some fashion," Kelly said after Thursday's practice. "But do you take (defensive) BJ Ojulari off the field in place of Harold? We have to be creative and find ways to get him on the field. Do you play without a nickel on the field?
"We're not changing him to an inside linebacker position, the reads are too much for him at this point," Kelly added. "We're going to be creative. But he's clearly a guy that (defensive coordinator) Coach (Matt) House feels, and I feel, needs to be on the field, and you'll see him play. In terms of snap counts, they will go up because this is a team that likes to attack the perimeter, and we need to get guys on the field that can run, and he certainly can."
Here's what else Kelly had to say:
Injury update on Armoni Goodwin?
"Armoni practiced; he'll play. It's a really good story. In terms of the procedure, it's pretty amazing procedure for them to do a surgical repair on a hamstring, and for him to be available to play. I think our medical team did an incredible job here. I'm excited for him."
On week of practice for Ole Miss?
"You're asking the guy that has an eye towards what I think the standards are and we're getting there. We prepared to the point where we can win on Saturday. Our guys understand that. Every single day matters and they're getting there. It's a process for us. And they're starting to understand how intentional they have to be and from the first week to this week. We are so much better and how we prepare."
On building off last week's win but not dwelling on it?
"I think what you do is begin the week with what you need to do better. What you learned from last week and then begin the process all over, right the preparation for a new opponent and kind of build the whole week around it that way. And that's what we do. We turn the page on Florida and go right back to work on another SEC opponent that's nationally ranked. I think when you play a nationally ranked team, it gets your attention right away. And you don't think much about what happened the previous week because you have such a good team coming in to Tiger Stadium, so it catches your attention right away."

On preparing for an offense like Ole Miss which changes from week to week?
"There's a lot of versatility. It's very creative. I think it starts with if you look at it, they clearly have the ability to run the football and push the ball down the field. The quarterback (Jackson Dart) is a dual threat. You can't take away everything and so you have to be sound defensively. But clearly this is going to be about how we tackle, especially on the on the perimeter. I think that's going to be a big part of how we slow them down because they're obviously a very good offense."

On improvement in red-zone offense?
"I think this has to do a lot with your ability, first and foremost, to recognize what you're getting down there. You're getting man (coverage), you're getting zone (coverage). The quarterback has been able to decipher whether it's man or zone and he's got to get you in the right play because down there, the field shortens. Certainly, have an advantage you know on offense, but defenses have to tip what they're doing. They're either going to play in some kind of bracket zone or they're going to bring pressures, and the quarterbacks got to recognize that. He's got to be a quick decision maker. He's got to be accurate with the football and he's got to get you in the right play. I think the really good quarterbacks excel down there and the teams that have the ability to run the football, in particular, are very good in the red zone."
How can Jayden Daniels succeed running against Ole Miss' aggressive defense?
"They're extremely aggressive. From our perspective, Jayden Daniels is a guy that is extremely elusive. If they're going to rush, rush three and drop eight, he's going to have some time and if there's nothing open, he can certainly scramble. They've got to decide, do you want to bring extra rushers against him? Do you want to spy him? If you do, then there's a man-to-man coverage. We feel like we've got some pretty good receivers. They've got to decide how they want to do that from a defensive structure."
On early hiring of Matt Frakes to head Sports Nutrition?
"I think first and foremost when we talk about the player development piece, it was it was pretty clear to me that when you have a first-class nutrition center, which we had. We had a chef (Michael Johnson), but I wanted to make sure that we had the connection with our players as well and having a nutritionist, that I got a chance to work with, connected so well with the players. Matt's a former football player. He has his doctorate in nutrition. He's a unicorn in the field in a sense. I just felt his relatability, his knowledge and the need for player development in that field was so big in the success that I've had, that he was a must hire."