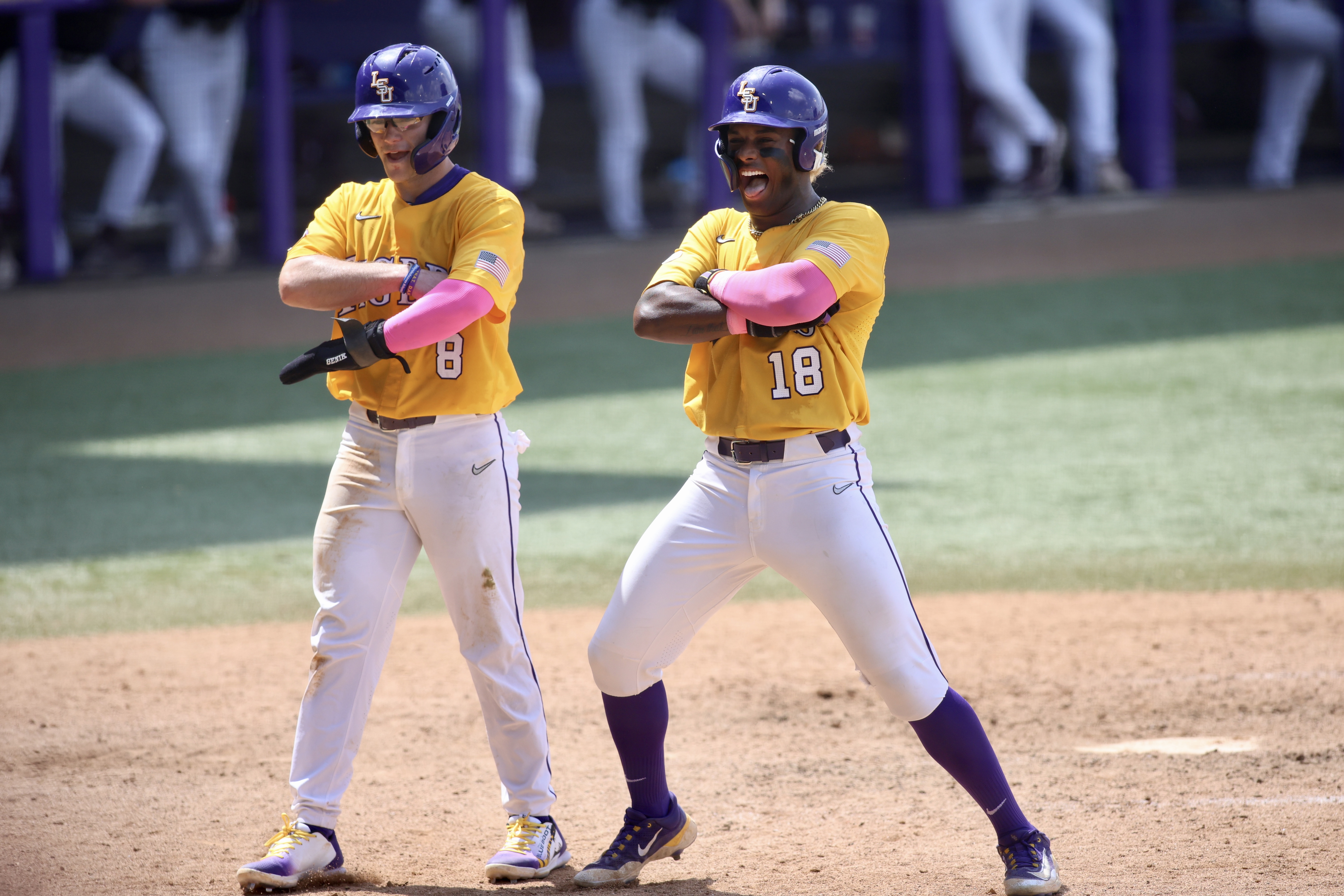 LSU's bullpen folded badly for the second consecutive game and on Sunday it cost the No. 2 Tigers their second consecutive Southeastern Conference series.
Mississippi State rallied from a nine-run deficit at Alex Box Stadium, Skip Bertman Field to win, 14-13, in 10 innings to win its second series of the season.
LSU's relief pitchers gave up 16 hits and 11 free passes.
LSU (39-12, 17-9 SEC) lost its second SEC series and also lost ground in the Western Division and overall conference race with the shocking loss.
Mississippi State (26-24, 8-19) trailed LSU 13-4 going into the sixth inning before the Tigers' relief pitching failed.
The final midweek game of LSU's regular season is scheduled for Tuesday at 6:30 p.m. when the Tigers take on McNeese. The contest will be streamed on SEC Network+, and it will be broadcast on the LSU Sports Radio Network.
"We gave up a big lead, so the loss is hard to swallow right now," LSU coach Jay Johnson said after Sunday's game. "Our players competed very hard; we've just got to help them be better.
"It stings right now, but we have an opportunity to move forward. We're going to play in the postseason, so we've got to spend now until that time to get as ready as we possibly can. I trust that our players and our staff will work hard to do that."
MSU reliever Aaron Nixon (2-1) earned the win after tossing 2.0 scoreless innings. LSU left-hander Riley Cooper (3-3) was charged with the loss. He allowed one run on three hits in 2.2 innings.
LSU took a 3-0 lead in the bottom of the second when Brayden Jobert hit a one-out, three-run home run to right-center field. It was his eighth homer of the season and scored first baseman Cade Beloso, who had walked and catcher Hayden Travinski, who singled to raise his batting average to .421.
Mississippi State freshman left fielder Dakota Jordan doubled off LSU reliever Gavin Guidry on Guidry's first pitch in the top of third in relief of starter Javen Coleman, driving in shortstop David Mershon, who drew a lead-off walk on four pitches.
In the bottom of the third, left fielder Tre' Morgan crushed a 2-0 pitch 411-feet over the right-field wall to open the frame and make it, 4-1.
LSU went up by four runs (5-1) when third baseman Tommy White doubled to left-center field wall, with no outs, to score center fielder Dylan Crews, who had singled to shortstop and advanced to second on a wild pitch. White's double was his 21st of the season and marked his 84th RBI of the season, the national leader in that category.
Bulldogs' reliever Nate Dohm then hit Travinski with an errant 2-1 fastball before exiting the game, leaving White on second and Travinski on first with one out for Jobert to face southpaw Cole Cheatham. Jobert hit into a 6-4-3 double play to end the inning with LSU up, 5-1.
Mississippi State, however, scored three runs on two hits and a balk in the top of the fourth to trim LSU's lead to 5-4.
Guidry struggled to open the inning, walking first baseman Luke Hancock, then hitting second baseman Amani Larry with a pitch. Catcher Ross Highfill then lined a breaking ball down the left-field line for a double, driving in Hancock and allowing Larry to take third base, cutting LSU's lead to 5-2.
Freshman Griffin Herring replaced Guidry with one out and runners on first and third. Mershon singled to right field on Herring's first pitch, driving in Larry to pull the Bulldogs to 5-3. Herring balked before the next pitch, which scored Highfill from third and the Bulldogs were within a run at 5-4.
Herring struck out Colton Ledbetter and Hunter Hinds to end the inning.
LSU batted around in the bottom of the fourth, adding five runs on three hits and an error for a 10-4 lead before Colby Holcombe replaced Cheatham to stop the bleeding for the Bulldogs.
Christian Little replaced Herring in the fifth with two outs and the bases loaded after Herring could not close out the inning, issuing two walks and a hit to load the bases. Little managed to strike out pinch hitter Aaron Downs swinging and LSU breathed a collective sigh of relief.
Morgan hit his second home run of the game – his first career multi-homer game of his career – to right field in the bottom of the fifth, driving in second baseman Gavin Dugas. Dugas had a lead-off double down the right-field line. Morgan's two-run shot put LSU up 12-4 and then Travinski hit a two-out, RBI single that easily scored Crews from second for a 13-4 lead after five innings.
No lead is safe, though.
Little gave up four runs without getting anyone out in the sixth before Blake Money took over. Jordan's three-run home run off the middle of the scoreboard in left field against Little sent him packing and made the score 13-8 with no outs.
Money promptly walked Clark on four pitches, the 10th free pass LSU pitchers had given Mississippi State to that point (eight walks and two HBPs). Money induced Larry to hit into a 5-4-3 double play to end the inning.
Mississippi State feasted on LSU's bullpen in the seventh inning. The Bulldogs scored five runs on four hits against three different Tiger relievers to tie the game at 13-13. Third baseman Slate Alford's two-run home run to left off of Bryce Collins knotted it up before the Tigers could escape the frame.
Larry opened the eighth with a double off LSU's seventh reliever, Sam Dutton. He gave way to Riley Cooper and Cooper managed to keep the Bulldogs scoreless when Ledbetter hit a one-out single off the right-field wall but a base-running error by Larry prevented him from scoring. Cooper then punched out Hines and forced left fielder Connor Hujsak to pop up for the third out.
LSU went three up and three down in the bottom of the eighth.
Cooper retired Mississippi State in order in the top of the ninth, the first time LSU had a 1-2-3 inning against the Bulldogs all day, and it wouldn't have happened without Morgan's diving catch of a Hancock line drive.
KC Hunt, the winning pitcher for Mississippi State in Saturday's game, walked right fielder Josh Pearson (1-for-3) to start the bottom of the ninth. Johnson inserted Paxton Kling to run for Pearson and Ben Nippolt to pinch hit for Dugas in an obvious bunt situation for the Tigers.
With the count 2-0 on Nippolt, Hunt was relieved by right-hander Aaron Nixon. Nippolt laid down a long bunt about 80 feet down the first-base line for a sacrifice bunt, only the 19th sacrifice bunt for LSU this season. Morgan then drove Kling to third with a fly to center and Mississippi State intentionally walked Crews and White back-to-back to load the bases to face catcher Alex Milazzo – his first at-bat of the day. Milazzo fouled out to first base and sent the game into extra innings.
Larry led off the 10th with a single down the left-field line. Cooper struck out Downs looking for the first out. But Mershon (4-for-5) laced a single and Larry took third on the hit, putting Bulldogs on first and third with one out. Ledbetter then hit a one-hopper to first baseman Jared Jones, who threw to Thompson at second base to force Mershon out, but LSU could not turn the double play and Larry scored with what proved to be the game-winning run.
Hines then reached first on a throwing error to first base from White after fielding a hard grounder. Ledbetter advanced to third on the play. Cooper struck out Hujsak swinging to send the game into the bottom of the 10th.
Nixon struck out Jones swinging for the first out before walking Jobert in four straight pitches. Jordan Thompson flew out to right field but Ethan Frey, pinch-running for Jobert, was thrown out on a double-play fly ball to end the game.


Tre' tapped into the Pink Arm Sleeve Power today 💓@tremorgann | SECN+ pic.twitter.com/Blx3QfZZE2

— LSU Baseball (@LSUbaseball) May 14, 2023
Tommy "RBI" White@tommywhite44 | SECN+ pic.twitter.com/A9U603WuVE

— LSU Baseball (@LSUbaseball) May 14, 2023
Pink Arm Sleeve Power (for the moms)@tremorgann | SECN+ pic.twitter.com/hafkKJpOmt

— LSU Baseball (@LSUbaseball) May 14, 2023
BRAYDEN FOR THREE@braydenjobert | SECN+ pic.twitter.com/HpfI2tpPc3

— LSU Baseball (@LSUbaseball) May 14, 2023