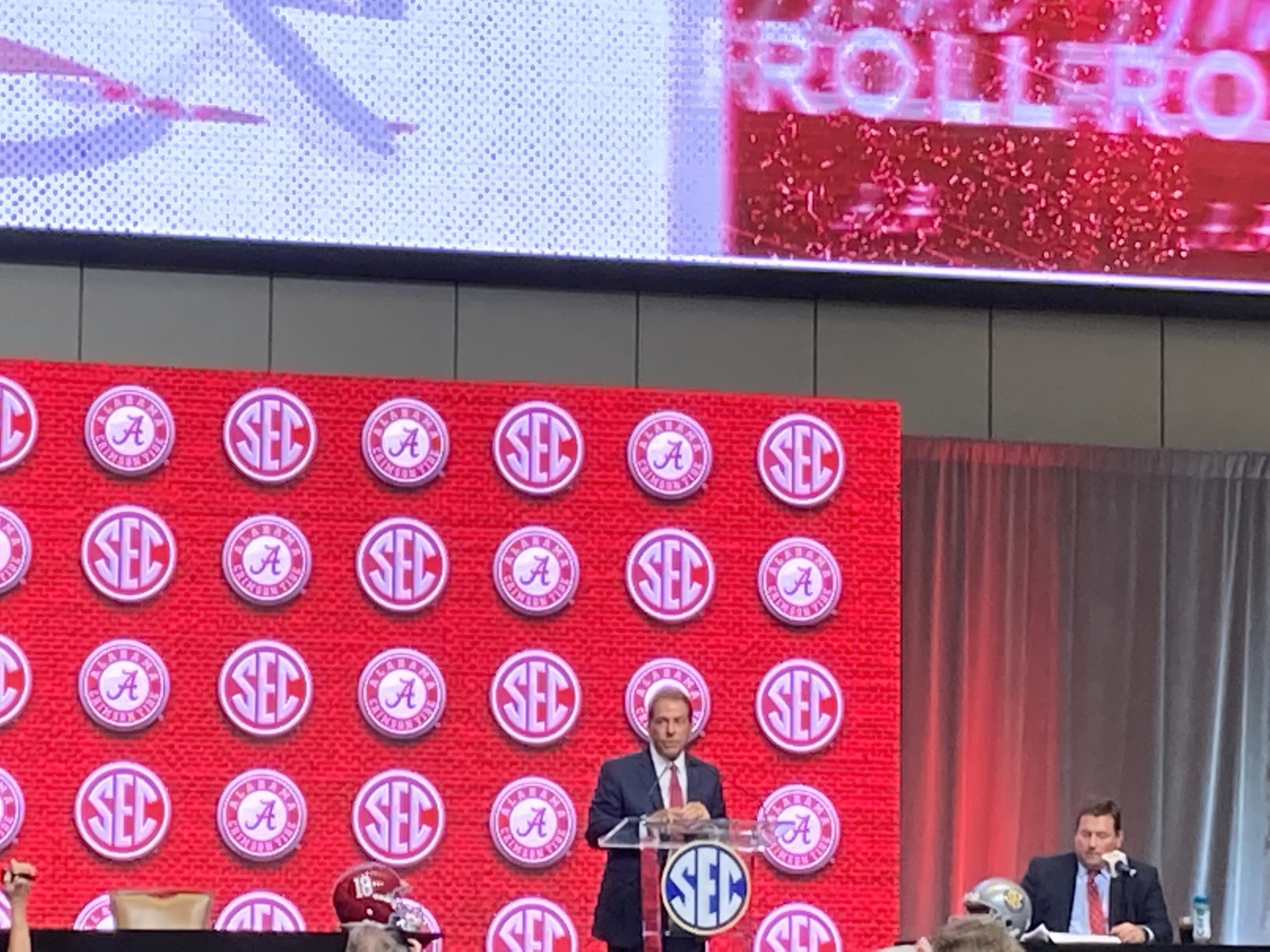 Editor's Note: Lindy's Sports has been covering the Southeastern Conference since 1982.
Seems like every season there are more and more issues facing college football before games on the field can even be considered.

That's the case again this season for the Southeastern Conference and those concerns were in the forefront when league officials, coaches, players and media representatives gathered for SEC Media Days in Atlanta in mid-July.

Conference commissioner Greg Sankey addressed most of those in his opening remarks to kick off the event.

There are no plans for the SEC to add more teams before Oklahoma and Texas join the league for the 2025 season and there's no guarantee that more teams will be invited then.

But questions remain.

What about division realignment when the conference has 16 teams, and how many SEC games will every team play each season, eight or nine?
The commissioner acknowledged the challenges that have been raised by instituting the NCAA transfer portal and implementing name, image, likeness options for college athletes. It's understood that both of those need rules and regulations to be established to control their impact. What would those be?

But as much as things have changed in recent years, the Southeastern Conference on the field has remained consistent, amazingly consistent, for a long time.

Consider this: In the 22 years of this millennium (2000-2021), only five of the 14 teams in the SEC have won league championships. Alabama has captured eight titles. LSU has claimed five. Georgia, Auburn and Florida have each won three, but the Gators haven't been conference champions in 14 seasons (2008).

All other SEC teams combined: ZERO in its annual preseason poll at SEC Media Days, voters tapped two of those past champions to again face off for the league title. Georgia, the defending national champion, was overwhelmingly picked to win the Eastern Division. Alabama, which lost to the Bulldogs in the 2021 CFP championship game, was the runaway pick to take the Western Division crown.
The Crimson Tide was the overall pick to win the SEC Championship Game in Atlanta in early December. The other three teams with championship rings since 2000 – Florida, LSU, Auburn – didn't receive much respect from the media.
The combined number of division first-place votes for Alabama and Georgia: 349. The combined number for those other three: ZERO, again.

Following Georgia in the East were Kentucky, Tennessee, Florida, South Carolina, Missouri and Vanderbilt. In the West, Alabama led Texas A&M followed by Arkansas, Ole Miss, LSU, Mississippi State and Auburn. Interestingly, in its 2022 preseason Southeastern college football edition which was produced in early May, Lindy's forecast all 14 SEC teams in the exact same order.

Here's a look at what to expect from the 2022 SEC season:
EAST

Georgia is the defending national champion for the first time in 42 years. Before last season, Herschel Walker and Buck Belue led the most recent Dawg team to win it all. Last season Georgia averaged 38 points per game and this year could be better.
Senior quarterback Stetson Bennett returns, joined in the backfield by fellow seniors Kendall Milton and Kenny McIntosh. Brock Bowers was named first team All-SEC tight end by Lindy's and the media. Georgia, in 2021, led the nation in scoring defense and was second in rushing defense and total defense.
But it suffered heavy losses on that side of the ball. The Dawgs' schedule avoids the three highest rated Western Division teams and has Auburn and Tennessee in Athens. After the season opener against Oregon in Atlanta, there should be a string of wins.
Kentucky may seem like an unlikely runner-up to Georgia, but that is not a misprint. After a 10-3 mark last season, coach Mark Stoops has the Wildcats believing they can win. Senior quarterback Will Levis could be an NFL first-rounder; Chris Rodriquez Jr. is the SEC's leading returning rusher; and all three starters return at linebacker.
The Cats' biggest advantage may be the schedule. The two Mississippi teams are the West Division opponents and the non-conference foes include two MAC teams, plus Youngstown State and Louisville, coming off another losing season.

Tennessee is finally resurgent … or is it? Seems like every year we hear that the Volunteers are back, but it doesn't quite happen. Quarterback Hendon Hooker and wide receiver Cedric Tillman could make the difference offensively. The defense, the key to a successful season, will have to improve. Six times last season, it surrendered 38 or more points. It was 99th in total defense and 122nd against the pass.
Florida is sort of a mystery.
New coach Billy Napier comes from a successful tenure with the Louisiana Ragin' Cajuns. But, Gainesville isn't Lafayette and SEC competition is up a notch. Anthony Richardson should be an adequate quarterback, but Florida had only one player named by the SEC media to any of the three offensive All-SEC teams and none on first team All-SEC defense. The schedule doesn't help as the Gators play in Knoxville, College Station and Tallahassee, plus Georgia in Jacksonville.

South Carolina's chance at an improved record may hinge on transfer quarterback Spencer Rattler. This time last year he was a Heisman Trophy candidate at Oklahoma. This year, thanks to the transfer portal, he's a Gamecock. The offense returns all five offensive line starters and has good receivers. Defensive depth could be a problem.

Missouri faces challenges. The quarterback and running back positions are uncertain and the 2021 defense was one of the nation's worst statistically. The Tigers play at Auburn, Florida, South Carolina and Tennessee, plus entertain Georgia and Arkansas. Harrison Mevis is an outstanding placekicker.

Vanderbilt, as has been the case in recent years, is picked seventh in the East. Not one Commodore was named by the media or by Lindy's to any of the first three All-SEC teams and there remains a gap in talent and depth. But, on the positive side, Vandy did get one media vote for first-place in the East (seriously) and opened the season with a 63-10 win at Hawaii … aloha!

WEST
Alabama was chosen to win the division with an enormous margin over its nearest competitor … 177 first-place votes to just three for second place Texas A&M. On the first, second and third team All-SEC squads, plus the specialists, there were 20 slots taken by Crimson Tide players based on media voting. Defending national champion Georgia had nine.

Need any more convincing?

Heisman Trophy winner Bryce Young returns at quarterback, but he'll be throwing to three new starting wideouts. Four offensive linemen were named to media All-SEC teams, while all three starting linebackers and three defensive backs were named to one of the three All-SEC teams. Will Reichard is one of the league's top placekickers.

How about the schedule?
The Tide plays Texas in Austin on Sept. 10 and plays at Arkansas, Tennessee, LSU and Ole Miss. Auburn plays in Tuscaloosa this season.
Not easy, but not too much for Bama to handle. Texas A&M, with those three first-place votes, is supposed to be the Tide's biggest threat. They will bring the nation's No. 1 recruiting class, three offensive line starters, two veteran wide receivers and the league's leading returning punter. Three defensive back starters return and there could be four 5-star players replacing the four departed defensive line starters.

The Aggies play at Alabama and at Auburn, and face Arkansas in Arlington, Texas. Ole Miss, LSU, Florida and the Miami Hurricanes come to College Station.

Arkansas, coming off a nine-win season that includes a bowl win over Penn State, is the third place choice. KJ Jefferson is one of the league's best quarterbacks, while Dominique Johnson and Raheim Sanders are a dangerous pair of runners. Four offensive linemen return and the fifth is a senior tackle.
Linebacker Bumper Pool (that's his real name) and free safety Jalen Catalon are the top defenders on a unit that lost eight starters. The Razorbacks play Texas A&M, Mississippi State and Auburn on the road and Alabama in Fayetteville, but avoid the top four picks in the East Division.

Ole Miss has offensive playmakers everywhere, as most head coach Lane Kiffin teams do, including wide receiver Jonathan Mingo and running back Zach Evans. Will Southern Cal transfer Jaxson Dart replace Matt Corral at quarterback? The defense needs to improve and will be looking to transfers for that. The schedule is potentially easier than many, especially the games through mid-October.

LSU is a team loaded with talent, but with a lot of questions. First, there's new coach Brian Kelly (284 career wins) and a new coaching staff, including both coordinators. The Tigers have fewer returning starters than any SEC team. Kayshon Boutte, the SEC's best receiver, is one of few returnees on offense. Will Arizona State transfer Jayden Daniels be the leader of that unit?
The outstanding defensive line includes BJ Ojulari, Ali Gaye and Maason Smith, but they're joined by little returning experience, so transfers must be counted on. The schedule will be challenging. The Tigers play at Auburn, Florida, Arkansas and Texas A&M, host Alabama, Ole Miss and Tennessee, and open the season against Florida State in New Orleans.

Mississippi State returns quarterback Will Rogers to lead coach Mike Leach's Air Raid offense, joined by several talented wide receivers. Seven defensive starters return, including cornerback Emanuel Forbes, who was the only Bulldog chosen by the media on any of the first three All-SEC teams. State's difficult schedule includes games at LSU and Ole Miss, in addition to this six-game stretch: Texas A&M, Arkansas, Kentucky, Alabama, Auburn, Georgia.

Auburn, much like LSU and Mississippi State, has too much talent to be picked last in its division. But, like the Tigers and Bulldogs, it faces similar challenges.

Second year coach Bryan Harsin, who was on the hot seat after 2021's disappointing finish, has Tank Bigsby (the SEC's best running back), Derick Hall (arguably the SEC's best defensive lineman) and Owen Pappoe (one of the SEC's best linebackers). Fifth-year senior placekicker Anders Carlson and punter Oscar Chapman are the league's top kicking tandem.

But Auburn, which comes in with no momentum, has two new coordinators. The possible starting quarterback, Zach Calzada, is a transfer from Texas A&M, where he led the Aggies to the win over Alabama. And the schedule … it's at Georgia, Alabama, Ole Miss and Mississippi State, plus home games against Arkansas, LSU, Texas A&M and traditional national power Penn State.
LINDY'S 2022 SEC PREDICTED ORDER OF FINISH
ALABAMA – The talented Tide may feel like it has things to prove. Remember that Texas A&M game in College Station? That Georgia game for the title? Look out for Alabama!
GEORGIA – Quarterback Stetson Bennett returns with talented running backs, an experienced offensive line. Defense was depleted but will still be strong. Momentum from the title.
TEXAS A&M – The No. 1 recruiting class in the country. Another strong defense. Talented skill position players and veteran offensive line. But can the Aggies beat the Tide … again?
KENTUCKY – Offensive could be prolific with quarterback Will Levis and running back Chris Rodriquez Jr. Defense is solid. Stoops' team thinks it can win. Another 10-win year?
ARKANSAS – Won nine games in 2021 behind returning quarterback KJ Jefferson. Rebuilding defense should be better. Sam Pittman has the Hogs thinking they will win.
TENNESSEE – The Volunteers return the quarterback and top wideout from the program's all-time leading scoring team. Defense must get better, especially against passing attacks.
OLE MISS – Lane Kiffin went heavily into the transfer portal, signing talent at multiple positions. Will Matt Corral be effectively replaced? Will defense improve enough to avoid shootouts?
FLORIDA – New head man Billy Napier is well-organized and a good recruiter. But depth, inconsistent defense and the schedule may be too much to overcome.
LSU – New coach Brian Kelly brought in transfers to join talented returnees. Departures hurt depth and experience. Tigers need to get that national championship mindset back.
SOUTH CAROLINA – Gamecocks may go as far as Spencer Rat- tler takes them. He'll have a veteran offensive line. Schedule will be a challenge. Is this pick too low?
MISSISSIPPI STATE – Quarterback Will Rogers is a master of the Leach Air Raid. Bulldogs need to improve running game and replace key defenders. And how about that schedule!
MISSOURI – Is quarterback Grady Cook the answer? Will the defense improve after terrible numbers last year? Will 5-star fresh- man receiver Luther Burden III help from the start?
AUBURN – Bigsby, Hall, Pappoe, Carlson among SEC's best. But, who will replace Bo Nix at quarterback? Tigers need confidence and momentum. It's hard to get with that schedule.
VANDERBILT – Coach Clark Lea has recruited to improve team speed. The 'Dores return two quarterbacks who have started games. Still not enough talented depth yet.