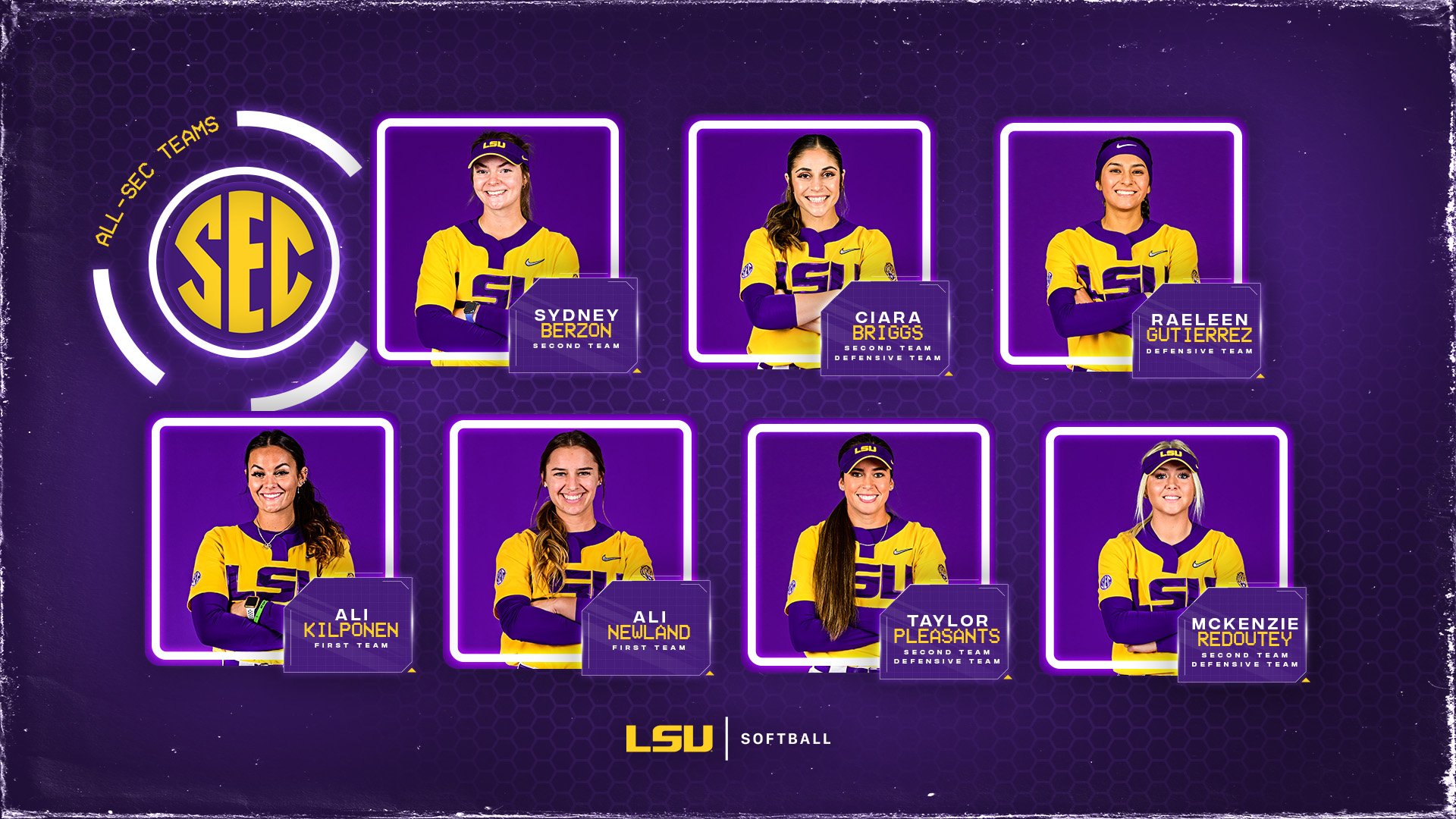 Graduate student Ali Kilponen delivered a repeat performance on the All-Southeastern Conference team, while junior utility player Ali Newland made her debut.
The SEC released its 21-member first and second teams Friday with the Tigers landing six players on those two teams, while other player earned a spot on the league's all-defensive team.
Kilponen became the only other pitcher in the history of the program since Britni Sneed (1999-2002) to be named to the first team in multiple years. The native of Highlands Ranch, Colorado has a 13-7 record, 2.16 earned run average, 111 strikeouts with four shutouts and three saves.
Newland has played both left field and catcher and received her first All-SEC first team nod. The native of Bremen, Georgia is third on the team with a .331 average with nine doubles, five homers and 34 RBIs. During SEC play, she batted .314 with a .627 slugging percentage and .458 on-base percentage and fielded at a .983 clip with only three errors in 180 total chances.
LSU (40-15), which was eliminated in the first round of SEC Tournament by Ole Miss on Wednesday, 5-3 in 10 innings, also had four players on the 21-member second team in freshman pitcher junior shortstop Taylor Pleasants, junior center fielder Ciara Briggs, sophomore right fielder McKenzie Redoutey and freshman pitcher Sydney Berzon.
Briggs, Pleasants, Redoutey and junior first baseman Raeleen Gutierrez were selected to the All-SEC Defensive team.
Pleasants, who was bothered by an oblique injury that sidelined her for four games, was a second team All-SEC choice last season and was first team in '21. She's hit a robust .331 with a team-high 48 RBIs, eight homers, .554 slugging percentage and .415 on-base percentage.
Pleasants has also fielded at a .965 clip, turning 14 double plays, with six errors in 173 chances.
Briggs, also a second team All-SEC selection in 2022, is batting .352 with a team-high 40 runs and 21 RBIs. She's maintained a 1.000 fielding percentage without an error in 81 chances. Redoutey put together a solid season with a .295 average, a team-high 17 extra-base hits with 10 doubles and five homers, to go along with 31 RBIs and .983 fielding percentage with a team-high four assists in the outfield.
Berzon became the school's fifth pitcher to achieve All-SEC status in her first season and first since Carley Hoover in 2015. She's tied with Kilponen for the team lead with 13 wins and saves with three to go along with a 1.68 ERA and team-high 121 strikeouts in 129 innings.
Gutierrez, who took over as the team's full-time first baseman this season, is batting .281 with a homer and 18 RBIs. She's also fashioned a .980 fielding percentage with seven errors in 352 chances. She also assisted in 16 double plays and during SEC play, committed only one error in 158 chances for a .994 fielding clip.
LSU will await an at-large berth into the NCAA Tournament that will be unveiled Sunday at 6 p.m. during the NCAA's pairings show at 6 p.m. on ESPN2.