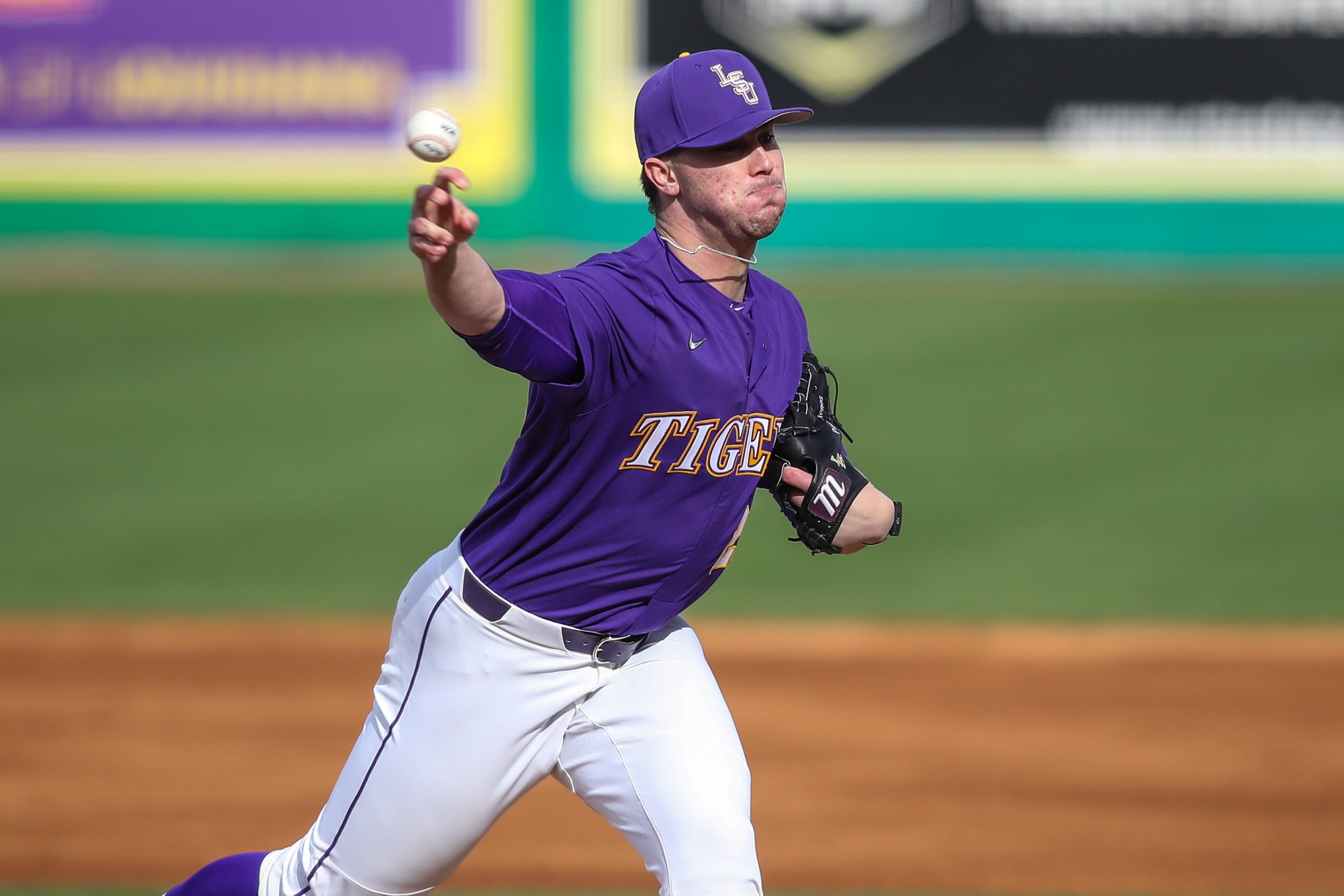 Paul Skenes proved he is 'all that,' and even more, in his first start as an LSU Tiger on Friday.
Skenes, a junior transfer from the Air Force Academy, brought the heat in No. 1-ranked LSU's season opening 10-0 shutout of Western Michigan at Alex Box Stadium on an otherwise cold and blustery afternoon.
Skenes was dominating through six solid innings, exhibiting precision control, an overpowering fastball consistently between 97.5 and 99 miles per hour and a hard-sweeping slider that kept Western Michigan batters mostly handcuffed all game. He struck out 12 over six innings, the most strikeouts by an LSU pitcher in a season opener since Scott Schultz had 12 in eight innings pitched against Lamar on Feb. 17, 1995.
Skenes threw 98 pitches total, 64 strikes and 34 balls while only allowing three hits and no runs.
LSU's defense was also perfect with no errors.
Adversity struck early, though, for LSU when third baseman Tommy "Tanks" White injured his right shoulder diving back into first base on a pickoff attempt during the first inning.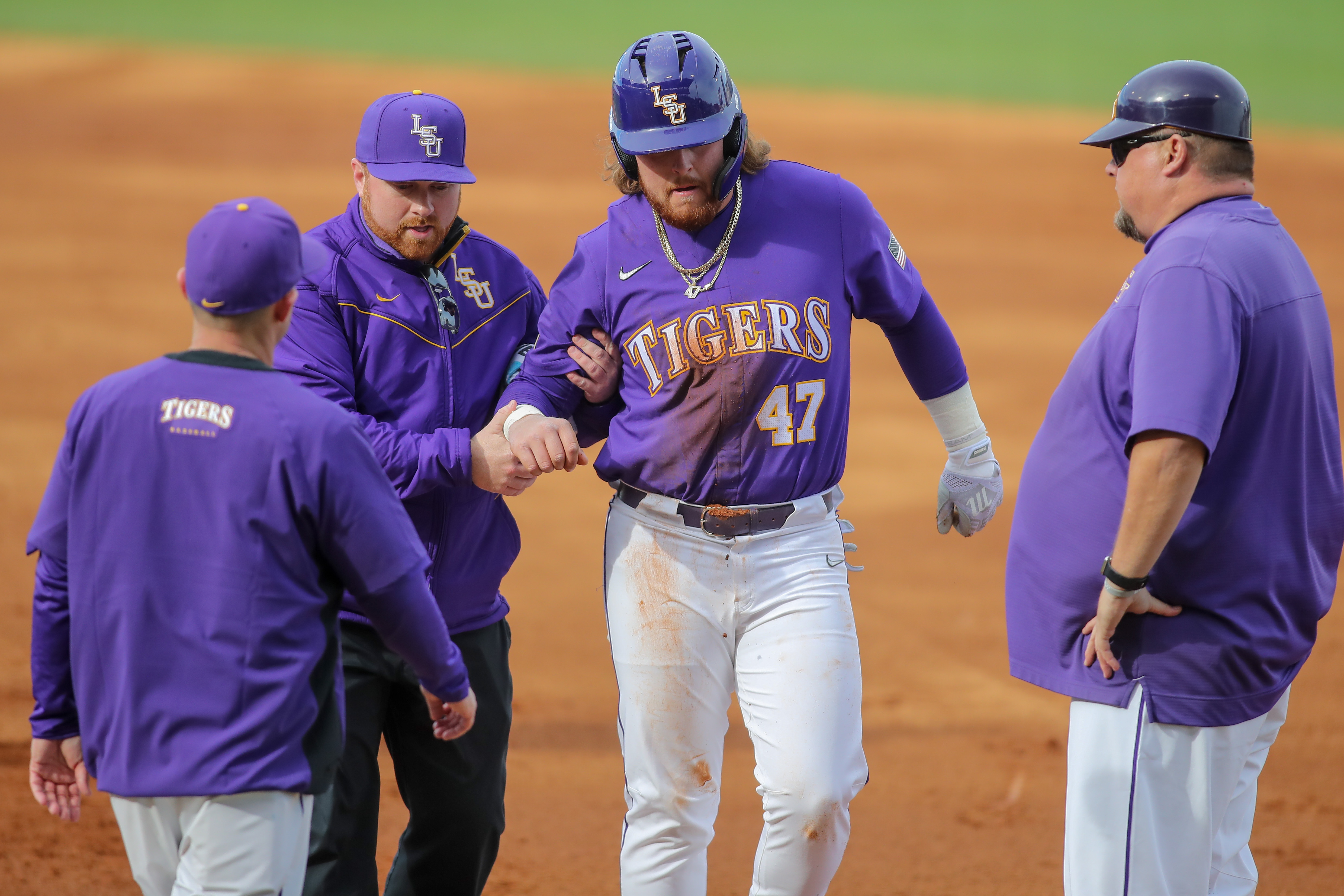 White appeared to be in a lot of pain after reaching out to touch first base on his dive back to the bag. He was taken out of the game with his right arm being held on the walk back to the dugout.
Jack Merrifield replaced White as the runner at first and in the field at third base.
Johnson said that White injured his right shoulder on the play. He also said that he doesn't believe that the injury is too serious, though he said he was not certain of the severity, nor how long White would be out.
"I don't think he'll play tomorrow, but I think he's OK," Johnson said.
White was making his LSU debut after transferring from North Carolina State. He was the ACC Freshman of the Year in 2022, blasting 27 home runs last season.
LSU led 2-0 when White left the game. Before the injury, White singled up the middle to drive in freshman Paxton Kling from second base for LSU's first run of the season.
Freshmen starters, designated hitter Jared Jones, right fielder Kling and catcher Brady Neal, combined for three RBIs, three runs scored and two hits, including a triple by Neal and a double by Jones in a five-run sixth inning that blew the game open.
Johnson said he was most pleased with how efficient LSU was in its decisive opening day win.
"More than anything, I just wanted us to play with maturity," Johnson said. "I thought we did that across the board. You can see the talent, but our guys did a great job with the focus and staying in the moment."
Dylan Crews, LSU's junior centerfielder and the expected No. 1 draft pick in this summer's Major League Baseball draft, went 2-for-3 and scored a run, reaching base three times. Crews was the only LSU player with more than one hit. Eight LSU players combined for nine hits total.
LSU scored three runs in the first two innings but didn't score again until its five-run sixth.
It didn't matter, though. Skenes was in control.
"My stuff has improved throughout the fall and winter," Skenes said. "It's more refined, just knowing myself a little bit better as a pitcher. I knew how special (his first start at LSU) would be for me and I wanted to make that happen. I had some nerves this morning, but once I got to the field it was business as usual."
Jones' two-run double started LSU's five-run sixth inning and gave a comfortable cushion to relievers Christian Little and Mitch Bucknam. Little, a junior transfer from Vanderbilt, delivered two perfect innings. Bucknam, a freshman, closed the shutout with a scoreless ninth inning that ended with a double-play turned by freshman second-baseman Gavin Guidry.
Jones credited Johnson for preparing he and fellow freshmen starters Kling and Neal for such poised debuts.
"Coach Johnson did a great job of letting us know that we starting," Jones said. "He talked us through of slowing the game down and taking deep breaths on-deck and even in the dugout before we went up to bat.
"We also have been facing the best staff in college baseball for the last six months (in practice), so we were well prepared. . . I was glad to have him (Skenes) on our team today, finally."
Skenes had been dominating LSU hitters all preseason in practice and scrimmages.
LSU and WMU play again on Saturday at 1:30.
Riley Cooper, a junior pitcher who came out of the bullpen last season, will start for LSU. He has started before, but only three times in 59 appearances under Johnson, who he also played for at Arizona before transferring to LSU last with Johnson. All three of Cooper's previous starts were at Arizona.