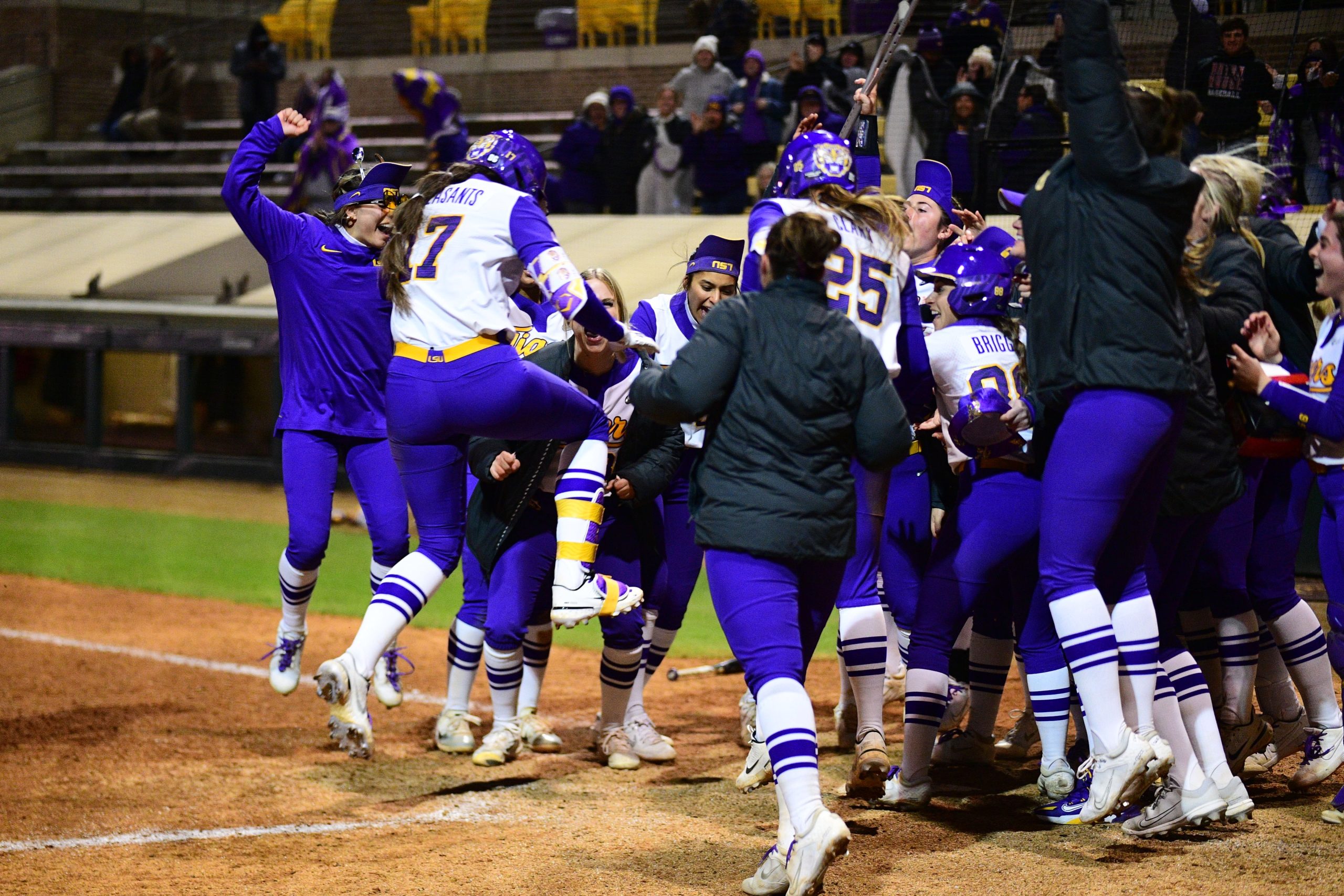 LSU's softball team went from one extreme to another.
After finishing off Ohio with a mercy-rule victory in Friday's first game of the Tiger Classic, the No. 18 Tigers relied on some dramatics in the nightcap for a 6-4 win over Utah at Tiger Park.
Junior shortstop Taylor Pleasants hit a walk-off, three-run homer with one out in the bottom of the seventh to remain perfect at 7-0 on the season. She drove in seven runs in the doubleheader.
LSU returns to action Saturday against Utah at 4 p.m. and Ohio at 6:30 p.m.
LSU 6, Utah 4: Raeleen Gutierrez (2-for-3, RBI) led off the seventh with a single to right and was replaced at first by pinch-runner Maia Townsend who moved up a base on a ground out.
Ciara Briggs then reached base on a fielding error, setting the stage for Pleasants (2-4, 3 RBIs) who drilled a 1-0 pitch from reliever Halle Morris over the wall in center.
It made a winner of freshman Sydney Berzon (2-0) who came in relief of starter Ali Kilponen and allowed one run over 3.1 innings of work. She walked two and didn't record a strikeout.
LSU trailed 3-0 until finally scoring in the bottom of the third when Gutierrez tripled in a run and Coffey singled in another.
The Tigers, who were outhit 10-9, trailed 4-3 after a run in the fifth on Briggs' RBI-double.
Berzon allowed consecutive singles in the top of the seventh but responded with three straight pop ups – the first two on the infield – and the other to Ali Newland in left field.
LSU 8, Ohio 0: Pleasants was one of four players with multiple hits and led LSU with four RBIs in Friday's first game.
The Tigers broke a scoreless tie with two runs in the second, a run in the third, two more in the fourth and ended the game with three more in the fifth.
Pleasants had a two-run single to highlight the fifth inning and Georgia Clark added a run-scoring double down the line in left to score Briggs and end the game.
McKenzie Redoutey gave LSU a 2-0 lead with a two-run double in the second and Newland made it 3-0 with a sacrifice fly in the third.
A two-run single from Pleasants extended LSU's lead to 5-0 when the Tigers scored three times on four hits in the fifth.
Freshman Aleah Johnson was the winning pitcher with a three-hit shutout. She walked three and struck out three, escaping a couple of jams in the second with a pair of strikeouts and a double play turned by Coffey to get out of the third.