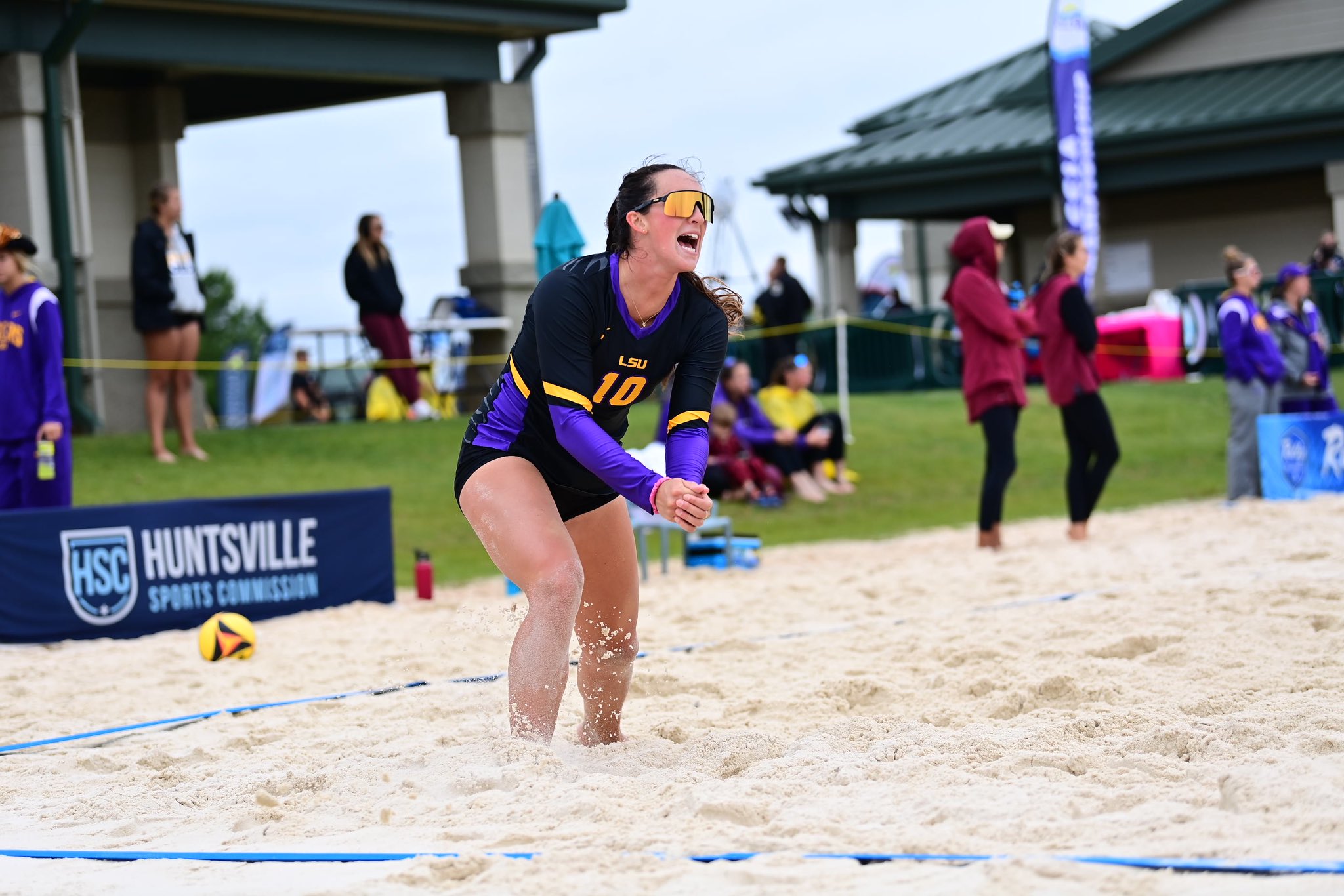 HUNTSVILLE, Ala. – The No. 6 LSU beach volleyball team conquered a literal mountain Thursday with a 3-1 victory over No. 4 Florida State at the CCSA Tournament at the John Hunt Beach Volleyball Complex.
The Tigers (26-10) also took an earlier 3-0 win over Missouri State and advanced to Friday's semifinal match at 12:30 p.m. against No. 7 Grand Canyon.
"Today was a significant step for our team," LSU beach volleyball coach Russell Brock said. "Really proud of every one of our girls for how the engaged the task of that match. Not only did we have great effort on every court and really good execution, around the court our team brought more energy than we've had in a long time. There's no question that it was a combined effort that led to the success on the score board."
LSU reversed its fortunes against long-time nemesis Florida State which had defeated the Sandy Tigs four times this season.
The team of Grace Seits and Parker Bracken won both of their matches – both in straight sets – along with the tandems of Hannah Brister and Reilly Allred and Laura Boos and Ella Larkin.
LSU 3, MSU 0
MSU Becca Bach / Olivia Mariel def. LSU Kylie DeBerg / Ellie Shank – 21-16 ,6-13
LSU Grace Seits / Parker Bracken def. MSU Grayson Hall / Tylar Garrett – 21-8, 21-10
LSU Hannah Brister / Reilly Allred def. MSU Mackenzie Steele / Manuela Miemeyer – 21-8, 19-11
LSU Lara Boos / Ella Larkin def. MSU Olivia Rattler / Brooke Plessner – 21-8, 21-6
LSU Melia Lindner / Amber Haynes def. MSU Addison Crider / Sydney Sampson – 21-12, 21-11
LSU 3, FSU 1
LSU Kylie DeBerg / Ellie Shank def. FSU Maddie Anderson / Paige Kalkhoff – 21-17, 21-17
LSU Grace Seits / Parker Bracken def. FSU Anna Long / Jordan Polo – 21-12, 21-19
LSU Hannah Brister / Reilly Allred def. FSU Carra Sassack / Morgan Chacon – 15-21, 22-20, 15-11
LSU Lara Boos / Ella Larkin def. FSU Audrey Keoing / Caitlin Moon – 19-21, 21-16, 12-11
FSU Alexis Durish / Makenna Wolfe def. LSU Melia Lindner / Amber Haynes – 23-21, 21-15