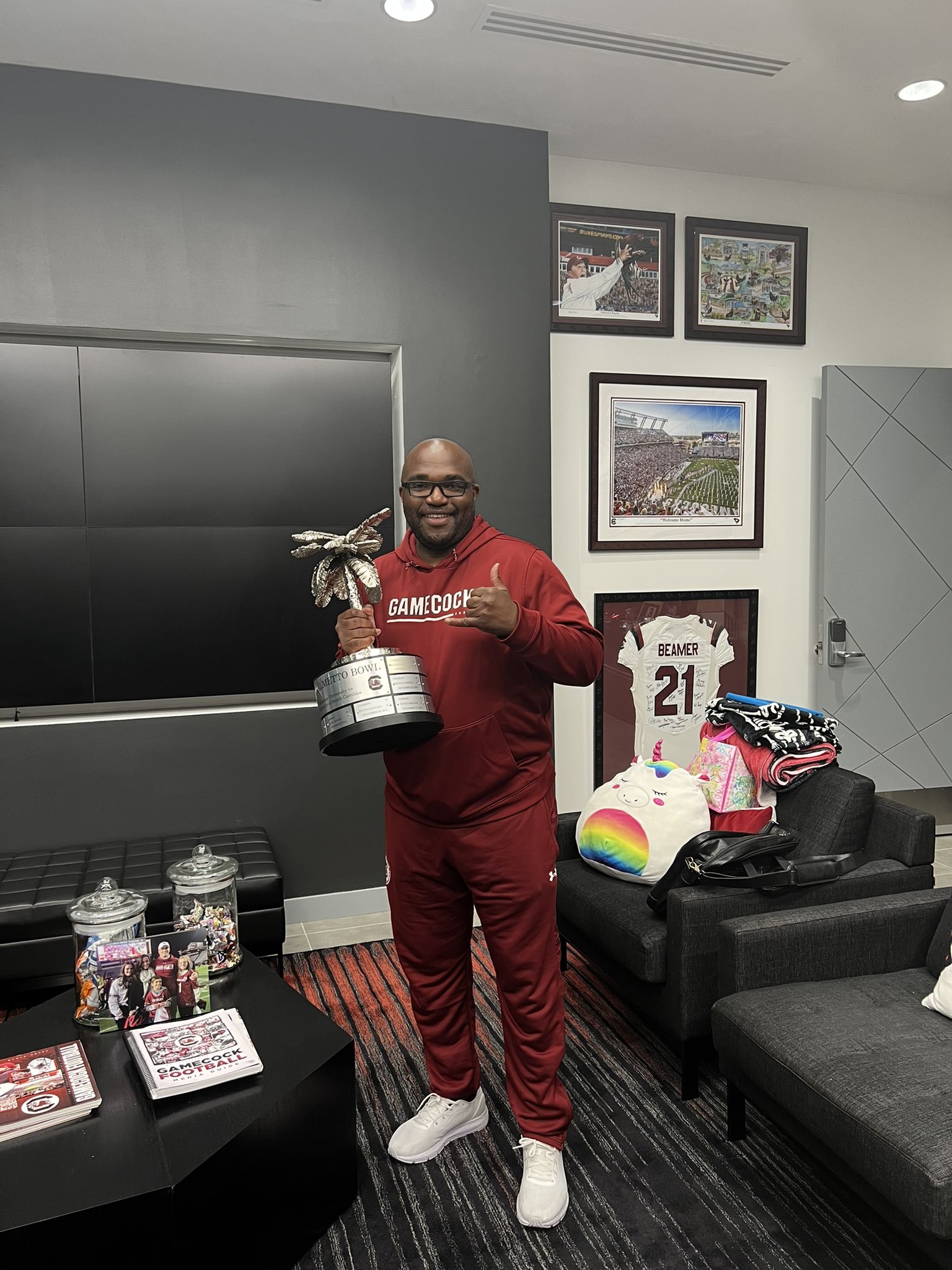 LSU football coach Brian Kelly has adhered to his own timeline in finding a new defensive line coach.
When asked earlier this month about a replacement for departed coach Jamar Cain to the NFL's Denver Broncos, Kelly said the process would take until the end of the spring practice before a successor would be named.
Kelly has apparently found his guy in South Carolina defensive line coach Jimmy Lindsey, who according to several sources, is LSU's prime candidate for the job. One source, GamecockScoop.com, went as far to report that Lindsey has agreed to take the job which would represent a significant pay increase.
Cain, whose total compensation was $809,600 last season, spent one year on Kelly's staff at defensive line and was also regarded as one of the staff's top recruiters as evidenced by his signing of defensive line/edge standouts such as Jaxon Howard of Crystal, Minnesota, Da'Shawn Womack of Baltimore, Maryland.
"I think if you just look at assembling a staff in the SEC, look at the position groups that make such an important impact on your team," Kelly said of the defensive line coaching position. "You'd be hard pressed to say the defensive line is not as important as any position. Recruiter, talent developing has got to be at the top of the list. It narrows your pool from that perspective. Experience then comes into being a part of that.
"I think one of the criteria is recognizing who they've recruited in the past and then their understanding of recruiting to LSU and the SEC," Kelly said. "You're talking to a number of different people that know them or have knowledge of that person. My conversations with that person in terms of the kind of character that is necessary for them to succeed here at LSU."
Senior defensive analyst Gerald Chatman, who Kelly considered a candidate for the position, coached the team's defensive line throughout spring practice.
The 46-year-old Lindsey has spent the past two years on the staff of head coach Shane Beamer and helped the Gamecocks finish 8-5 with a loss to Notre Dame in last year's Gator Bowl. He also helped develop 2023 NFL Draft hopeful Zacc Pickens.
According to GamecockScoop.com, Lindsey signed a two-year extension in the offseason that raised his base pay to $475,000.
South Carolina experienced a turnaround under Lindsey's tutelage with a defense that ranked second in the SEC by forcing 23 turnovers, including a league-high 15 interceptions in his first season in 2021. The Gamecocks produced 31 sacks this past season and forced 22 turnovers that included 14 interceptions and eight fumble recoveries in 17 opportunities.
Lindsey, a native of Cheraw, South Carolina and former linebacker at Chattanooga, steadily worked his way up the coaching ladder, beginning at his alma mater in 2000 where he coached linebackers. He coached linebackers, special teams and was the recruiting coordinator at Gardner-Webb for four years and served on the same staff as current LSU defensive coordinator Matt House.
Lindsey coached defensive ends and special teams for two years at Miami (Ohio) before returning to Chattanooga to coach the defensive line for two years. He was the defensive line coach and assistant head coach for three years at Furman before serving as defensive line coach at Georgia Southern for a year and coached the defensive line for four years at Western Kentucky.
Lindsey has also been involved in the NFL's Minority Internship program where over a seven-year span, he coached with the Cleveland Browns, Detroit Lions, Denver Broncos and then San Diego Chargers.