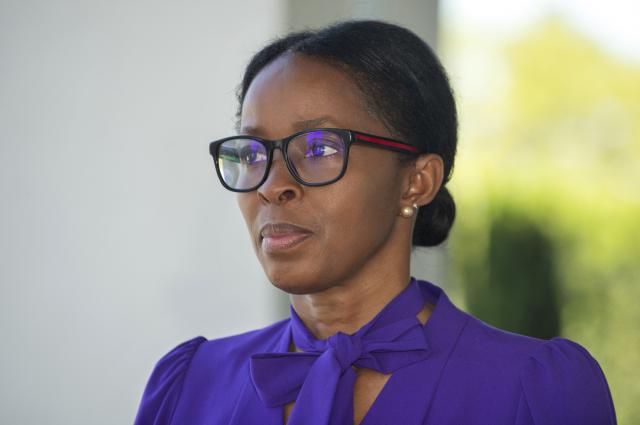 Sharon Lewis, recently fired from her position as LSU's associate athletic director of football recruiting and alumni relations, has requested the opportunity to testify in the school's ongoing Title IX litigation.
Attorney Larry English, who represents Lewis, made the written request to the Louisiana State Senate Select Committee on Women and Children in a letter obtained by Tiger Rag on Tuesday.
"Sharon Lewis respectfully requests that she be given an opportunity to at the Committee's earliest convenience to speak to you under oath," English said in the letter.
"The Committee, the state of Louisiana, the LSU community and the country deserve to hear Ms. Lewis' testimony."
Lewis was asked to appear before the committee in Apr. 2021, but LSU barred all employees from answering questions regarding allegations that school officials mishandled sexual harassment and Title IX complaints.
LSU athletic director Scott Woodward and former football coach Ed Orgeron declined to testify in front of the committee.
In a statement to Tiger Rag, Lewis' legal team claims she was fired without cause by Woodward on Jan. 5. Lewis joined LSU's football recruiting office in 2002 and was promoted to associate AD in Aug. 2020.
Democratic state Sen. Regina Barrow of Baton Rouge, who chairs the Louisiana State Senate Select Committee on Women and Children, told Tiger Rag that Lewis will have the opportunity to testify.
"I'm working with her attorney right now because this is still under litigation," Barrow said. "I would say that right now, she has the right to come and speak and we will hear her."
Barrow said the committee will meet during the current special session, which expires on Feb. 20.
The committee is comprised of seven members — Barrow, Heather Cloud (R-Ville Platte), Sharon Hewitt (R-Chalmette), Katrina Jackson (D-Monroe), Fred Mills (R-New Iberia), Beth Mizell (R-Franklinton) and Karen Carter Peterson (D-New Orleans).
"I would like to do it when we're here instead of having people come back," Barrow said. "We're trying to figure out the best dates and we'll definitely have a meeting before the next session."
Lewis filed a $50 million lawsuit in Apr. 2021, claiming LSU officials violated the Racketeering Influenced and Corrupt Organizations (RICO) Act to cover up Title IX complaints. The suit also claims Lewis was a victim of retaliation for reporting allegations former LSU football coach Les Miles sexually harassed student workers.
Defendants named in the lawsuit include Miles, former LSU President F. King Alexander, The LSU Board of Supervisors and attorneys from the Taylor Porter law firm in Baton Rouge.
U.S. District Judge Susie Morgan dismissed the RICO claims against LSU on Dec. 2, ruling that the charges were time barred. Morgan, who is based in the New Orleans Eastern District Court, was appointed to the case in May 2021 after every federal judge in Baton Rouge recused themselves.
Lewis can add RICO claims to the suit if the allegations occurred after April 2017. Morgan also ruled that Lewis can continue to sue for retaliation.