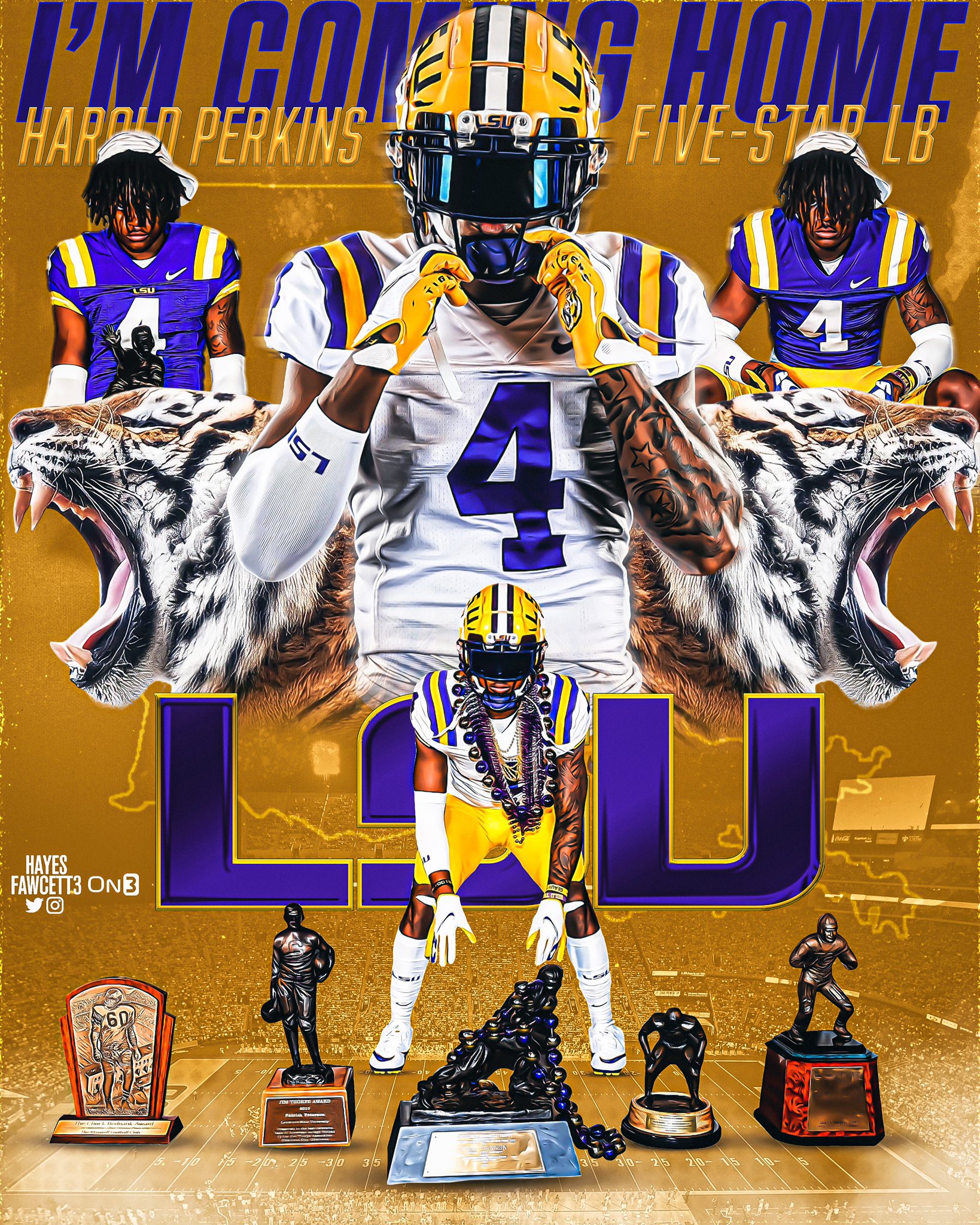 LSU began Wednesday's late NCAA signing period with a bang with a somewhat dramatic commitment from three-star commitment Jaelyn Davis-Robinson of Waxahachie, Texas during a ceremony at his school.
The 5-foot-11, 175-pound Davis, the nation's No. 55 rated cornerback according to 247Sports, sat behind a table with hats from LSU, Oregon, Boston College and Wyoming. He stood up, unzipped a black jacket to show a green Oregon shirt, but after a brief pause, removed that shirt that revealed a purple LSU shirt and later signed with the Tigers.
"You can't coach the kind of speed Jaelyn brings to our secondary. His upside is tremendous," LSU football coach Brian Kelly said.
After a day littered with disappointments, the Tigers got some good news with the commitment and signing of five-star linebacker Harold Perkins of Cy Park High of Cypress, Texas. The 6-2 1/2, 210-pounder, a one-time Texas A&M commitment, is a native of New Orleans whose family moved to the Houston area following Hurricane Katrina.
"I'm going back home," said Perkins, who had narrowed his choices to LSU, A&M and Florida. He made his last official visit to LSU last weekend.
Perkins fill a big void left behind by second team All-SEC linebacker Damone Clark. He is the nation's second-ranked linebacker and eighth overall prospect by 247Sports.
"My first goal is to start and go get freshman All-American," Perkins said.
Perkins was a two-year, first team All-District 16-6A selection for Cy Park where he accounted for almost 1,500 yards of offense as a running back (1,194 rushing, 300 receiving), averaged 18.4 yards on five kickoff returns and added 29 tackles on defense.
Depending on the recruiting service, the addition of Perkins (247Sports and On3Sports) gives LSU a total of three five-star signees, joining quarterback Walker Howard (Rivals.com) of St. Thomas More and defensive lineman Quency Wiggins (Rivals.com) of Madison Prep.
"Coach Kelly brings a lot of energy," Perkins said. "I like the way he interacts with his players. It shows a lot about his personality. I thought he was dull and dry. He showed me different when I was up there."
With 15 total high school signees, LSU finished ranked No. 12 by both 247Sports and On3Sports, while Rivals.com ranked the Tigers 14th.
Davis-Robinson helps LSU address a pressing need where the Tigers return just two cornerbacks on their roster. First-year coach Brian Kelly and his staff have been aggressive in the NCAA transfer portal where they've signed three players from SEC Western Division schools (Mehki Garner, Joe Foucha, Greg Brooks Jr.) to try an address those needs.
Versatility is a staple for Davis-Robinson where he could play cornerback, nickel or safety.
LSU offered Davis-Robinson on Jan. 24 and secured an official visit over the weekend that paid dividends on Wednesday. He was a part of a 6-5 team as a senior, registering 58 tackles (49 solo) with two caused fumbles and a fumble recovery.
Davis-Robinson is also an accomplished track runner where he may project to be a two-sport athlete in college. He's got personal bests of 10.5 in the 100 and 21.43 in the 200 meters.