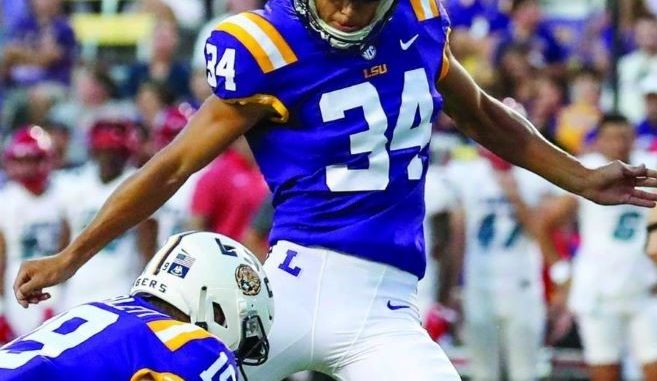 They weren't just game-defining plays, but clear examples of an area LSU severely lacked during the 2022 season. 
The Tigers had made a furious rally in the fourth quarter and needed one more point on the final play of the game to force overtime in the season opener with Florida State.
However, placekicker Damian Ramos' extra point was blocked, his second blocked kick of the game, and the Tigers left the Caeser's Superdome with a 24-23 setback against the Seminoles.
LSU opted to receive the opening kickoff in a Top 25 home battle with Tennessee and return man Jack Bech was unable to properly gauge a swirling Tiger Stadium wind, resulting in a fumble the Vols were able to cash into a short scoring drive that sparked a 40-13 demolition.
The Tigers, who won the SEC Western Division, got off to an inauspicious start in the SEC Championship Game against top-ranked Georgia. An opening drive stalled, and Ramos' 32-yard field goal was blocked and with the coverage team's lack of awareness in live ball situations, the Bulldogs returned it 96 yards for a touchdown in a game they later blew open, 50-30.
"It was a bit of a rough go last year," Fifth-year senior punter Jay Bramblett said of LSU's special teams units.
LSU exhibited marked improvement on offense and defense throughout a 10-win season that catapulted the program that was predicted to finish fifth in the SEC West, to a division championship under first-year coach Brian Kelly.
But special teams remained a sore subject and resulted in a change of coordinators with Kelly elevating coaching veteran John Jancek to outside linebackers coach/special teams coordinator. He replaced Brian Polian who initially had taken an off-the-field role in the program before he hired as athletic director at John Carroll, his alma mater.
"A big part of special teams is you have to have guys doing the little things right," Jancek said in the spring. "You have to have attention to detail."
The previous three years of Jancek's coaching career were spent in off-the-field roles, including the '22 season under Kelly. But he's got more than three decades of coaching experience to his credit that feature several stints as defensive coordinator at Georgia and Tennessee in the SEC and Cincinnati.
Jancek, who first coached under Kelly in 1991 at Grand Valley State, has also developed a penchant for coaching special teams and embraces such a challenge at LSU. He was set to assist defensive coordinator Matt House and coach outside linebackers but will instead work with the defensive line in the absence of Jimmy Lindsey.
"I told coach I'm completely comfortable with being the special teams coordinator," Jancek said. "I've been a part of special teams my entire career. With me having coached for coach in the past, he had a comfort level with me. We had great communication."
Kelly made it clear that while Jancek's the lead voice in coordinating the special teams' units, a good portion of the coaching staff will have a hand in certain areas of special teams to increase production and help elevate the Tigers to one of the SEC's more respected units.
Also, expect to see first-team performers such as linebacker Harold Perkins and experienced wide receivers such as Brian Thomas Jr. covering punts.
"There's always been a sense of urgency," Bramblett said. "Everybody knows we have to get better at special teams from last year to this year. This plan with coach Jancek and how other coaches are involved, it speaks to that sense of urgency."
Ramos and Bramblett were two of LSU's most consistent performers a year ago.
Ramos, a walk-on, led LSU in scoring with 85 points and was the SEC's seventh-ranked kicker. On field goals, he was 10 of 14 with a long of 47 yards in a win at Florida and made 55 of 57 extra points. Bramblett was fourth in the SEC with a 44.5-yard average on 49 punts with 15 covering 50+ yards and 18 inside the 20-yard line.
Nathan Dibert was 10th in the SEC in kickoffs with an average of 63.8 yards. He had 38 of his 60 kickoffs resulting in touchbacks.
Kickoff and punt returns are two areas in need of improvement after LSU ranked near the bottom in both categories. The Tigers, led by Noah Cain's 22.1-yard average, averaged 20.4 yards per kickoff return and Gregory Clayton Jr. was 15th in punt returns with 11 for a 4.6-yard average.
LSU returned 16 punts for an average of 3.25 yards.
The Tigers are looking for Alabama transfer Aaron Anderson, a native of New Orleans, to bolster both areas this season.
"We're working hard to get better," Jancek said. "We're not going to focus on the past. We're going to move forward in a positive manner. That's been the message to our team."