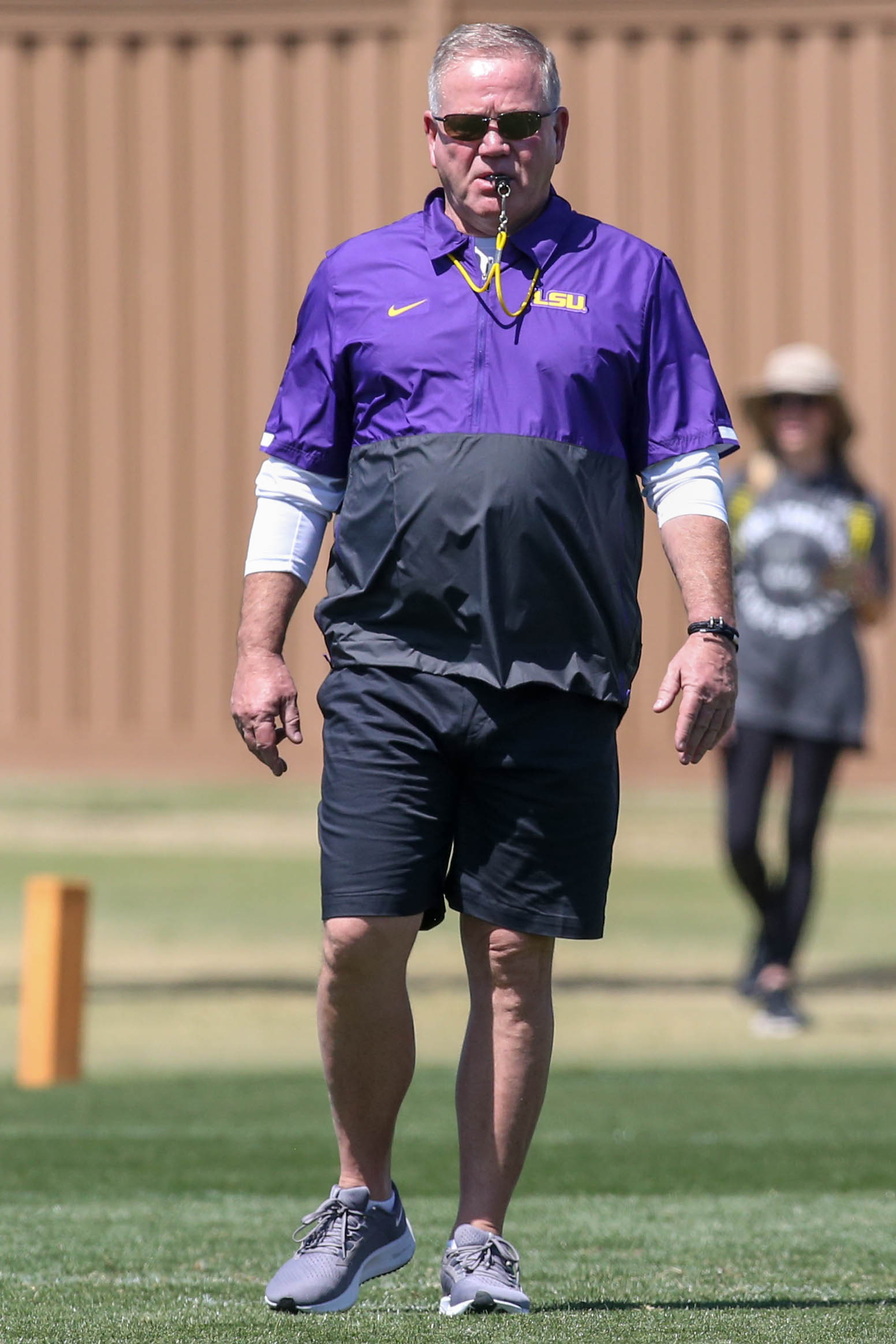 It took the offspring of an NFL Hall of Famer to quell some of the uneasy feelings coach Brian Kelly had about the tight end position on his first LSU team.
Kelly, who long played multiple tight ends in offensive formations during his tenure at Notre Dame, discovered the position somewhat depleted when he got to Baton Rouge late last year. He found returning players junior Kole Taylor and junior Jack Mashburn as the team's lone scholarship players at the position.
The Tigers were able to get former baseball pitcher-turned-tight end Nick Storz back on the playing field following a brief medical retirement from the game. The 6-foot-6, 267-pound Storz will play this season as a graduate student.
However, the biggest development in LSU's preseason practice at tight end has been the emergence of true freshman Mason Taylor of Plantation, Florida.
"Probably one of the biggest, pleasant surprises has been Mason Taylor," Kelly said following Thursday's practice, which was open to the media. "He's ready to help us win this year and play for us. He's been outstanding. I feel so much better about that position because of his presence and the way he's shown himself."
Taylor, the son of NFL Hall of Famer Jason Taylor of the Miami Dolphins and nephew of former Dolphins linebacker Zach Thomas, was a four-star recruit and the nation's seventh-ranked tight end by Rivals.com out of St. Thomas Aquinas High. He opened the 2021 season with 12 catches for 162 yards and finished with a team-high 35 receptions for 403 yards (11.3 yards per catch) and two touchdowns.
The 6-7 Kole Taylor played in 12 games a year ago with six starts and had just six catches for 68 yards and a TD. He enjoyed a promising spring game with four catches in four targets for 22 yards.
"I thought he showed himself more than just, you know, a pedestrian player," Kelly said after the game. "He's long. He showed some yardage after the catch (with 12)."
Mashburn, a former walk-on whose career began at quarterback and wide receiver, bulked up last season and helped the team's running game. His most notable performance came in last year's 49-42 win over Florida, as Mashburn was instrumental in springing running back Ty Davis-Price for a school-record 287 yards and three rushing touchdowns.
LSU, which addressed a plethora of its personnel needs through the NCAA transfer portal, came up empty through that avenue when it came to adding an experienced tight end.
Mason Taylor committed to LSU last July under former head coach Ed Orgeron and remained firm to the Tigers during the transition to Kelly and his new coaching staff and signed in December. Offensive coordinator Mike Denbrock also coaches tight ends for the Tigers.
"Cody Richardson, Mason and Jaelyn Davis-Robinson are the three biggest surprises in how they've impacted camp for me," Kelly said. "Mason will help us a lot."