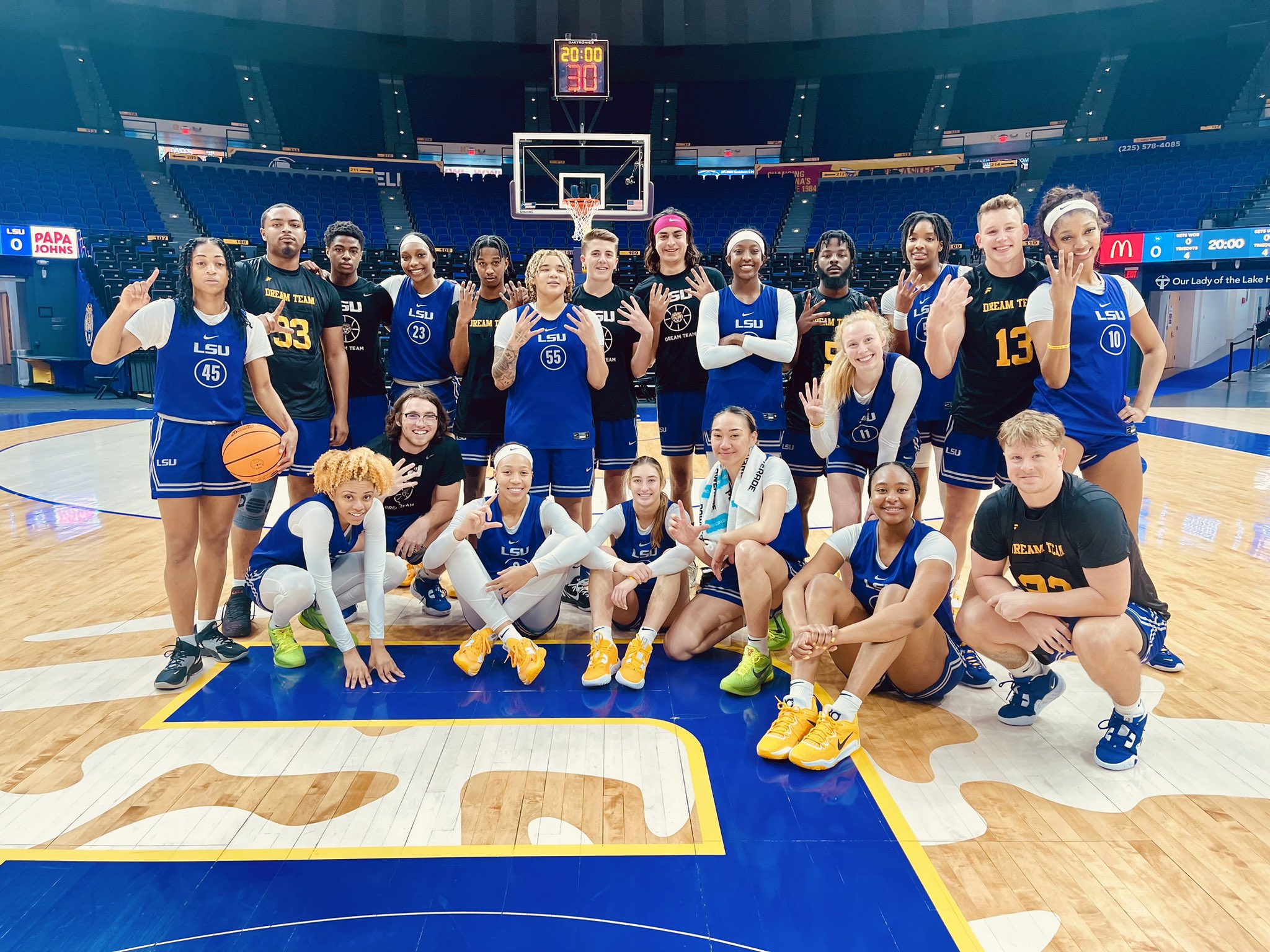 Kim Mulkey was the still in the midst of a spectacular run as coach at Baylor when she got a look at the future of what the future of Virginia Tech's basketball would look like.
Mulkey, now in her second season at LSU, guided the Lady Bears to a convincing 90-48 victory over Virginia Tech in the 'bubble' during the 2021 NCAA Tournament in San Antonio.
Fast-forward to this week when third-seeded LSU (32-2) makes its first appearance in the Women's Final Four since 2008 and will be opposite top-ranked Virginia Tech (31-4), the winningest team in school history with three core players from that '20-'21 team that have been at the heart of the Hokies' success.
LSU faces Virginia Tech in a national semifinal at American Airlines Center in Dallas at 6 p.m. on ESPN. The game will be carried live by 107.3-FM.
"You saw talent," Mulkey said during Tuesday's news conference of the '21 Va. Tech team which is making its first trip to the Final Four. "You saw raw talent that you just knew, they were going to get better."
Some of those faces are still familiar to Mulkey who coached at Baylor for 21 years and led the Bears to three national championships.
What she's witnessed from seventh-year Va. Tech coach Kenny Brooks is the development of a program led by 6-foot-6 senior center Elizabeth Kitley, the two-time ACC Player of the Year with an 18.2 scoring average and 10.7 rebound average. She's also a finalist for two of the nation's top individual awards.
Kitley, who has scored over 2,000 points during her career, is a projected top 10 pick in next month's WNBA Draft.
Junior point guard Georgia Amoore, a first team All-ACC selection, is the team's second-leading scorer at 16.3, dishes out 5.0 assists and has a team-high 114 3-pointers and shoots 34.9% behind the arc. Junior forward Taylor Soule, a second team All-ACC choice, is also a double-digit scorer at 11.1 points and collects 5.7 rebounds a game.
"Kitley is a problem with her height and her ability to shoot the face-up jumper," Mulkey said. "She's not just a back-to-the-basket post player. Amoore, boy, she's got range and she's got just a deadly step-back move out there on the perimeter, and those two, I just remember playing them in the bubble and then watching them today and just how much better they are. But I think the world of coach Brooks. I think he's just a classy guy, a great coach, and they're a No. 1 seed for a reason."
Va. Tech tied its longest win streak of 15 games under Brooks and punched its ticket to the Final Four with a 84-74 win Monday over Ohio State. Kitley produced her 56th career double-double with 25 points and 12 rebounds to go along with three blocked shots. Amoore made four 3-pointers as part of her 24-point outburst with Soul and reserve Cayla King adding 12 apiece.
The Hokies scored more than 80 points for the ninth time in their regional championship game, including scoring 48 points and shooting 59.6% in the first half. They've also defeated Tennessee twice along with Missouri and Kentucky of the SEC and split with Miami, the opponent the Tigers took a 54-42 victory Sunday in the final of the Greenville Regional 2.
"Three years ago when she was at Baylor, and they whipped us, they whipped us good, behind her mask she gave me a vote of confidence, some encouragement," Brooks said of Mulkey. "She said, behind that mask, 'Kenny, I know you're smiling. Today we played as good as we could play, but you just have babies, and you're going to be good'. She was referencing Georgia Amoore, Elizabeth Kitley, Cayla King and those guys. She patted me on the chest, and she said, 'you're going to be good, good luck to you'.
"We've exchanged pleasantries on the recruiting trail," Brooks said. "She's someone that I admire. I've coached against her I think two times – once at Virginia Tech and once at James Madison. She's a legend in this game, and it's going to be a lot of fun going against her again."
Mulkey's team conducted its final practice and held a film session before attending a public sendoff in the afternoon before traveling to Dallas. She said the team will conduct a practice Wednesday before being able to hold a short workout in American Airlines Center on Thursday.
"Last thing I shared with them in the middle of the floor was, you're getting ready to play a No. 1 seed," Mulkey told her team. "We've not done that. You're getting ready to play a young lady (Kitley) who is the finalist for not one but two awards. We don't have anybody on our team that's a finalist for any award. Are we satisfied? Are we patting ourselves on the back and saying, hey, 'this is as far as we can go? Or are you still hungry'?
"And the responses that I received are, 'Coach, we're ready to move on and get to the next game'," Mulkey added. "When you have kids that are hungry and not satisfied to just be there, you're going to go compete. Whether we win or lose, I know we will compete."