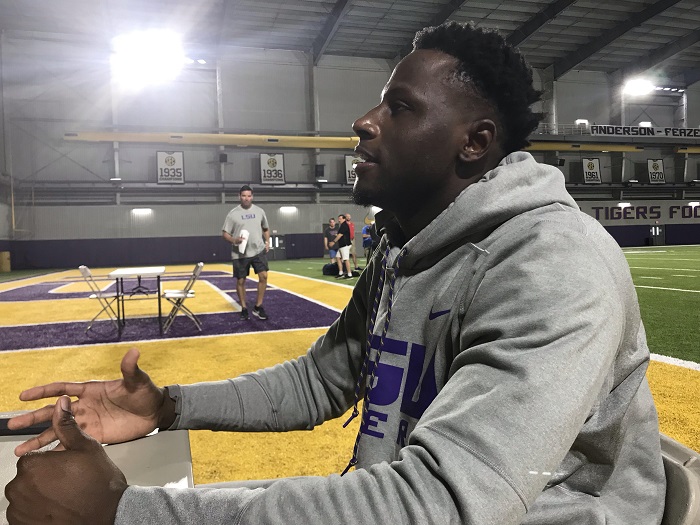 The motto of LSU passing game coordinator Joe Brady is "Everyone eats," but one of the Tigers' biggest targets has gone hungry through the first two games.
Tight end Stephen Sullivan saw action in LSU's win over Texas, but the senior has yet to catch a pass.
Before the season, Sullivan's role to that of former New Orleans Saint Jimmy Graham in the new offense. LSU coach Ed Orgeron said the staff is still trying to figure out the best ways to get the big senior the ball.
"He's been doing fantastic," Orgeron said on the SEC Coaches Teleconference Wednesday. "We've even talked about that if we're not going to use him at tight end, let's use him at receiver. He's an excellent player. We need to find a way to get him on the field to make plays.
"He's a great young man. Very important to our program. As the season progresses, I think we're going to find the right spot for him."
The tight end position as a whole has been relatively busy (for LSU standards, at least) through two weeks.
Thaddeus Moss leads the group with three catches for 78 yards, including a long of 44. TK McLendon and Jamal Pettigrew have caught one pass apiece.
NOTES AND QUOTES
The status of the air conditioning inside the visitor's locker room at Texas continued to be a major talking point. Orgeron again made it clear that he feels the cramping issues on defense were more a result of playing 93 plays on defense and not giving players IVs during halftime.
Orgeron will take on his alma mater Northwestern State this weekend. Orgeron and defensive line coach Bill Johnson, who hired him after graduation, have reminisced some on their time there this week.
"Bill Johnson is the one who helped me get into coaching," Orgeron said. "He helped me get to McNeese State (and later Miami) … We're just happy to be at LSU. We've both always wanted to be at LSU. God has a plan for both of us."
Once again, Orgeron said LSU's offense has the chance to be as prolific as the pass protection allows it to be: "There's another level, and it has to start with pass protection … Our offensive line has improved, but there's still some tests down the road."
Orgeron was asked about the possibility of slowing down the offensive tempo to give the defense time to rest: "You want to be able to maybe slow it down a little to give your defense a rest, but your defense has stop them from scoring points. We knew we were in a shootout, so we felt like every time we had the ball in the second half, we had to score. That's what happened. When we play great on defense, we can slow it down."