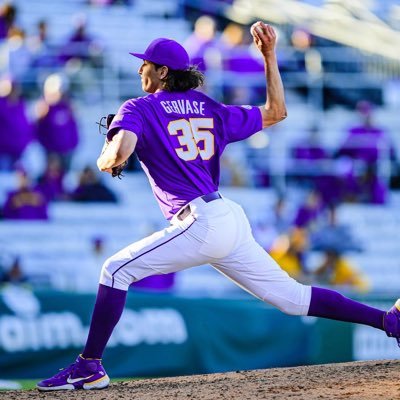 LSU's baseball program may have broken even on the second day of the 2022 Major League Draft.
A day after potentially losing up to seven players, including five signees, LSU seemingly bounced back Monday when two pitchers said they planned to pitch for the Tigers.
Six-foot-10 senior-to-be Paul Gervase, who led LSU in earned run average and saves in 2022, removed his name from draft considerations once the draft reached the 10th round Monday.
"Let's run it back," Gervase said on his Twitter page.
LSU also received a similar endorsement from high school signee Chase Shores, a 6-8, 250-pound right-handed pitcher. The native of Midland, Texas, the No. 129 rated prospect by MLB.com, also removed his name from draft consideration and intends to fulfill the scholarship he signed last November.
"Can't wait to be a Tiger," Shores announced on his Twitter account during the sixth round of the draft. "I want to say thank you to all teams I met with throughout the draft process. LSU is the place for me right now. I can't wait for the next three years."
The MLB Draft will conclude its 20-round draft with rounds 11-20 Tuesday beginning at 1 p.m.
LSU, which lost team members Jacob Berry and Cade Doughty during Sunday's first and second rounds, respectively, had to deal with the potential of two more setbacks.
Left-handed pitcher Michael Kennedy of Troy, N.Y., the No. 89 rated prospect by MLB.com, was drafted in the fourth round by the Pittsburgh Pirates with the No. 110 overall selection. The Tigers also suffered a blow when the power pitcher they coveted and signed from the NCAA transfer portal, two-time Big East Pitcher of the Year Dylan Tebrake of Creighton, was drafted by the New York Mets in the eighth round with the 239rd overall pick.
"Dreams do come true! Can't thank everyone enough who has helped along this journey. Let's get to work Mets," Tebrake wrote on his Twitter page.
LSU also probably lost the services of dependable relief pitcher Eric Reyzelman, who tied for the team lead last season with 29 appearances and had a 1-3 record, 4.04 ERA and 66 strikeouts in 42.1 innings. The New York Yankees made Reyzelman a fifth-round draft choice, taking the Cape Cod League all-star with the 160th pick.
Gervase evolved into LSU's closer last year, tying Reyzelman with 29 appearances. He was 4-1 with six saves and a 1.85 ERA and wound up with 52 strikeouts in 39 innings.
Shores, armed with a 97 miles-per-hour fastball, was voted the Midland Telegram-Reporter Area's Player of the Year where at Legacy High, he was 7-2 with a 2.25 ERA with 107 strikeouts in 65.1 innings. He was voted the District 2-6A MVP and was the No. 90 prospect by Baseball America and No. 107 by ESPN.com and was projected as a second-to-fourth round draft choice by five baseball sites.
"Some of the teams weren't getting to my number that I had for my signing bonus," Shores told The Telegram-Report. "I just think if I go to LSU for three years, I can come out of there being a first-round pick.
"I've always bet on myself. Why not do it again?