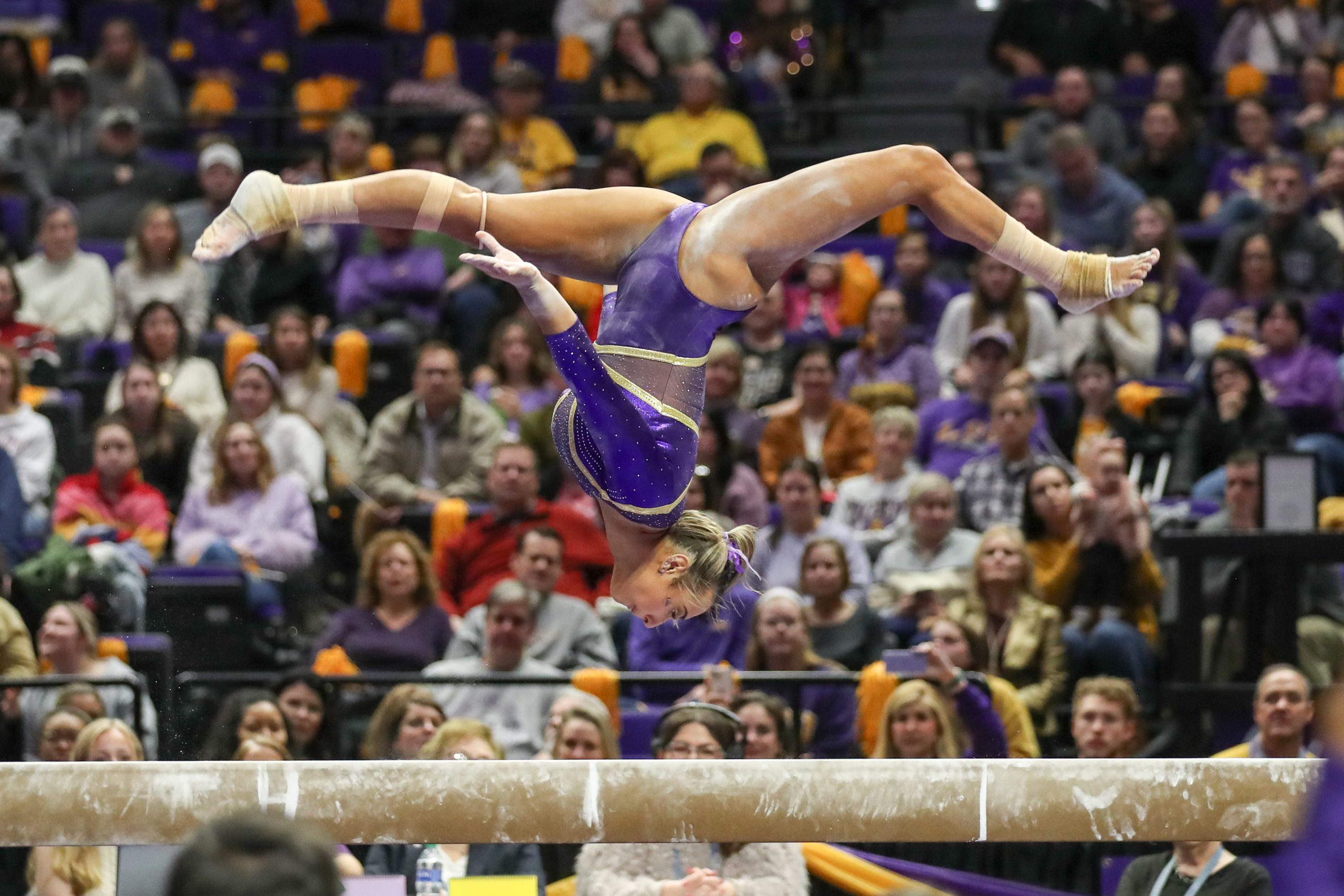 The No. 9 LSU gymnastics team defeated No. 17 Georgia with a season high score of 197.700-196.925 Friday in the Pete Maravich Assembly Center.
A crowd of 12,099 fans watched LSU defeat Georgia for the sixth-straight time in Baton Rouge. Sophomore Aleah Finnegan recorded her first career perfect 10 on floor to boost the Tigers to a season high floor score of 49.675 and help LSU secure the win.
"I'm really proud of this team. We continue to see their theme of their fight and it has become the team's identity," LSU gymnastics coach Jay Clark said. "We put together one of our best floor rotations, minus one mistake that we've seen all year. I thought vault was outstanding from start to finish. Bars was a little less than where we have been in previous meets, but nonetheless still effective, and beam we continue to fight. We'll feel good about this tonight and then get back to work on Sunday as we head into a big Auburn environment next week."
"It was a great night. It was our highest score of the year and I'm impressed with the fans coming out again after the week that it's been in the PMAC. We are so appreciative of them and the students for being so consistent this year. It's been tremendous and that lifts us in ways that you can't measure."
LSU started off strong on vault, scoring a 49.475.
Finnegan earned a 9.900 and junior Chase Broke put up a career-high 9.95 to help the Tigers get off to a strong start after the first rotation. Sophomore KJ Johnson recorded a 9.875 and junior Haleigh Bryant anchored with a 9.975 of her own to take the title.
On bars, sophomore Alexis Jeffrey led off with a 9.900. Finnegan scored a 9.850 in the fourth spot while senior Alyona Shchennikova followed with a 9.875. Bryant anchored with a 9.900 to close the second rotation with a score of 49.300 and propel the squad into the third rotation. Jeffrey and Bryant, along with Georgia's Haley De Jong, won the event with performances.
The Tigers led the Bulldogs at the halfway point 98.775-98.300. 
In the third rotation, Schennikova scored a 9.850, while Bryant and Finnegan both recorded 9.900's on beam to take the co-title with LSU scoring a 49.250 for the third rotation. 
LSU finished strong to secure the win in the final rotation.
Both Shchennikova and Bryant scored a 9.925, while KJ Johnson matched her career high with her 9.950 routine. Finnegan earned her first career perfect score in the fifth spot to take the win. It was a season high performance from the floor squad. 
Bryant finished the night with her sixth all-around title in six meets as she finished the night with a 39.700.
Finnegan's 10 marks the first in her career and third title on floor this season. The sophomore finished the night with a career high all-around score of 39.650.
Shchennikova's all-around score of 39.400 was a season high.