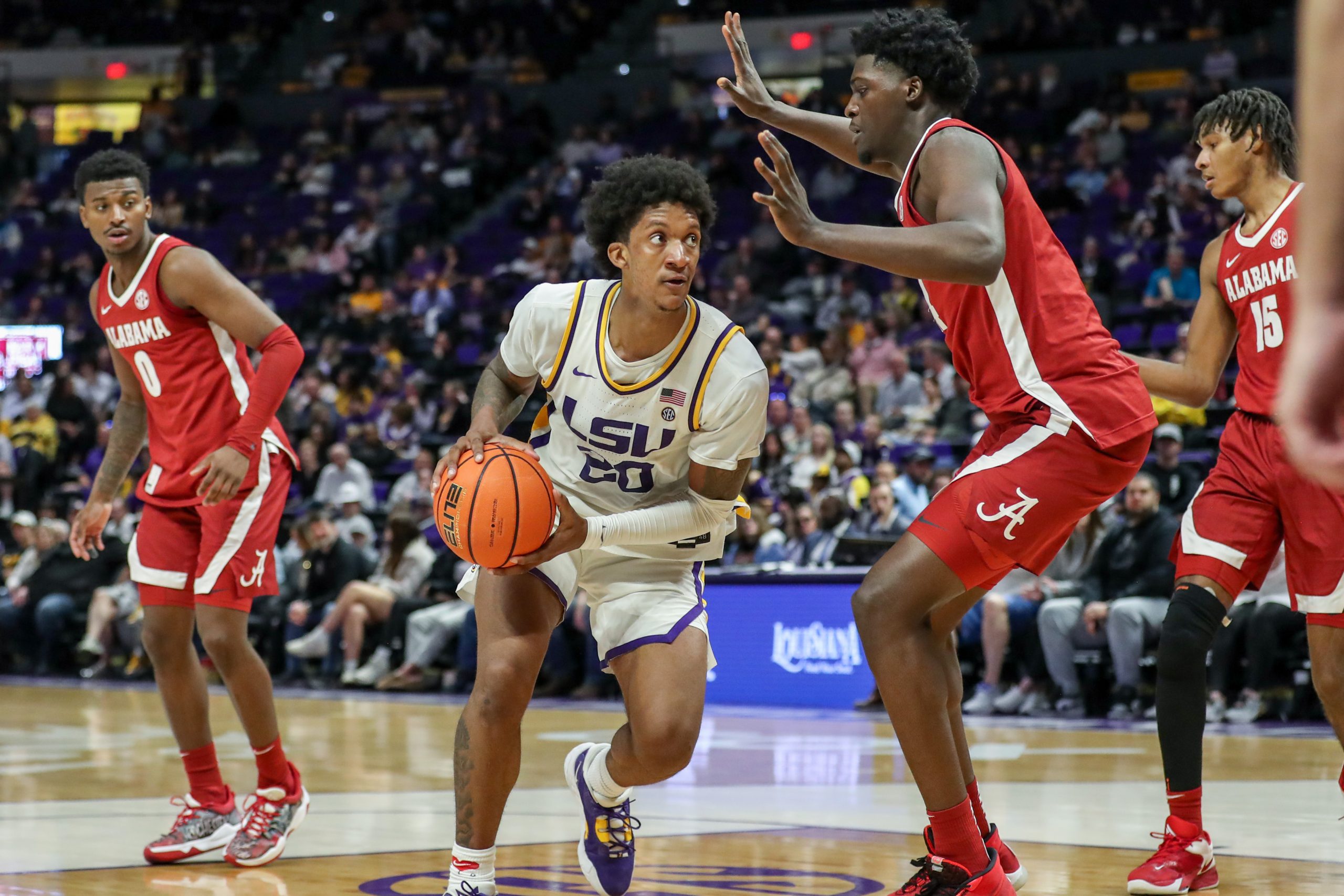 When last seen prior to Saturday afternoon in Baton Rouge, No. 4 Alabama pulverized Vanderbilt, 101-44, in the worst drubbing ever delivered by a Crimson Tide team over a Southeastern Conference opponent.
That was on Jan. 31 – five short days ago.
And, if you were LSU, just hearing about that massacre had to send shivers down your spine and/or certainly give you nightmares because on Jan. 4, in fact, Alabama led you to its guillotine – literally shot the living daylights of you, 106-66, in a game that was not even as close as that 40-point margin indicated.
And, then came this day, so soon after. LSU was up next, again, on Alabama's chopping block. Or schedule, as it is called, and happened Saturday in the Pete Maravich Assembly Center – the likely site of the Crimson Tide's next dominating SEC milieu and massacre.
Alabama (20-3, 10-0 in SEC) rolled inwith its penchant for bludgeoning lesser talented SEC teams and appeared poised for a repeat performance against LSU (12-11, 1-9).
But a strange thing happened in the PMAC.
It didn't happen.
There was no bludgeoning. No massacre.
LSU's Derek Fountain, for one, refused to be slaughtered.
In the end, LSU succumbed to a better, more talented Alabama team, 79-69, but left the court with its head intact and held high.
Instead of delivering another public demoralization, instead of another utter domination and public humiliation or public execution, Alabama found itself in a fight to the finish that. That was if LSU could somehow – some way – managed to shoot with any semblance of accuracy (the Tigers shot 31% for the game to Alabama's 45% and hit only 26% of its 3-point shots), LSU could have pulled off the biggest upset of the college basketball season thus far.
Fountain showed up from start to finish. He stood his ground and fought with every ounce of fight he could muster. And it showed. It also influenced his teammates. Mightily.
"Tired of losing," Fountain said. "Alabama is (ranked) top 4, that is great, we knew that coming in. We've been losing lately, so all we have been trying to do is get better at competing. Alabama is a big team, so we just wanted to make sure that we were all locked in coming into the game. That is all it really was."
Fountain poured in a career-high 26 points, grabbed seven rebounds, added four blocks, two assists, as LSU clawed and scrapped all game long, looking for any crevice it could find to crack Alabama.
"I thought Derek Fountain was terrific," LSU coach Matt McMahon said. "He embodies everything I want to build this program around. Relentless effort, energy, he's all about the team. He has really stepped forward into a leadership role. People respect hard work, toughness and people who put the team above themselves, and he checks all those boxes. We need to keep building around that and make that more contagious with in the entire program and organization moving forward."
Fountain downplayed his role.
"I just come in the game; I tell myself to go play hard. Whatever happens, happens," Fountain said.
Cam Hayes came off the bench and scored 15 points for the Tigers. Alabama held LSU's leading scorer KJ Williams to eight points, nine below his season average.
Alabama's Noah Clowney and Rylan Griffen wound up leading a balanced scoring attack with 14 points each.
And while, Nimari Burnett and Mark Sears each added 13 points, and superstar freshman Brandon Miller scored 11 for Alabama, this game was not decided until the final minute of play.
It was not like the Vanderbilt game; not like the LSU game on Jan. 4 in Tuscaloosa.
"I'm a little disappointed with the effort to be honest with you," Alabama coach Nate Oats said. "We got outrebounded by five, so we've got to do a better job. We've got to find a group of guys that's really going to play hard no matter what and kind of get back to … can't be up and down every other game. We're not going to be able to do that and get wins going forward. We've got Florida, Auburn, Tennessee, the last two being on the road. We've got to play ball in all three of those games coming up. If we play like this, we're not going to get a win."
LSU, which lost its 10th straight game and its ninth consecutive SEC game, did something very few if any expected it would do. The Tigers, in fact, did something perhaps even fewer thought it could do.
LSU fought all game long.
The Tigers competed – all game long.
The same Alabama team that killed LSU less than a month ago in Tuscaloosa, and put the Tigers to rest with more than 10 minutes left to play in the first half in that bloody "game," very well could have lost to LSU on this particular time had the Tigers been able to make more than one of its last 10 shots during the final seven minutes of the game.
"Thought we saw some improvement from our team," McMahon said. "Alabama just has so much firepower and they can really score it at a high level. If you go back to, I think the last seven minutes of the game, both teams really struggled to score there. We got stops but were not able to convert those into points. That said, credit to Alabama for the win."
LSU stayed within striking distance throughout the first half. On two occasions in the first 12 minutes, the Crimson Tide went ahead by nine points – the last at 29-20 on a 3-pointer by Miller.
Sparked by a technical foul on Oats, LSU reduced the deficit to three points (33-30) after KJ Williams made two free throws with 4:23 before halftime. The Crimson Tide then went on an 11-4 run to take a double-digit lead in the final minute.
But Hayes hit a 3-pointer with 38 seconds before halftime to pull LSU to within seven points, 44-37. The Tigers made only 28% of their first-half field goal attempts, but they knocked down 13 of their 14 foul shots.
Alabama was unable to pull away in the first seven minutes of the second half. Twice, LSU cut Bama's lead to two points, 56-54, on Adam Miller's 3-pointer with 13:08 left in the game.
Alabama went on a 19-9 run over the next six minutes.
Still, LSU did not quit.
Alabama's long-range shooting kicked in during its final run. Both Griffen and Sears made two 3-pointers and Clowney made one 3-pointer.
Sears' second 3-pointer gave the Crimson Tide a 75-63 lead with 7:19 remaining.
LSU trimmed Alabama's lead to six points at 75-69 entering the final minute. But the Tigers turned the ball over on consecutive possessions and Sears and Miller made two free throws in the last 45 seconds to seal the win for the Crimson Tide.
"We gave up three points off turnovers today and that's the reason we had an opportunity to be in the game," McMahon said. "The offensive rebounds, it's great, it's an effort stat and it's great that we got 13 of them, but we don't convert them into enough points.
"We just don't have much efficiency on those offensive rebounds," McMahon said. "Today, 13 offensive boards and only six points there and you'd like that number to be over a point per offensive rebound, certainly. All that said, it's difficult to win against a team of that caliber shooting 30 percent from the floor and 26 (percent) from three. We have to continue to keep getting better there."