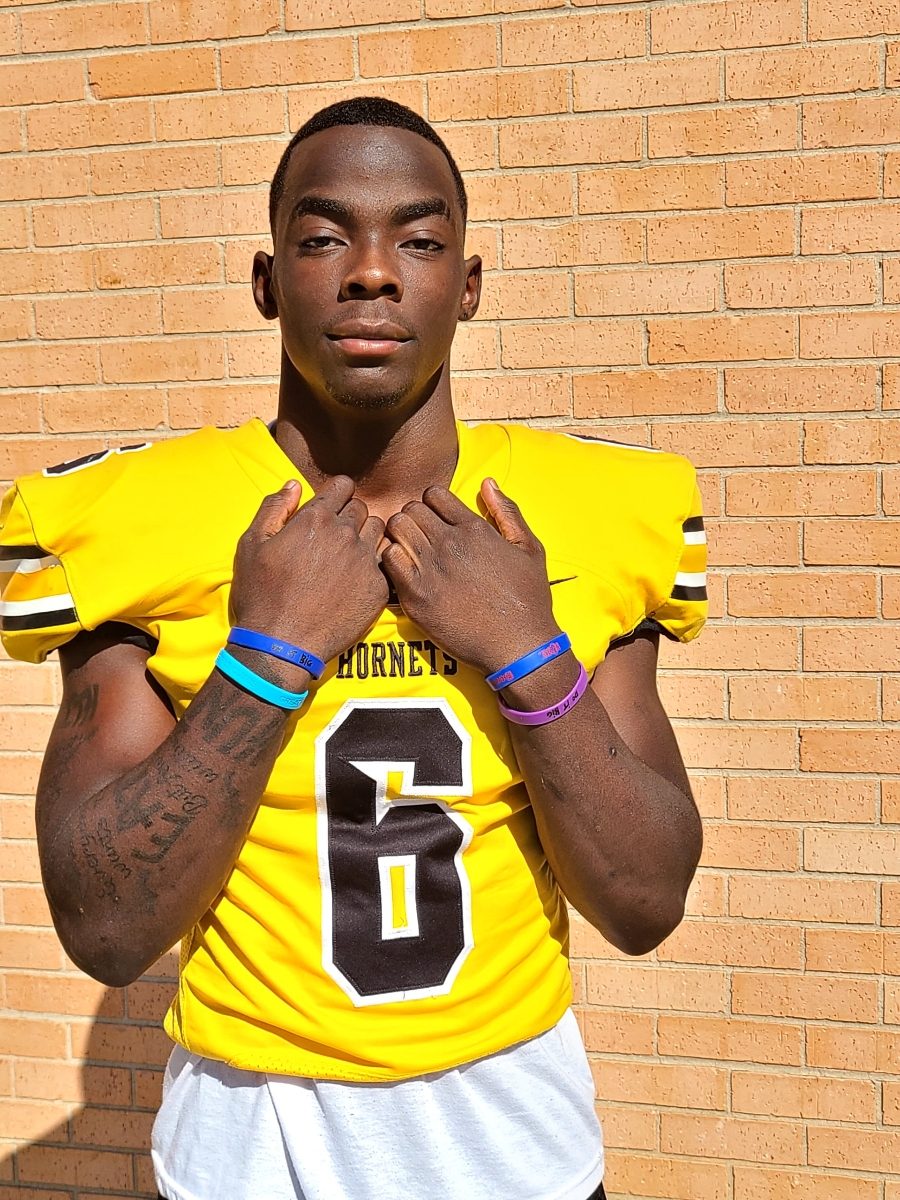 Last season Covanta Milligan led Scotlandville's defense in tackles from his linebacker position.
A year later, Milligan's enjoyed a role reversal.
With Scotlandville locked in a tense battle at Archbishop Rummel and armed with one of the state's top quarterbacks in C'Zavian Teasett, the Hornets unleashed a different weapon of choice in a 35-34 victory over the Raiders.
Milligan enjoyed career highs in carries (28) and yards (233) and combined for three touchdowns, including the game-winning score, to win this week's Tiger Rag Shining Star of the Week.
"He's built for it," Scotlandville football coach Ryan Cook said of Milligan. "Going into the season we were possibly looking at him as a two-way player, but because he can get down and do the kind of work he's been doing, with the number of carries, and people stepping up on defense, he's been able to lead our rushing attack and has set a good foundation with that."
A week after coming up just short in a 31-28 setback at West Monroe, Scotlandville was able to finish the deal this time and take down Rummel, another Class 5A power, with Milligan leading the way.
Milligan scored Scotlandville's first touchdown on an 8-yard reception from Teasett and in a back-and-forth game. He added a 13-yard scoring run and wound up having the last say in the outcome.
The teams were tied at 14-14 at halftime and 28-28 after three quarters when Milligan provided the go-ahead touchdown on a 20-yard run in the final quarter and Coy Guillory added the extra point.
The 6-foot, 190-pound Milligan had nine carries for 10-plus yards, and it was his 58-yard gain late in the game that helped Scotlandville seal the win.
"He's running so hard, it kind of motivates the offensive line to block," Cook said. "They want guys like him to have 100 and 200-yard games and they've blocked for a back that's doing it. Covanta's an excellent athlete. We're going to continue to pound him and get him better. What makes it special for him is we have a quarterback that can throw it. You have to pick your poison.
"It's more of whatever it takes," Cook added. "If he's holding up, he's able to carry it and wants to run the ball, we're going to put him in. He didn't play running back last year and was the one of the primary things he wanted to do. He's a team guy. Scotlandville had two pretty good running backs last year. Who knows? He may get 30 carries one game if he's able to hold up. He can carry the ball right now as much as he can handle."
OFFENSE
MIKE MITCHELL, Plaquemine (Accounted for 361 yards, 3 TDs; Completed 13 of 31 passes for 311 yards, 2 TDs; Rushed 12 times for 50 yards, TD), C'ZAVIAN TEASETT, Scotlandville (Accounted for 272 yards, 2 TDs; Passed for 213 yards, 2 TDs, rushed for 59 yards), DANIEL BEALE, Catholic-BR (Completed 19 of 30 passes for 264 yards, 3 TDs), JERRY HORNE, Denham Springs (Completed 20 of 37 passes for 253 yards, TD), AIDAN JOSEPH, Plaquemine (Caught six passes for 222 yards, TD), D'WANYE WHITFIELD, Lutcher (Accounted for 237 yards, 5 TDs; Completed 12 of 14 passes for 205 yards, 4 TDs; Rushed once for 32 yards, TD), BLAKE ABNEY, University (Completed 17 of 21 passes for 209 yards, 2 TDs), BRADEN WILLIAMS, St. James (Accounted for 193 yards, 2 TDs; Completed 10 of 24 passes for 153 yards, TD; rushed seven times for 40 yards, TD), RICKIE COLLINS, Woodlawn (Completed 12 of 20 passes for 188 yards, 2 TDs), CLAYTON ADAMS, Woodlawn (Accounted for 183 yards, 2 TDs), MARK YOUNG, Brusly (Rushed 17 times for 175 yards, 2 TDs), HUDSON SPANGLER, Zachary (Completed 12 of 24 passes for 173 yards, 2 TDs), BRAEDEN GEORGE, Episcopal (Rushed 19 times for 153 yards TD; Returned interception for 65-yard TD on defense), JOEL ROGERS, West Feliciana (Completed 8 of 12 passes for 152 yards, 2 TDs), GARY DUKES, Dutchtown (Rushed 19 times for 150 yards, 2 TDs), JOHN HUBBARD, Scotlandville (Rushed 10 times for 134 yards, 2 TDs), SHELTON SAMPSON JR., Catholic-BR (Caught 8 passes for 126 yards, 2 TDs), MICAH HARRISON, Denham Springs (Caught 10 passes for 125 yards), REID CHAUVIN, Episcopal (Rushed 18 times for 119 yards, TD), CAMERON STEWART, Zachary (Rushed 16 times for 107 yards, TD), CRAIVEZ OXLEY, Brusly (Rushed 14 times for 107 yards, 2 TDs), LANDON FREY, Catholic-PC (Rushed five times for 101 yards, 2 TDs, KHAI PREAN, St. James (Caught five passes for 93 yards), GLEN CAGE, Central (Rushed seven times for 91 yards 3 TDs), JA'TERRIUS JOHNSON, West Feliciana (Rushed four times for 90 yards, 2 TDs).
DEFENSE
LANDON FREY, Catholic-PC (15 tackles), TRAEVON JORDAN, Plaquemine (14 tackles, 3 TFLs, sack), AIDEN CAIN, Plaquemine (13 tackles, 4 TFLs, sack), CAMERON KENNEDY, Catholic-PC (13 tackles, 2 TFLs, blocked punt), PETER JACKSON, Plaquemine (12 tackles, 3 TFLs), HARRY BEACHAM, University (10 tackles, TFL), JAIDEN AUSBERRY, University (9 tackles, TFL, caused fumble, PBU), WILL RIBES, Episcopal (9 tackles), CALEB SMITH, Live Oak (8 tackles, 3 TFLs), JOSIAH HARROUCH, Live Oak (8 tackles, interception), DAVID VOORHEIS, Live Oak (8 tackles), TYRIS PIERRE, Plaquemine (8 tackles, 4 TFLs, PBU, 3 QB hurries), DIEGO DAVIS, Plaquemine (7 tackles, 2 interceptions, 1TD), WYATT TYNES, Live Oak (7 tackles), TAJ CALLAHAN, Episcopal (7 tackles), BENNETT CASTRO, Catholic-BR (7 tackles), ALEX HAYNES, University (6 tackles, TFL, interception for TD), ALVIN WATTS, Brusly (6 tackles, TFL, interception), RYDER KERTH, Catholic-BR (6 tackles), CONNOR ACHEE, Catholic-PC (5 tackles, interception), DONTE CRYER, Central (4 tackles, TFL, sack, forced fumble), BLAYSEN STOKAN, Central (2 tackles, 2 interceptions, forced fumble), JAMARI TAYLOR, Lutcher (2 interceptions, 2 TDs), TREYVIS JOSEPH, Zachary (2 interceptions, caused fumble).