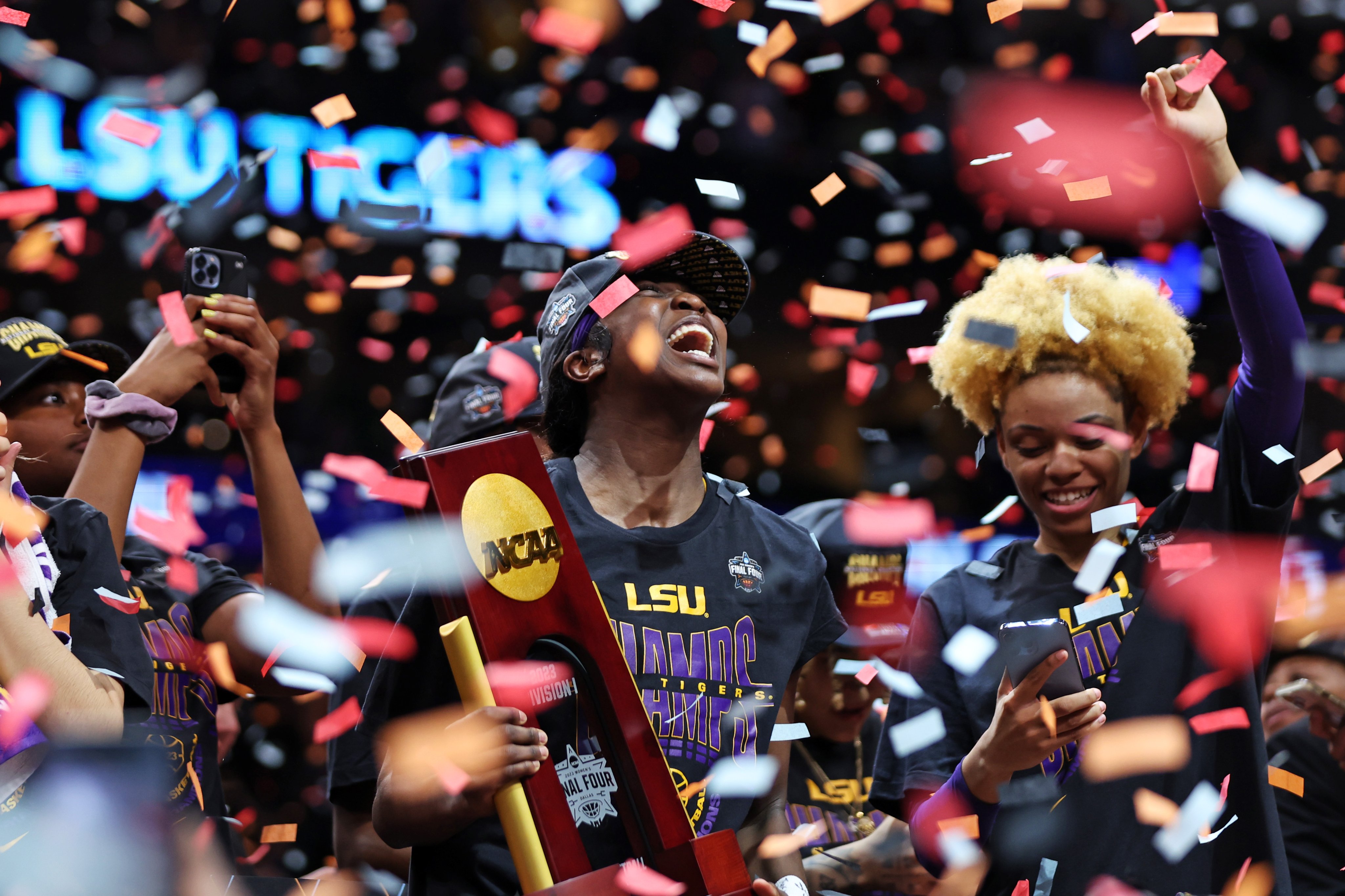 The LSU women's basketball team will celebrate their first NCAA championship with a historic trip to Washington D.C. to visit the White House.
The Tigers (36-2) accepted an invitation from President Joe Biden and will accompany men's national champion Connecticut on May 26.
The LSU women's basketball team will become the school's fourth team to visit the White House following a national championship. They'll join football, baseball and track and field.
Second-year coach Kim Mulkey guided LSU to its second straight NCAA Tournament the school's first NCAA title – men or women – on April 2 with a 102-85 victory over Iowa. It was the most points scored by a team in a championship game.
For Mulkey, the national title was the fourth of her career after the native of Tickfaw also led Baylor to three national crowns during her 21 seasons coaching the Bears. She became the first coach to ever lead two different schools to national championships and the second to win a national title in her second season at a school.
Mulkey has made previous trips to the White House with Baylor to visit President George W. Bush in 2005, President Barack Obama in 2012 and President Donald Trump in 2019.
This year's LSU team won its first 23 games of the season and scored 100-plus points in its first five games. The Tigers were second to South Carolina in the Southeastern Conference regular season before hosting the first-and-second rounds of the NCAA Tournament, defeating Hawaii and Michigan, completing a 17-0 mark at the Pete Maravich Assembly Center this season.
LSU returned to Greenville, South Carolina, the site of the SEC Tournament, and defeated Utah and Miami to advance to the program's first Final Four in 15 years. They rallied in the fourth quarter to knock off Virginia Tech in the national semifinals and followed that with a win over Iowa, led by the tournament's Outstanding Player Angel Reese and all-tournament selections Alexis Morris and Jasmine Carson.
Reese and Morris were first-team All-SEC selections and Reese was a consensus first team All-America by four different media organizations. Morris and LaDazhia Williams were also second-round selections in the recent WNBA Draft with Morris selected by the Connecticut Sun and Williams becoming a member of the Indiana Fever.