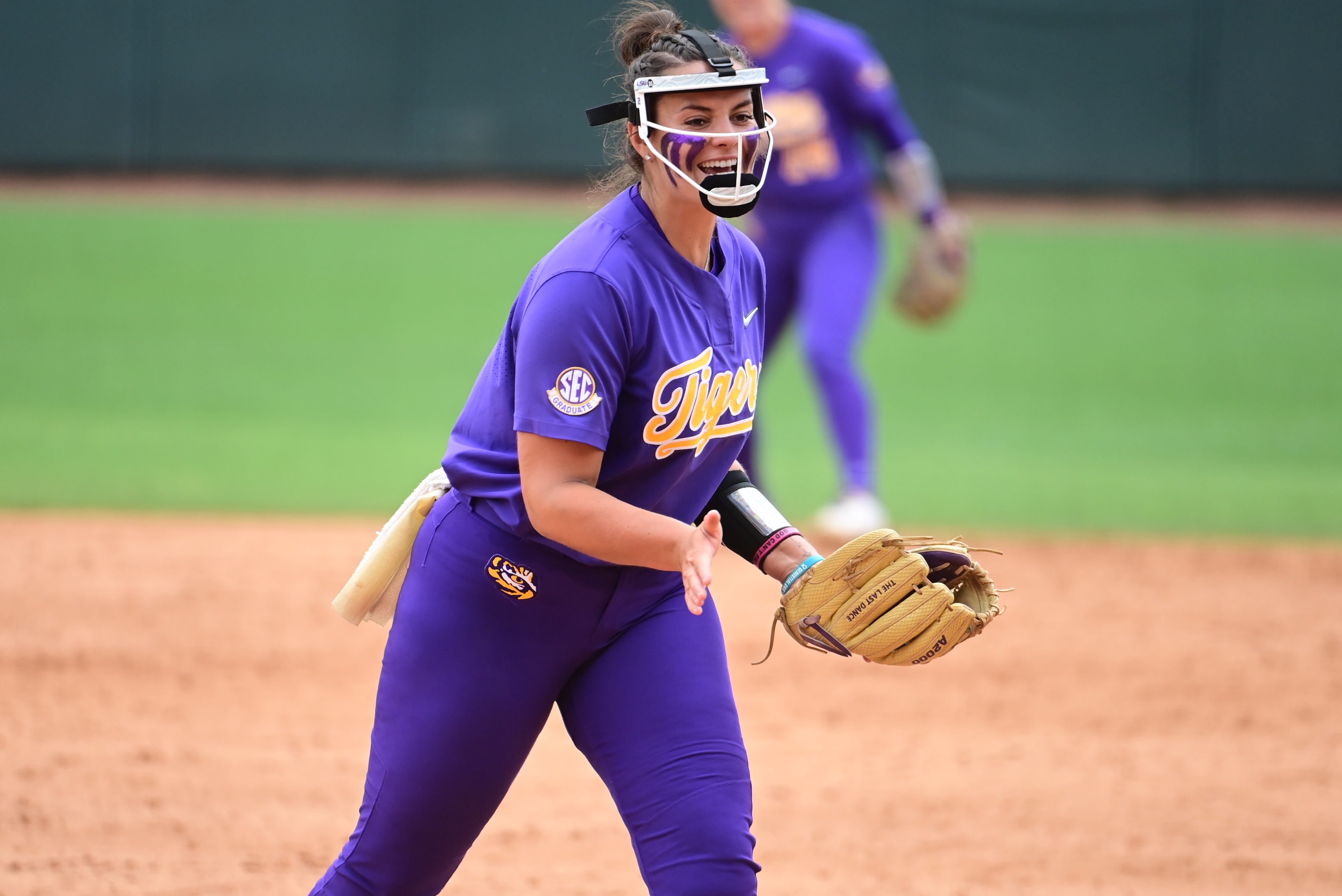 The No. 15 LSU softball team's roaring into the Southeastern Conference Tournament.
The Tigers swept a doubleheader Sunday from league runner-up and No. 10 Georgia to claim the series with a 9-1 run-rule victory in the second game.
LSU (40-14, 13-11 in SEC) rode the masterful pitching performance of Ali Kilponen to 2-1 victory in the opener. The Tigers finished sixth in the league and open play in the SEC Tournament on Wednesday at 10 a.m. against Ole Miss at the University of Arkansas' Bogle Park.
It marked LSU's fifth series win this season and gave coach Beth Torina the eighth 40-win season in her 12-year career. The Tigers also handed the Bulldogs (39-12, 16-7) just their second series loss of the season.
LSU 9, Georgia 1: Senior Georgia Clark, who had two hits in Sunday's opening win, went 2-for-4 and gave LSU a lead it wouldn't relinquish with a two-run homer in the first inning with Ciara Briggs aboard.
McKenzie Redoutey made it 4-1 with a two-run double to left-center field in the third before the Tigers exploded for four runs in the fifth inning, knocking out Georgia starter Madison Kerpics (17-6) in the process.
Taylor Pleasants doubled in Briggs to ignite the team's fifth and following a pitching change with Kerpics exiting, LSU tallied three more runs against reliever Kylie Macy on Redoutey's two-run double to left and pinch-hitter McKaela Walker adding a run-scoring single up the middle.
LSU ended the game in the sixth with two outs when Newland (3-for-4, 3 RBIs), singled in courtesy runner Mia Townsend from third with the game-ending run. The Tigers compiled 12 hits led by Newlandand with Briggs, Pleasants and Clark all collecting two hits.
LSU went with a pitch-by-committee approach that paid dividends.
Freshman Alea Johnson worked the first two innings and allowed a run on two hits. She turned it over to winning pitcher Emilee Casanova (2-0), who yielded a hit and no runs over two innings, with Raelin Chaffin finishing up and permitting three hits and no runs in two innings.
LSU 2, Georgia 1: Kilponen carried a no-hitter into the fifth, retiring the first 13 batters she faced, when Sydney Kumo doubled to left-center field. She responded with consecutive strikeouts to end the inning.
Kilponen (13-6) came within an out of a shutout, getting the first two outs in the seventh when Kumo homered on a 0-1 pitch to center field. Kilponen came back to finish the game with a strikeout, her seventh of the game and 13th complete game.
LSU scored both of its runs in the fourth on Redoutey's two out, two-run single.
Clark singled to left with one out and Newland added a two-out double when Redoutey (2-2) drove a 1-2 pitch down the left-field line.