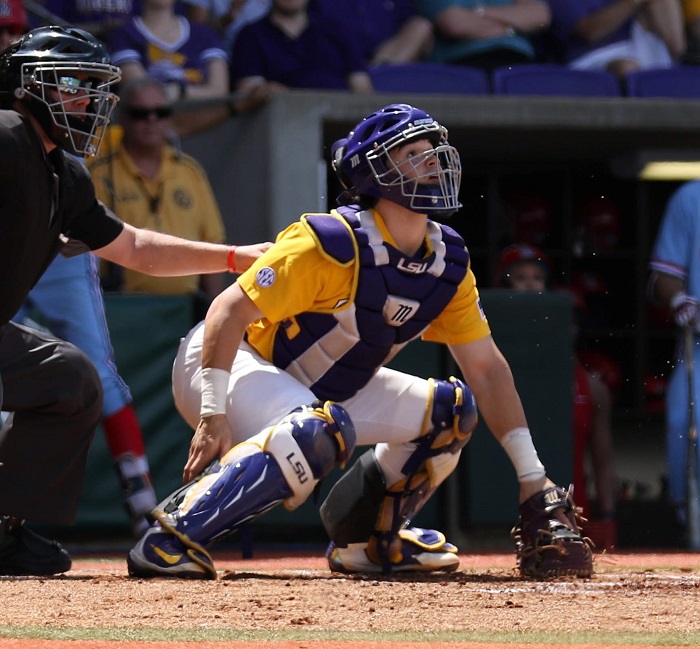 LSU catcher Saul Garza underwent surgery on his left thumb Friday morning and will miss all of fall practice, LSU coach Paul Mainieri told Tiger Rag.
Garza is expected to make a full recovery by the coming spring, but he'll be out of commission for the next few months. LSU opens fall practice this Sunday.
"I'm disappointed for Saul," Mainieri said. "He made a decision to back to school and now he missed fall practice because of this thumb injury. Just seems snake bit about these injuries."
The injury occurred this summer while Garza was playing catch in the Cape Cod League. A throw handcuffed him and bent his left thumb backward.
LSU hoped the injury would heal on its own, but months later it was still bothering him. He underwent an MRI earlier this week and surgery became necessary.
Without Garza, LSU will go through fall with freshmen Alex Milazzo and Hayden Travinski doing almost all of the catching. Walk-on Braden Doughty is an option as well.
"We'll have to take a good, hard look at both of these (freshmen)," Mainieri said. "Who knows. I can't predict what's going to happen. We'll see how it plays out."
Garza missed time last fall undergoing knee surgery and didn't emerge as a force until the second half of last season. He hit .303 in 50 games with five home runs and 27 RBI.