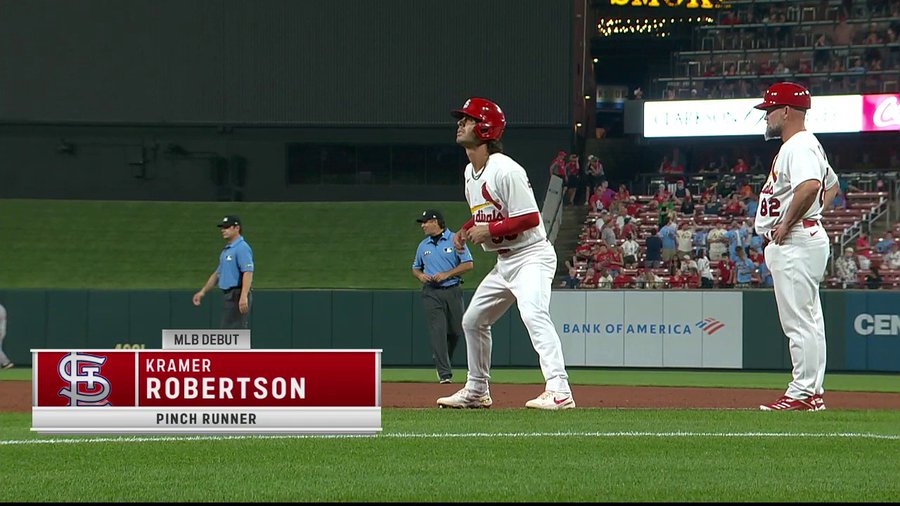 Five years after playing collegiately at LSU, infielder Kramer Robertson was called up Tuesday by the St. Louis Cardinals and made his Major League debut later that same evening.
His first time in the big leagues didn't last long when the parent club announced Thursday that it has recalled infielder Edmundo Sosa off the injured list and had optioned Robertson back to Memphis. He appeared in Wednesday's game against Baltimore as a pinch-hitter, picking up his first Major League RBI with a run-scoring groundout that made it 9-1 in the bottom of the eighth.
Robertson, the son of LSU women's basketball coach Kim Mulkey, was added to the parent team's active roster when St. Louis optioned shortstop Paul DeJung to Triple-A Memphis.
Robertson entered Tuesday's home game at Busch Stadium against the Baltimore Orioles and was inserted as a pinch-runner in the bottom of the ninth for designated hitter Juan Yepez after his was hit by a pitch. With the tying run at the plate, Tyler O'Neill struck out to end the game, preserving the Orioles' 5-3 win over the Cardinals.
Robertson became the 80th player in LSU history to make it to the Major Leagues and 22nd player of former LSU coach Paul Mainieri to reach the big leagues.
Robertson helped LSU to a national runners-up finish at the 2017 College World Series. He batted .307 with 18 doubles, three triples, eight home runs, 43 RBIs with a nation's best 85 runs scored and nine stolen bases. He had a team-high .336 average over his final 30 games of the '17 season when the Tigers went 25-5.
He played for the Tigers between 2014-17 and was earned both All-America and All-SEC laurels and went on to become a fourth-round choice of St. Louis in 2017. He has played the past two season for the Memphis Redbirds where in 2021, he batted .253 with 22 doubles, four triples, 11 homers, 62 RBI, 11 stolen bases and 66 runs scored.