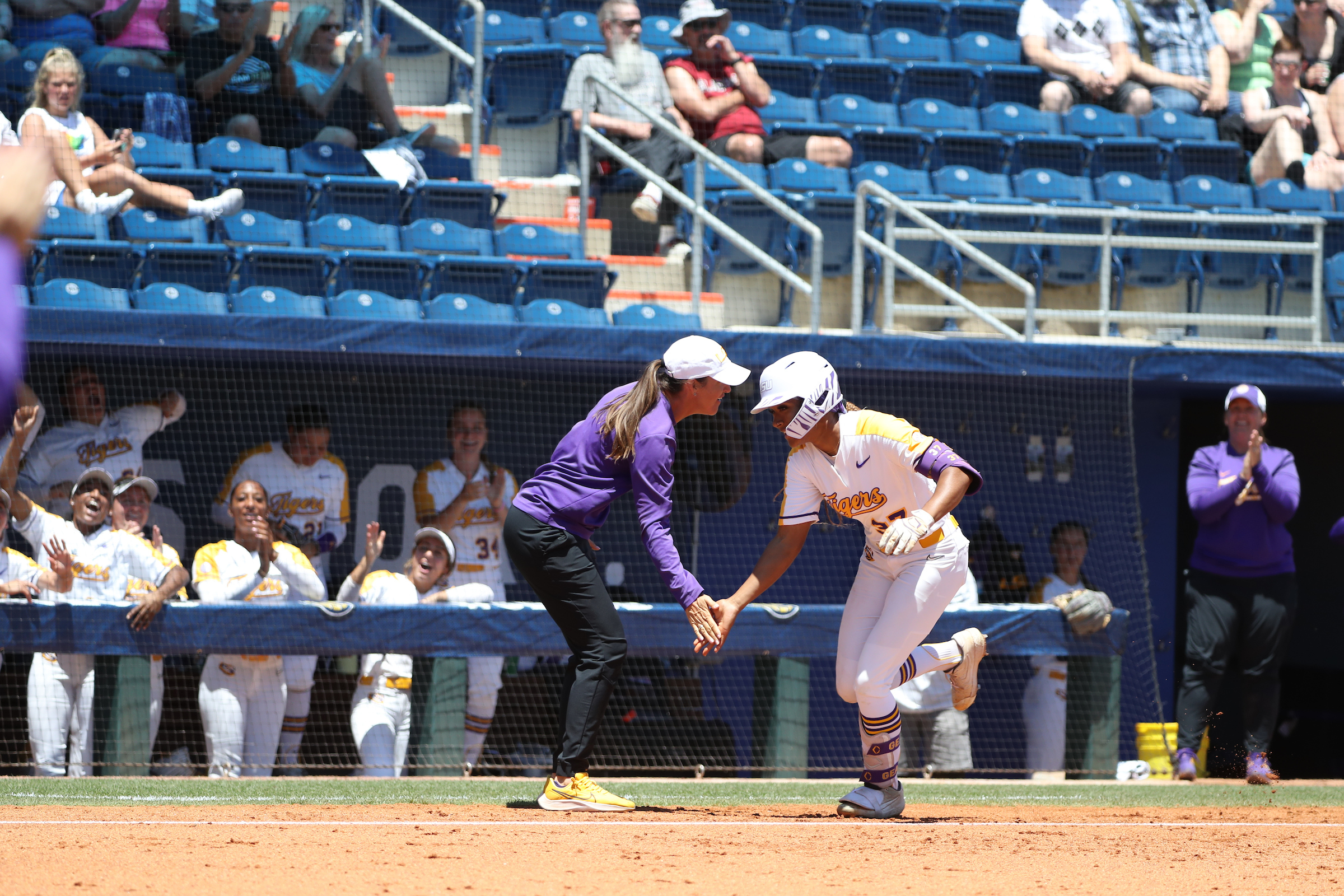 LSU's stay at the SEC softball tournament was brief and its role as a NCAA Regional host could be in jeopardy.
No. 11 seed Mississippi State scored three runs off LSU ace Ali Kilponen in the top of the ninth inning and the No. 6 seed and Tigers were unable to generate a comeback, falling 7-4 Wednesday in the single-elimination tournament at Florida's Katie Seashole Pressley Stadium.
LSU (34-21) must wait for an at-large berth during Sunday's NCAA Softball Selection Championship Selection Special at 6 p.m. where the Tigers' run as a host school could come to an end at seven consecutive years. With the top 16 teams getting to serve as host sites, the Tigers find themselves in a precarious spot with an RPI of 19 and No. 3 strength of schedule going into the Mississippi State game.
The two teams concluded the regular season with LSU taking a 2-1 win over Mississippi State four days ago.
No. 18 LSU tied the game at 4-all in its final at bat in regulation in the bottom of the seventh inning.
"I thought our team showed a lot of fight in the seventh inning. I thought it was ours for the taking there a couple times in extra innings, but just couldn't seem to come up with a big hit," LSU softball coach Beth Torina said. "Hats off to their pitchers for making big pitches. (Aspen) Wesley came in, struck out the side and did a good job. I thought they did a good job of making big pitches in big situations."
Pinch-hitter Savannah Stewart drew a lead-off walk, Danieca Coffey cranked a out-out double off the wall in right and Ciara Briggs tied the game with a 2-run single up the middle to center. After Taylor Pleasants walked, State (33-23) got Georgia Clark to pop out on the infield and Shelbi Sunseri to ground out to third.
Kilponen, who took over for Sunseri in the third inning, was masterful in her performance until running into trouble in the ninth. The junior had retired 14 batters in a row until a two-out walk in the eighth but kept the Bulldogs scoreless until the ninth when two straight run-scoring hits from Mia Davidson, Shea Moreno and a sacrifice fly from Chloe Malau'ulu made it 7-4.
Kilponen (18-7) allowed nine hits in seven innings, four runs (all earned), one walk and fanned four. Sunseri was tagged for three hits and three runs (all earned) in two innings.
LSU, which was outhit 12-6, erased a 2-0 deficit in the second when sophomore Morgan Smith hit her first career homer to tie the game. Sunseri doubled to right field and Smith's drive to right-center field caromed off the glove of a leaping Brylie St. Clair and cleared the wall.
The Tigers stranded two runners in both the fifth and sixth innings but were unable to scratch out any runs. Smith and Stewart were both left on base in the fifth after back-to-back walks and had the go-ahead run at the plate in the sixth with one out, but State reliever Kenley Hawk struck out Ali Newland and Smith to ground out unassisted to first.