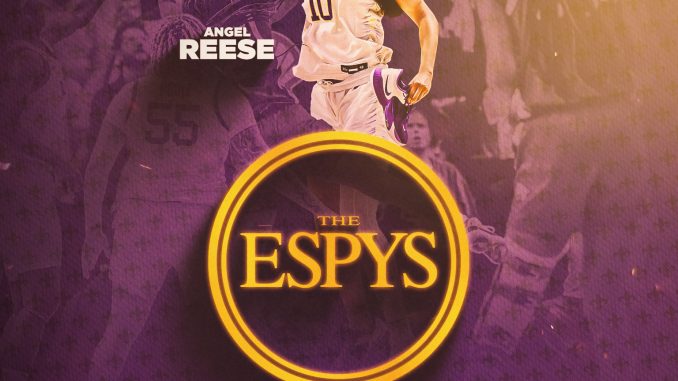 LOS ANGELES – A memorable year got even better for LSU All-American Angel Reese on Wednesday with her selection as Breakthrough Athlete at the annual ESPY awards at the Dolby Theater in Los Angeles.
Reese, who led the Tigers to their first national championship in April over Iowa, averaged 23 points and 15.4 rebounds. She had an NCAA record 34 double-doubles and was named the Outstanding Player in the Women's Final Four in Dallas.
Reese, who was also a presenter at the awards show, won her award over Iowa's Caitlin Clark, San Francisco 49ers' quarterback Brock Purdy and Seattle Mariners' Julio Rodriguez.
"Last year I transferred from the University of Maryland and came to LSU and joined a family," Reese said afterward.
Reese set the SEC record with 555 rebounds throughout the season. Her 830 points were the third most in LSU history.
The LSU women's basketball team was also a finalist for Best Team which went to Super Bowl champion Kansas City. The Tigers were finalists along with NBA champion Denver, WNBA Champion Las Vegas, NCAA football champion Georgia, NCAA softball champion Oklahoma and NHL champion Las Vegas.
LSU was also represented by winner Justin Jefferson of the Minnesota Vikings in the category of Best Play. Jefferson, a star on the Tigers 2019 national championship team, made a one-handed catch in a regular-season game against Buffalo.