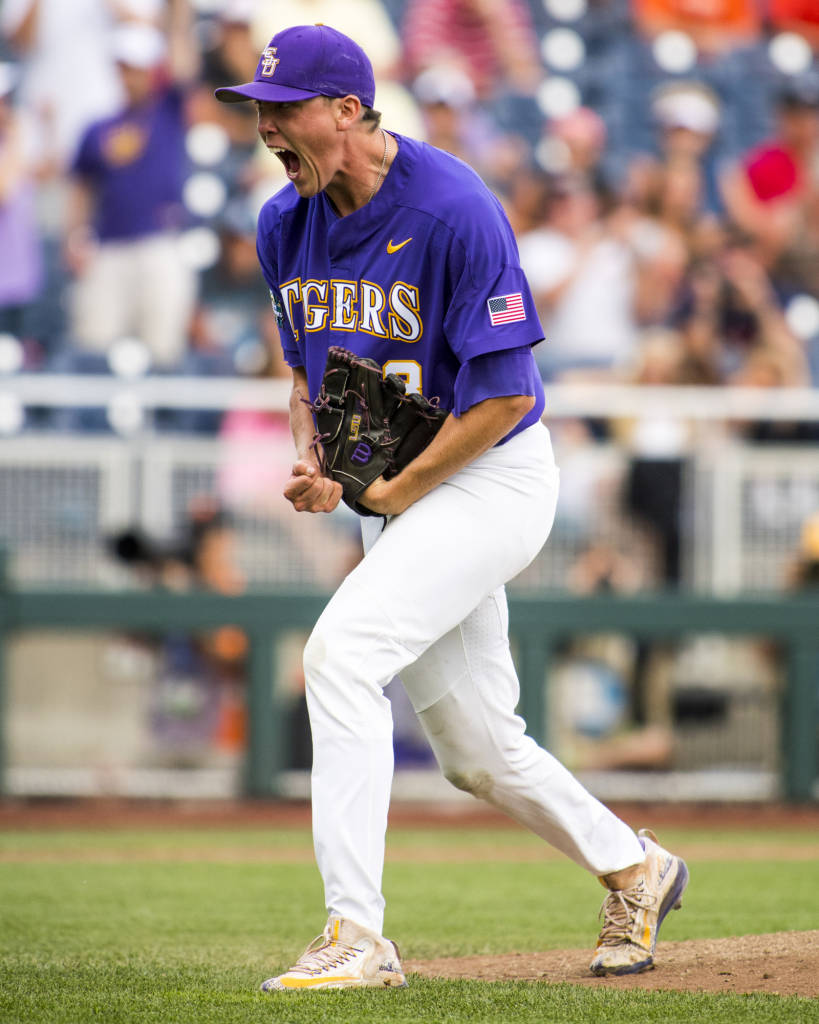 LSU heads into the stretch run with its young ace, Cole Henry, still on the shelf with arm soreness, but Paul Mainieri is pressing onward with his grand tweak nonetheless.
Zack Hess is moving to the bullpen this weekend and will stay there for the foreseeable future, Mainieri announced Wednesday ahead of LSU's pivotal series with Ole Miss.
The move was supposed to happen last week, but Hess started on Friday night at Alabama after Henry went down. Henry remains out as LSU proceeds with an abundance of caution, but after another round of meetings, all parties agreed that it's time for Hess to return to the role that fits him best.
"I want to get Hess back to way he threw when he was just letting it rip instead of trying to save something in the gas tank," Mainieri said. "I don't want him to think he's got to throw five, six, seven innings to save our bullpen. I want him to go back to being who he is, which is the Wild Thing."
Mainieri admitted that he was adamant about Hess remaining a starter at the outset of the season because he didn't want to field weekly questions about his junior right-hander.
For his part, Hess spoke like a man completely at peace with the move. He wanted to give himself a chance to be a starter after his dominance out the bullpen in 2017, and LSU needed him to be one up until now, but he's accepted that his professional future will be as a reliever.
Now his present will be, too.
"I've done this for two years now," Hess said. "I think my style of pitching, my tempo, and what I need to do to be successful fits a reliever. I'm not really good at pacing myself. I'm at my best when the game is on the line and I just need to put my foot at the gas pedal. That's when I'm at my best."
The decision to move Hess began early last week, but Hess said he began to realize that his future was in the bullpen earlier this season.
He'd struggled with inconsistency throughout his sophomore season, but Hess figured that was a result of "detoxing" from the bullpen stint that made him a viral sensation during the 2017 College World Series.
Ironically enough, the truth crystalized itself after Hess' start at Georgia, which is perhaps the best outing of his career. He threw eight shutout innings that night in a 1-0 win, but still didn't feel like he was as dominant as he was coming out of the bullpen.
"I guess I hold my standard to what I did as a freshman," Hess said. "And I don't think I ever matched that as a starter. So the longer this has gone on, it's become evident to me that does it really matter to be that starting pitcher? Why not be what you're best at? My best outings and the best parts of my career have been when I'm coming out of the bullpen."
Hess continued: "I've worked as hard as I can at this role and getting myself developed, but the bottom line is my style just isn't a fit for it."
Even before the Wild Thing haircut, Hess was simply unhittable as a reliever in 2017. His fastball sat at 97+ mph with cut and his slider was filthy, to borrow a bit of baseball vernacular.
Hess said it would probably take a couple weeks to get back to that velocity as a reliever, but he had the utmost confidence that he'd be effective from his first relief appearance and only get better as the stretch run goes on.
"Me and the coaching staff are in agreement that I'm at my best version when I'm coming in at the end of games," Hess said. "If this helps gives our team a jolt, than I'm all for it."
The starting rotation will take a hit in the short term with Henry out, but Mainieri is betting on a loaded bullpen being able to pick up the slack.
LSU will start Ma'Khail Hilliard in the series opener against Ole Miss with Eric Walker taking the ball on Saturday and Landon Marceaux making his second Southeastern Conference start on Sunday.
"If we can get through five innings with the starting pitcher, I feel like the back end of the bullpen will be really strong," Mainieri said.
"We don't have our horse on Friday nights anymore," Marceaux added, "but now he's coming in after us."
LSU in essence now has its past three closers in one bullpen between Hess (2017), Todd Peterson (2018) and Devin Fontenot (2019).
LSU hasn't yet had discussions about what roles different relievers will fill out of the bullpen, and Mainieri left the door open to using different closers for different games.
What's clear is that plethora of power arms will allow him to manage more aggressively and try to shorten games whenever LSU has a led.
"I hope that we'll need more than one closer," Mainieri said. "That means that you have a chance to win multiple games in a weekend. I don't want to hold a guy back and just use him for one bullpen. You don't want to define roles too much because you want to manage the game at hand while still taking care of your guys."