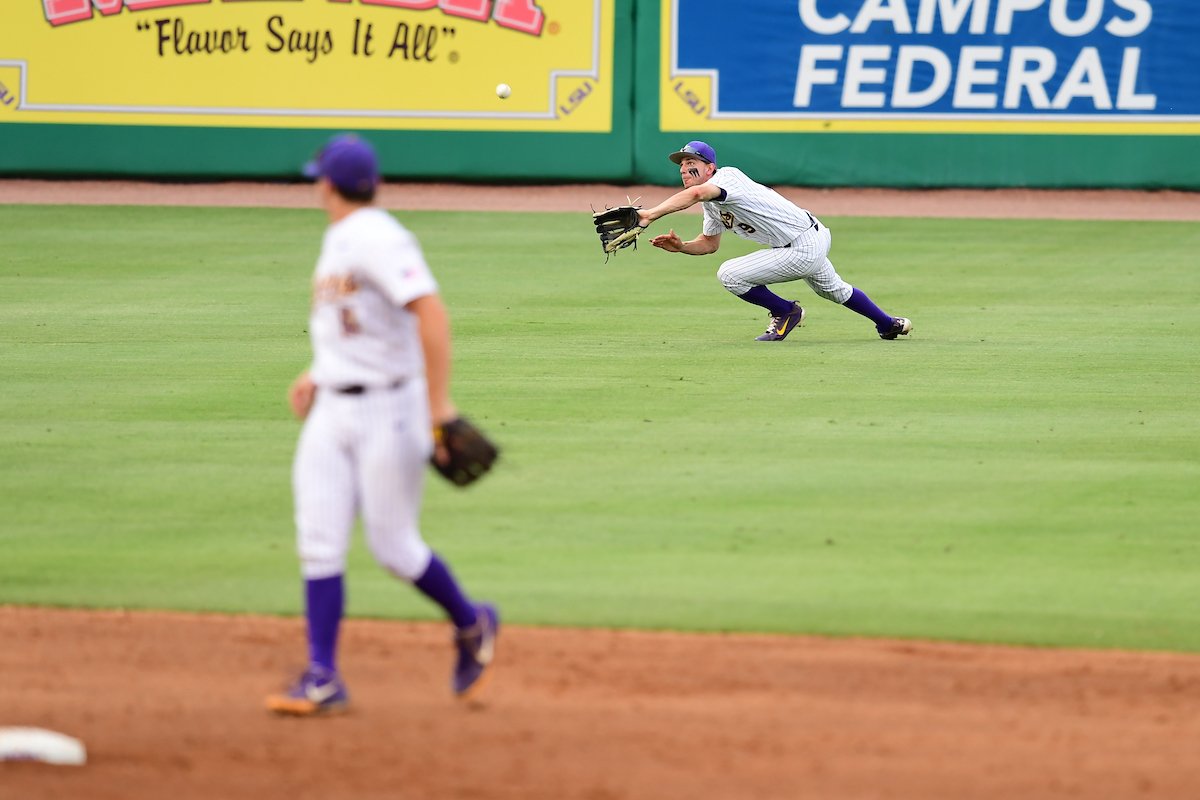 Maybe LSU hadn't gotten over its incredible comeback for naught from two days ago. Perhaps the team had ignored its coach's pleas and prematurely turns its attention to the upcoming series at first-place Arkansas. An optimist could maybe argue it was an off night against a quality in-state foe.
Whatever the reason, LSU didn't look like a team with much interest in playing baseball on Tuesday night.
Baseball teams always seem to look lifeless when they don't hit, but LSU looked like a particularly defeated bunch in its penultimate midweek contest of the season. Louisiana Tech came into Alex Box Stadium and rolled 12-1 to hand the hosts their third consecutive loss.
"We kind of came out sluggish," shortstop Josh Smith said. "That was a tough one. It was kind of embarrassing honestly. We didn't come ready to play today."
That certainly wasn't the way Paul Mainieri and Co. wanted to begin a pivotal week with serious postseason implications on the line. The reeling Tigers will depart for Fayetteville on Wednesday afternoon still without their ace, Cole Henry.
The loss drops LSU (30-19) to an uninspiring 5-5 in games against in-state competition as the Tigers have now lost four of their last five meetings with Louisiana schools. Next week's midweek finale against UNO will determine if LSU finishes the regular season above or below .500 in such games.
For what it's worth, LSU's 2017 team — the one that finished runner-up at the College World Series — was only 6-5 against in-state school, so take that fairly meaningless statistic for what it is.
Louisiana Tech quickly jumped on Chase Costello, who made the start with LSU piecing things together ahead of a trip to Arkansas. Costello gave up three earned runs in two-plus innings, and an error by Smith — his third in as many games — allowed an unearned run to score.
The deficit swelled to 7-0 as LSU paraded in a series of relievers who haven't pitched much of late. Clay Moffitt, making his first appearance since April 18, allowed a run in the fourth and served up a long solo home run in the fifth.
"The main guys are tired and they needed rest," Mainieri said. "I couldn't use (Matt) Beck, (Trent) Vietmeier, (Todd) Peterson, (Zack) Hess or (Devin) Fontenot. You just can't run those guys into the ground."
LSU by comparison looked anemic offensively. LSU managed just two hits over the first six innings as Louisiana Tech lefty Logan Robbins cruised through the order. He retired nine in a row at one point only to have the streak broken by an error made behind him.
The aforementioned error did allow LSU to finally get on the board against Robbins, who'd pitched like vintage Tom Glavine to that point. Daniel Cabrera grounded an RBI single up the middle that chased Robbins from the game.
"It's annoying really," Smith said. "We can't seem to get things going. We'll hit good one day and then the next day we don't hit good. So we'll, I don't know, try to pick it up a bit."
Louisiana Tech quickly snuffed out any hopes of a comeback bid with four runs in the next inning against Aaron George.
It was all pretty much cosmetic from that point on as LSU lost by double-digit runs for the first time this season.
"Nothing really went right tonight," Mainieri said. "Just a bad game all the way around. Give credit to Louisiana Tech. They've got a good ball club and they outplayed us tonight."
Photo courtesy of LSU Sports Information