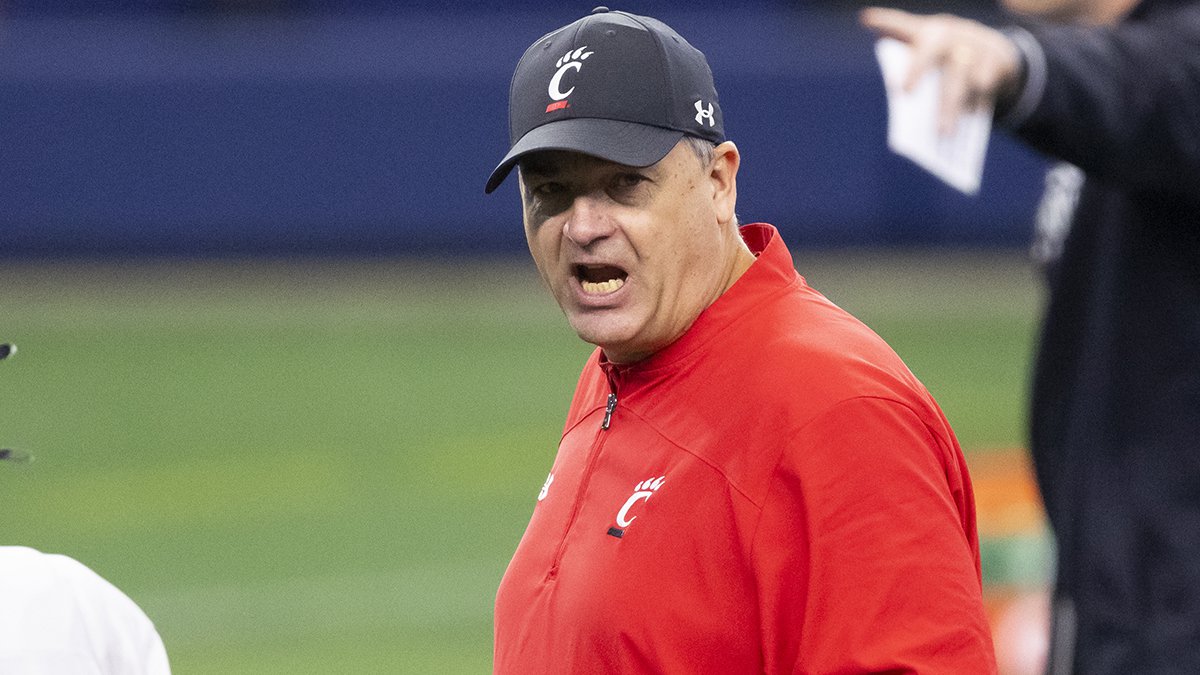 LSU head football coach Brian Kelly continued tying up loose ends on his first coaching staff, including the addition of his offensive coordinator, according to a pair of reports Friday night from Yahoo.com.
The first includes the hiring of respected defensive line coach Jamar Cain, who was expected to follow Lincoln Riley from Oklahoma to USC. Cain, who was never formally introduced by USC, coached in the Sooners' Alamo Bowl win Thursday over Oregon.
Cain is expected to be given the title of defensive run game coordinator.
The second hire wound reunite Kelly and offensive coordinator Mike Denbrock, who for the past five years has been at Cincinnati which lost 27-6 on Friday to Alabama in the CFP national semifinals.
Kelly has previously hired special team's coordinator Brian Polian from Notre Dame and defensive coordinator Matt House who will join Tigers after his season is complete with the NFL's Kansas City Chiefs.
Moreover, Kelly has hired offensive coordinator Joe Sloan of Louisiana Tech to serve as his quarterback's coach. Sloan had been on the staff of head coach Skip Holtz for seven years as associate head coach, replacing him as the Bulldogs' interim coach when Holtz was fired.
Denbrock and Kelly have shared plenty of moments together, first as coach-player when Kelly coached Denbrock, a tight end, at Grand Valley State. Denbrock launched his 35-year coaching career as a member of Kelly's staff at Grand Valley State in 1987 where he coached quarterbacks, wide receivers and became offensive coordinator where they had the nation's top-ranked offense for three years. He also served as defensive coordinator for one season in 1996.
Denbrock coached under Tyrone Willingham at Stanford and Notre Dame, the latter where he coached offensive tackles and tight ends, before going on to coach the offensive line at Washington and Indiana State.
Denbrock returned to Notre Dame and joined Kelly's staff where he spent seven seasons (2010-16), the last three as associate head coach/offensive coordinator. He was also voted a nation's Top 25 recruiters by 247Sports in '12. The Homer, Michigan native then went on to Cincinnati where he was the offensive coordinator and coached tight ends. He was a semifinalist for the Frank Broyles Award – symbolic of the nation's top assistant coach.
The Bearcats (13-1) broke single-season offensive school records for touchdowns (70) and points scored (516). Over the past two seasons, they averaged 443 yards per game and seven yards per play.
Cain, who completed his playing career at New Mexico State, is considered a dynamic recruiter as well as an effective technician with defensive lineman.
He spent the last two years at Oklahoma coaching the outside linebackers and defensive ends where the Sooners generated 33 sacks this past season and 37 in 2020.
Cain, voted a Top 25 recruiter in '20, also coached the defensive line at Arizona State ('19), Fresno State ('17-'18) and North Dakota State ('14-'16). During his time at Fresno, the Bulldogs went 22-6, won two bowl games and appeared in the championship game of Mountain West Conference, winning the league's title in '18.