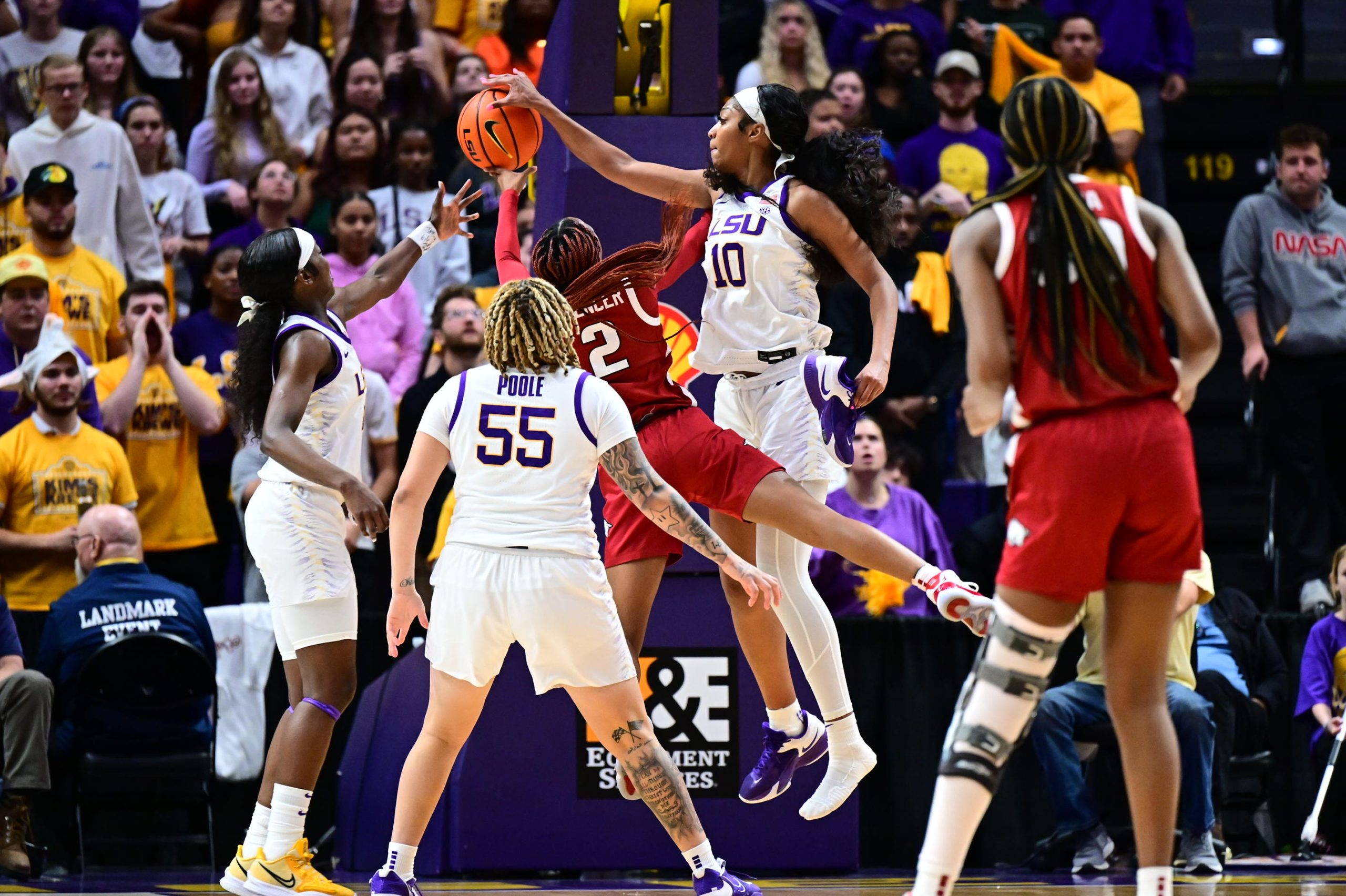 The team that hadn't been pushed all season passed its first true test.
No. 3 LSU rallied from a three-point deficit with more than five minutes to play, getting the go-ahead basket from Alexis Morris with 2:10 left and freshman Flau'jae Johnson made four straight free throws for a dramatic 79-76 victory Thursday over Arkansas before a crowd of 7,298 at the Pete Maravich Assembly Center.
The Tigers (19-0) remained in a three-way tie for the Southeastern Conference lead with No. 1 South Carolina and Tennessee.
"We need to grow up right here and I saw leadership in the timeouts," LSU coach Kim Mulkey said. "I saw and heard Alexis Morris say, 'We're OK. Just chill, we're going to be all right' and that's when we were down three. It was just a good basketball game."
Sophomore Angel Reese tied Sylvia Fowles' school record with her 19th consecutive double-double, scoring 20 of her game-high 30 points in the second half. She also topped the Tigers with 19 rebounds, 13 of which were offensive boards.
"Arkansas scouted us well," Reese said. "They played me well in the first half and then I came out in the second half and really dominated. We have four guards, so I posted up a lot. I did what was working and tried to rebound as best as I could and help my team win. We came out with the win. I'm really happy."
Reese was one of four players in double figures, followed by Johnson with 19, LaDazhia Williams with 11 points and 12 rebounds and Jasmine Carson 10. The Tigers shot 43% (29 of 67) from the field and 62.5% (15 of 24) from the free throw line.
LSU, which hadn't trailed in its last 188 minutes of play, found itself having to look up at Arkansas (17-4, 4-2) 72-69 with 5:35 remaining.
Morris, who didn't start because of a coach's decision, helped LSU regain the lead for good at 75-74 on a drive from the right side of the lane. The Tigers forced a shot clock violation and wound up limiting the Razorbacks without a field goal over the last three-plus minutes of play, including a 3-point miss from Erynn Barnum with 34 seconds left.
LSU held a 77-74 lead on a pair of free throws from Johnson when Arkansas closed to 77-76 with 6.8 seconds left on Samara Spencer's two free throws, a foul that disqualified Williams with her fifth foul.
The Tigers made it 79-76 with 4.9 seconds showing when Johnson made two more free throws and withstood Spencer's halfcourt heave that was well off the mark with a tenth of a second showing.
Arkansas, which shot 58.6 (17 of 29) in the second half and 43% (29 of 67) for the game, had four players in double digits with Barnum's 20 leading the way. Spencer had 13, Chrissy Carr 12 and Maryan Dauda 11. The Razorbacks made 35.7% (10 of 28) of their attempts from 3-point range.
LSU, which opened SEC play with a 69-45 win at Arkansas on Dec. 29, led 38-30 at halftime but never stretched its lead above 10 points the rest of the way.
With Arkansas spreading the floor and driving toward the goal, the Razorbacks scored 27 points in the third quarter. Barnum scored 11 points in the second half, including a three-point play that drew her team to within 57-55 with 1:30 left in the third quarter.
LSU held a 61-57 edge going into the fourth quarter after a free throw from Reese, who was 10 of 17 overall. The Tigers repeatedly held off the Razorbacks until Barnum tied the game at 66-all with 6:43 remaining and Daniels made a deep 3-pointer for her team's first lead at 72-69.
"You love a game like this," Mulkey said. "You grow in so many aspects of just the fact you won a close one. If we had lost the game, I'd be telling you the same thing. They made one or two more plays than we did to win it and that's what it basically boiled down to."
Arkansas ended the first half with consecutive layups in the last 44 seconds, slicing LSU's halftime lead to eight points.
LSU bolted to a 20-6 lead through the first five minutes of the first quarter with Williams scoring consecutive baskets.
Carson finally gave LSU its first basket in eight minutes on a 12-footer off an inbounds play to push her team's lead to 26-17 at the 6:56 mark in the second quarter.
The Tigers regained a double-digit lead (31-19) with 4:22 showing when Carson knocked down her second 3-pointer of the half and Last-Tear Poa added a 12-footer.
"We've got a special group in there," Mulkey said of her team, which travels Monday to Alabama. "They don't know how good they can be. I don't know how good they can be. But what I do know, they've got fight in them. They have ball in them. They say, 'Coach we're not going to give up, we're going to fight till the bitter end.'"