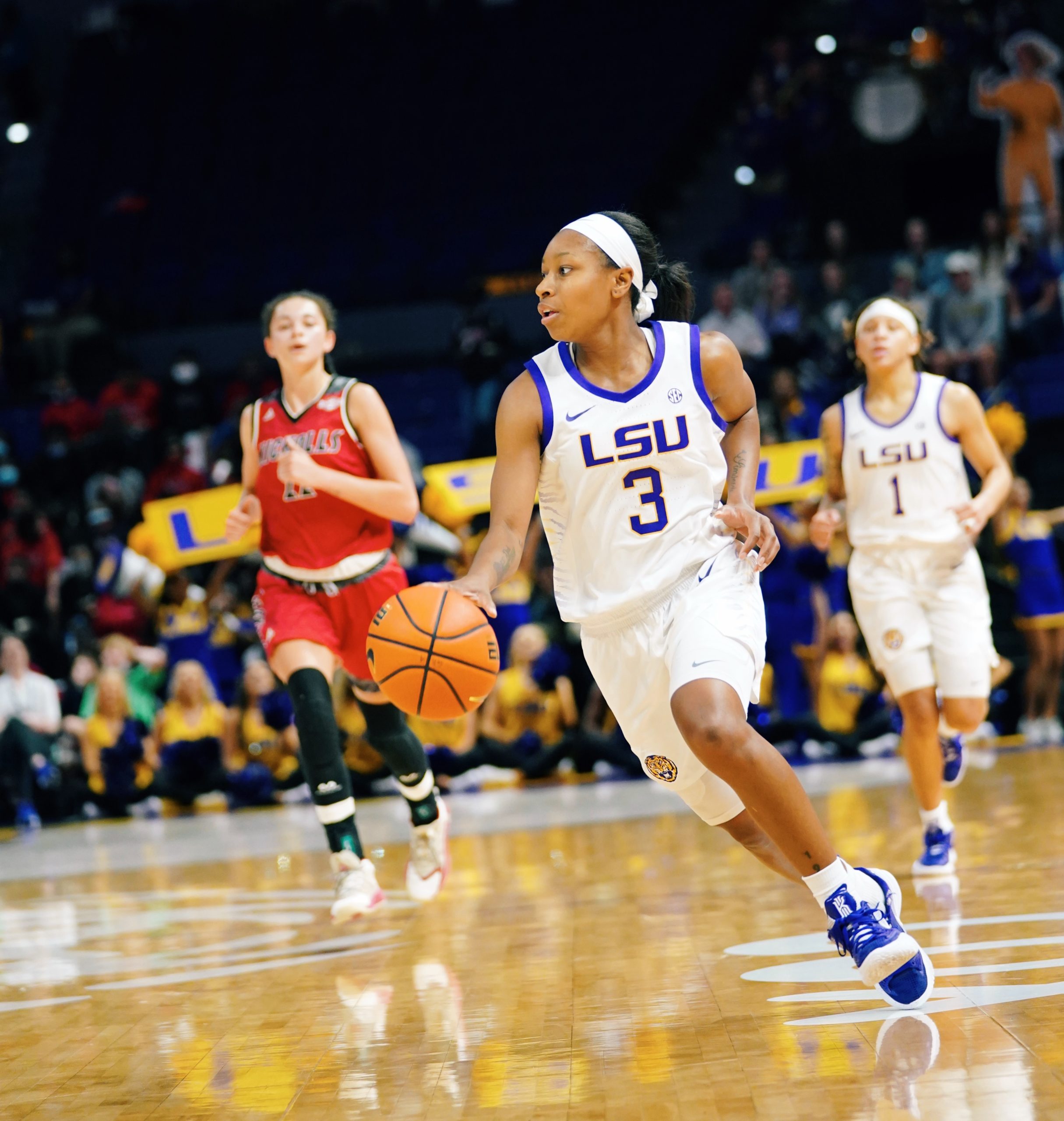 It was a scene that made new LSU women's head basketball coach Kim Mulkey smile.
LSU embarked on the Mulkey era with plenty of familiar faces – both present and past – in attendance at Tuesday's season opener witnessing a successful first step with an 82-40 victory Nicholls State before a crowd of 5,357 at the Pete Maravich Assembly Center.
"We had a lot of north Louisiana, Louisiana Tech people," said Mulkey, who coached the previous 21 years of her career at Baylor before returning to her Louisiana roots. "My family is here. It's wonderful they can share in it with me.
"I'd quit my job for my family., That's how important they are. If they weren't supportive of me making the move, I wouldn't have made it but they were absolutely supportive."
Mulkey's first game at LSU went according to plan after a slow start by her team, eventually catching fire in the second quarter and never looking back.
Senior All-SEC guard Khayla Pointer became the third player in LSU history and first since Katharine Graham in 2010 to record a triple-double with 16 points, 13 assists and 11 rebounds (tied for team-high honors with Autumn Newby).
"I think I found out somewhere in the third quarter," Pointer said. "We're out there having fun and I honestly didn't know. My teammates do a great job of making me look good. I don't get that triple-double without them."
Besides Porter, sophomore transfer center Hannah Gusters had a team-high 19 points followed by guards Jailin Cherry with 12 and Ryann Payne with 10.
Also, graduate student Faustine Aifuwa reached 1,000 points in her career with 4:44 left in the game, becoming the 35th player in the program's history to achieve the feat.
"It felt great," Aifuwa said. "Especially when my teammates were all trying to get me the ball, coach is trying to make plays for me to get the ball. It means a lot to me."
Nicholls was content to shoot from the perimeter instead of driving and contending with LSU's height and length inside the paint. The Colonels shot 26 percent from the field, were 4-of-14 from the 3-point range and committed 20 turnovers.
LSU built a 35-point lead (55-20) on a three-point play from Aifuwa after getting fouled in the deep post with 2:32 to go in the third quarter.
However, the Tigers didn't score again from the floor until the last 42 seconds when Gusters finished with a three-point play and Pointer cashed in on a transition opportunity for a 60-28 lead.
LSU stretched its leads to as many as 43 points at 79-36 with 3:32 remaining in the final quarter on Awa Trasi's two free throws.
By then, the Tigers had secured the individual milestones with Pointer grabbing her 10th rebound on an air ball at the 6:42 mark that led to a layup from Sarah Shematsi.
"I got to see history too," Mulkey said. "I've had triple-doubles in my career as a coach but here, the first game. I'm proud of her."
Two minutes later Aifuwa hit a short turnaround in the lane with 4:44 showing was her eighth of the game and 1,001st of her career, providing a 77-36 lead.
"These two make me look like a better coach," said Mulkey, sitting in between Pointer and Aifuwa.
LSU shot 61 percent in the second quarter to overcome a slow start and build a comfortable 39-10 halftime advantage.
Payne, who got the start, scored eight points during her team's 27-point second quarter explosion with the Tigers going on a 17-0 run over the last five minutes. She contributed a pair of 3-pointers during that stretch, Cherry added a pair of driving layups and Payne found Newby inside for another basket.
Nicholls kept the game close in the first six minutes of play while LSU made only three of nine field goal attempts. The Colonels trailed 8-5 with 3:45 left in the first quarter when Newby scored inside and Aifuwa scored on a putback for a 12-5 lead, an area they would go onto dominate with 42 points in the paint.
"We have posts that can score," Mulkey said. "We have posts that can face the bucket. We've just got to get them ball at the right time and we're getting better at that."
The 1-0 Tigers swing back into action LSU on Sunday at 12:30 in the PMAC against the Florida Gulf Coast Eagles. Florida Gulf Coast was ranked No. 28 in the Associated Press preseason poll.