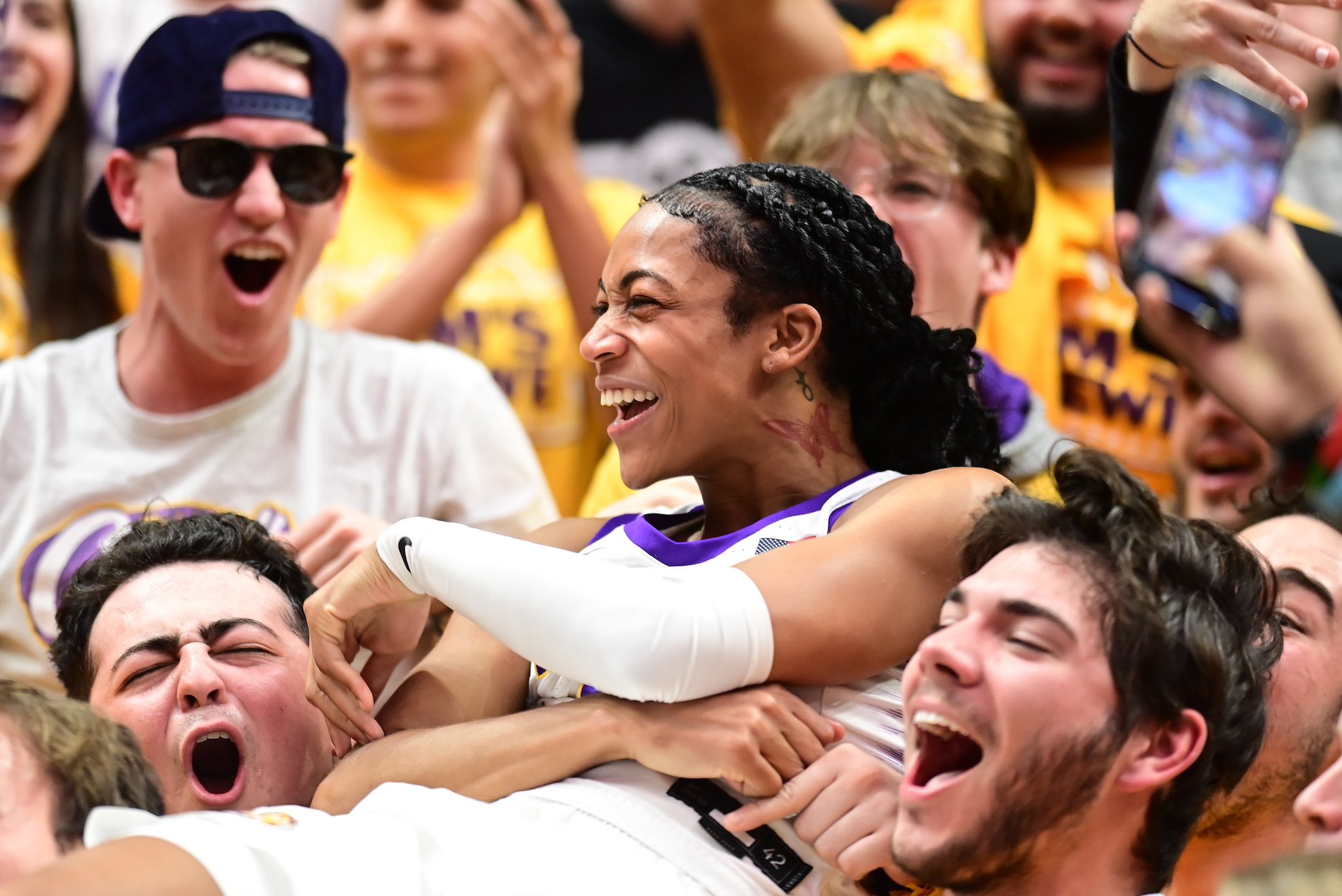 Four players scored in double figures and No. 3 LSU showed its mettle down the stretch to rally past Arkansas, 79-76, on Thursday to remain tied for Southeastern Conference lead.
But Arkansas coach Mike Neighbors gave a big assist to a Pete Maravich Assembly Center crowd of 7,298 for lifting the Tigers to a school-record 19-0 overall mark and 7-0 showing in league play.
"It was amazing. I don't know what they fed their students out there, but they were here early, and they were on us respectively," Neighbors said. "They didn't cross the line. They made a difference in the game. We're going to steal some ideas and try and get like that in Bud Walton. They were here early.
"Coach Mulkey has revitalized their fan base to where it really got loud in there tonight," Neighbors added. "We couldn't hear each other call ball screen coverages. We had to change our substitution policy. The crowd impacted the game. What was the final score, 79-76? I would tell you they were worth three points."
LSU's conference best average scoring margin of 26-plus points was challenged like no other game this season.
The Tigers hadn't trailed in their last 188 minutes of play until the Razorbacks broke a 66-all deadlock on Makayla Daniels' deep 3-pointer with 6:21 to play. They were able to maintain a three-point lead over the next three minutes on another 3-pointer from Daniels, her team's 10th of the game, and a drive from Samara Spencer that made it 74-71 with 3:21 left.
"We could have panicked when we were down three," LSU coach Kim Mulkey said. "They probably led each other better than I led them as a coach in certain situations tonight."
LSU recaptured the lead behind a layup from leading scorer Angel Reese and a drive from the right side of the lane from Alexis Morris, who did not start because of a coach's decision.
The Tigers' 75-74 lead was also the product of tighter defense that limited the Razorbacks, who shot 56% in the second half, without a field goal since Spencer's drive.
LSU forced a shot clock violation with 58 seconds to play and Reese also blocked a shot. The Razorbacks, who trailed 77-76 after Spencer's two free throws with 6.8 seconds to go, missed their last three shots of the game.
The Tigers were able to seal the win from the free throw line when freshman Flau'jae Johnson made four straight attempts in the last 16 seconds of play, the final two coming with 4.9 seconds showing and Spencer's halfcourt heave was off the mark with a tenth of a second left.
"I didn't feel nervous," Johnson said. "I shoot that shot every day. I make that shot every day. It was just like, do what you do. At that point I was like, I'm not going to let my team down. I want to be in these situations at the end of tight games. I've got to score so coach can keep me in these tight situations."
LSU's season sweep of Arkansas, which included a 69-45 road win Dec. 29, featured four players scoring in double figures.
Reese matched the school's record for consecutive double-doubles at 19 with former All-American Sylvia Fowles. The Maryland transfer scored 30 points for the fourth time this season, including 20 after halftime, to go with 19 rebounds – 13 of which were on the offensive end.
"This is something we really needed, something that we hadn't seen," Reese said of being able to win a contested game. "Especially at home, we couldn't do it without our crowd, the student section. All the fans came out for this 8 o'clock game which is something we really needed. I just tried to step up and be a leader, bring our team together. Some of our teammates hadn't been in a moment like this. Just tried to guide them, keep them calm, keep them poised."
Capped by her pressure-packed free throw shooting, Johnson scored 19 points to go with six rebounds. Missouri transfer LaDazhia Williams produced her first double-double of the season with 11 points and 12 rebounds and West Virginia transfer Jasmine Carson added 10.
For the second straight matchup with Arkansas, LSU held a decisive 51-26 margin on the boards led by Reese and Williams who combined to outrebound the Razorbacks.
Erynn Barnum was one of five players for Arkansas in double figures with a team-high 20.
"It was a good game," Mulkey said. "We dominated the boards which we did the first time we played them. Sometimes you leave and say, 'That's a good game'. It's a good game for women's basketball, good game for the SEC. Great student section tonight."
LSU surged early in the first quarter, leading 7-0 in the first minute of play, and again 20-6 in the first five minutes of the game. Johnson scored seven points, including a 3-pointer, and Williams added six in that stretch until the Tigers missed their last seven shots and saw their lead whittled to 22-16.
LSU's drought went on to include nine straight missed field goals until Carson made consecutive 3-pointers for a 29-17 lead. Last-Tear Poa, who started in place of Morris, increased her team's margin to 31-19 on a 12-foot jumper at the 4:22 mark.
Each time, though, LSU appeared prime to run away from Arkansas, the Razorbacks came back and trailed 38-30 at halftime on consecutive layups in the last 44 seconds of the second quarter.
It was a precursor to a second half in which the Tigers twice led by 10 points, but behind their torrid shooting from the field, the Razorbacks got to within 57-55 with 1:30 left in the third quarter and were only behind 61-57 going into a fourth quarter that had plenty of ebbs and flows.
"Nowhere in our notebook was our goal for us to go undefeated," Mulkey said. "I would have told you the same quotes if we would have lost by three. It was a good basketball game. We grew up tonight. If we would have lost, I would have said the same thing. It feels better when you win. That was enjoyable tonight."