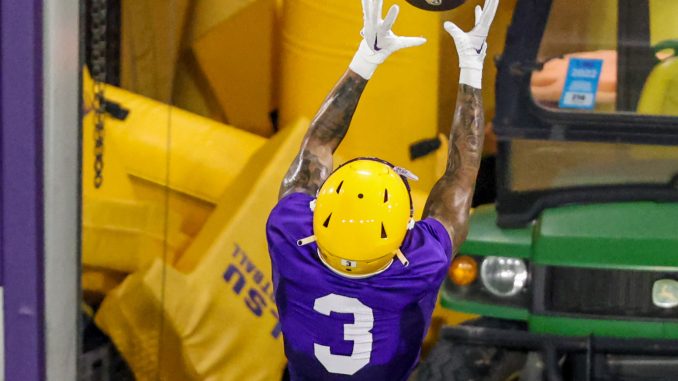 Donate to Greg Brooks Victory Fund HERE
The Brooks family, LSU Athletics, and Our Lady of the Lake Health announced today that Greg Brooks, a senior safety on the Tigers' football team, has been diagnosed with a rare form of brain cancer, medulloblastoma.
"For the last three weeks, Greg has been recovering from an extensive surgery to remove a brain tumor that was located between his cerebellum and brainstem," said Catherine O'Neal, MD, Chief Medical Officer at Our Lady of the Lake Health. "Greg's speech and ability to communicate has been impacted, and although he is responsive and working daily with physical therapy, he will face months of intensive rehabilitation. The surgery was successful in removing the tumor, and there is no evidence that the cancer has spread. As he begins rehab in the coming weeks, Greg's family and care team will determine a treatment plan in collaboration with nationally recognized specialists in this specific form of brain cancer. He has a long journey ahead and will need the full support of our community behind him as he faces this battle."
To help cover expenses resulting from his illness, The Tiger Athletic Foundation has launched The Greg Brooks Victory Fund.
Supporters can contribute to The Greg Brooks Victory Fund.
"Greg is a fighter and a winner, and we believe wholeheartedly that he will conquer this battle with cancer," stated LSU President William F. Tate IV. "Victories are rarely achieved alone, which is why we're calling on fans from around the world to rally behind The Greg Brooks Victory Fund. Your support will ensure that Greg and his family have everything they need as they embark on their journey to healing and recovery."
A fifth-year senior from Harvey, La., Brooks attended West Jefferson High School before earning three letters at the University of Arkansas. In 2022, he transferred to LSU, starting 13 games in the Tigers' secondary and helping propel the program to the SEC Championship Game and a win in the 2023 Citrus Bowl. This season, he was voted a team captain and started the Tigers' first two games of the season.
"Greg has been a daily inspiration to us all," the Brooks family said in a statement. "He fights like a Tiger each day and continues to make incremental improvements. We have a long road ahead and are appreciative of the support from our LSU family and Tiger fans. Greg has fans around the world and our phones have been ringing off the hook for the last several weeks with words of encouragement and support. Greg is a warrior! Please continue to keep No. 3, and our entire family, in your prayers."
Launched with support from Championship Health Partner Our Lady of the Lake Health, The Greg Brooks Victory Fund will be operated by TAF and will offset the costs related to Greg's care, including treatment, medicine, therapy, travel, and more.
Under NCAA rules, LSU is permitted to accept financial gifts and manage an account to assist Greg Brooks. Per NCAA rules, all contributions of any kind must go through this fund. All donors should be aware that financial contributions to this fund are not tax deductible and are not eligible for Priority Points.