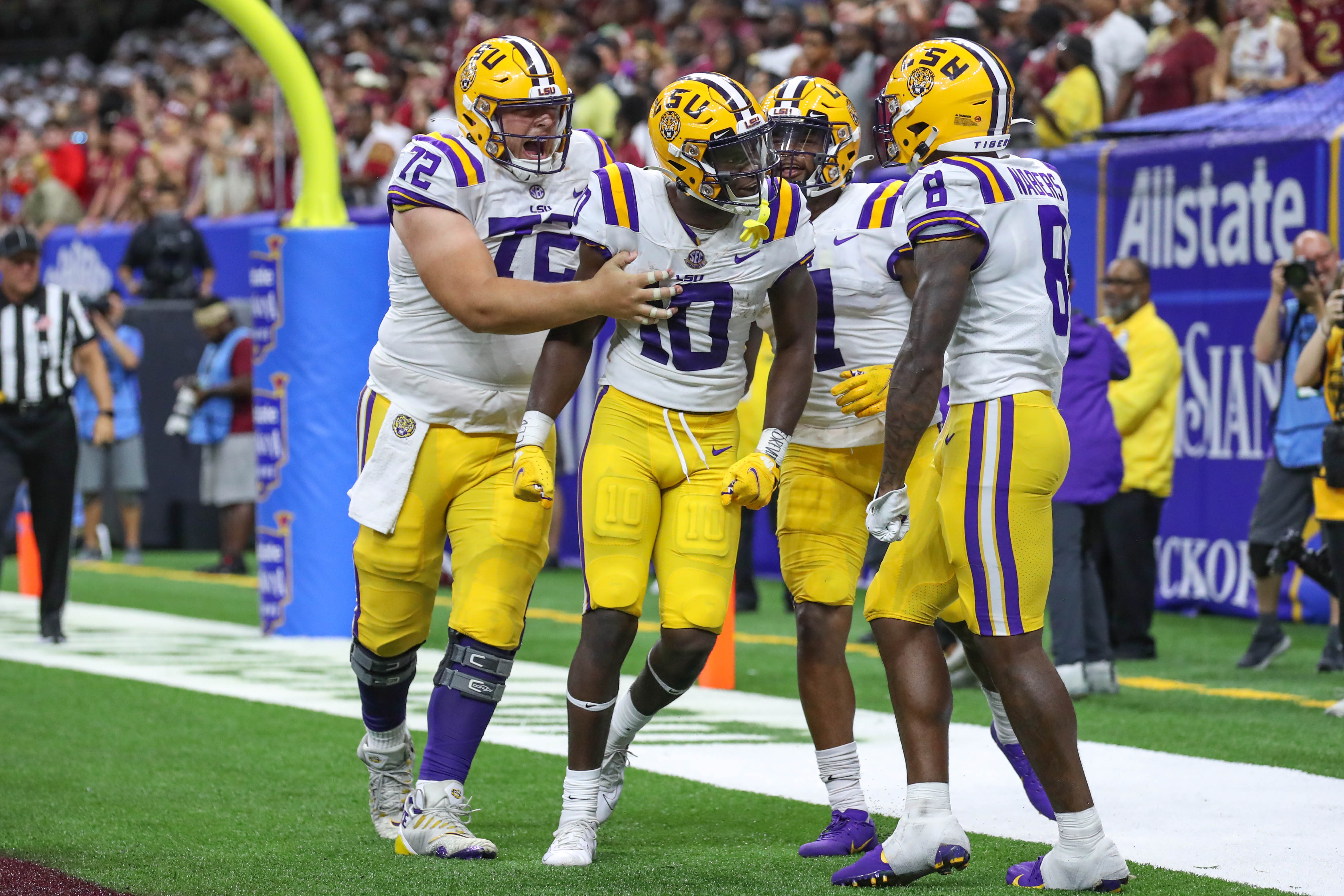 LSU wide receiver Jaray Jenkins doesn't sound fazed by last week's 40-13 home loss to then sixth-ranked Tennessee.
In fact, he appears to be the model for a college football player living in the moment.
"We're one team," Jenkins said. "We're going to stay together no matter what we go through. When adversity hits, what are we going to do next? We lost the game. We put it in the past. We're not worried it about it anymore. We're worried about this week, focusing on Florida. We take it one game at a time. If we do that, then I feel the outcome will speak for itself."
With its modest four-game winning streak snapped, LSU (4-2, 2-1 in SEC) looks to pick up the pieces from a week ago and construct a sturdier game for Florida (4-2, 1-2) in Saturday's 6 p.m. kickoff at Ben Hill Griffin Stadium.
The game will be televised by ESPN and broadcast locally by 98.1-FM.
LSU's in the midst of its toughest stretch of the season under first-year coach Brian Kelly.
The Tigers, who were ranked No. 25 at the time, lost their first marquee matchup of the season to the Volunteers. They follow that with a game at Florida and will entertain Top 10 programs at home in Ole Miss next week at 2:30 p.m. and Alabama on Nov. 5.
"We're going to have some more good days, and we're going to have some more bad days," Kelly said of his first-year rebuilding project at LSU. "This isn't the first time that I'm going to have to stand in front of you and we're going to have to answer a lot of questions about why we didn't we do this. That is all part of this. But, the fact of the matter, is we're in the middle of teaching guys new habits, a new way of thinking, a new way of doing things. They want to do it, but it's hard. But they're committed to doing it."
One thing LSU was used to doing prior to Kelly's arrival was defeating Florida.
The Tigers have won three straight games in their series with the Gators and can tie a series record with a fourth consecutive victory.
"We're looking to shake back," LSU defensive end Ali Gaye said. "We had a tough week last week, a tough loss. That's over with. That's behind us now. It's a new week. As a team we're trying to grow from that, trying to learn and get ready for this week. It's a big matchup. It's another opportunity for us to be who we say we are as a defense, as a team. I'm excited we get another opportunity this week."
Florida's another team with a first-year coach in Billy Napier that's experience bumpy moments this season.
The Gators opened with a 29-26 upset of then seventh-ranked Utah before dropping their first SEC game the following week, 26-16, at home to Kentucky. They lost a second league game at Tennessee 38-33 when quarterback Anthony Richardson who passed for 453 yards and two touchdowns.
"There's a lot of days waking up and thinking I'm glad we're 4-2," Napier said. "But you also think about the potential – we're a capable team. We've been in the fight ever single week. We have a very capable group There's no easy outs in this league. We've got a tough slate ahead of us."
Richardson has passed for 1,182 yards but has thrown seven interceptions to go with five touchdowns. He's also a dual threat option, having added 286 yards and 5 TDs on the ground.
The Gators, whose offensive line is tied for fifth nationally with the fewest (4) sacks allowed, are seventh in the SEC in total offense (435.3) and ninth in scoring (30.8). UL-Lafayette transfer and New Orleans native Montrell Johnson is the leading rusher (46-368, 8.0 yards per carry, 5 TDs) for a team that ranks fourth in the SEC (213 per game) and 19th nationally.
"They're a good running team," Gaye said. "We've got to kill the engine and stop the run. It's a big challenge. Last week we gave up a lot of yards (502). It's a new opportunity for us to showcase that we are who we say we are. As a defense we've got to stop those backs."
If there's one area LSU appears to have a distinct advantage it would be on offense.
Florida ranks 11th or below in four major defensive categories in the SEC, including 12th in total defense (412.8), 13th in rushing defense (186), 12th in scoring defense (25.3) and 11th in passing defense (226).
LSU quarterback Jayden Daniels will start behind an offensive line which will have its sixth different starting group of the season. The Arizona State transfer completed 32 of 45 passes for 300 yards against Tennessee but his streak of 175 passes thrown without an interception, the second longest in school history, came to end late in the fourth quarter last week.
He's completed 68.8% of his passes (121 of 176) for 1,215 yards and 7 TDs to go with a team-high 359 yards on the ground and 3 scores.
"The line is long for those that want to win," Kelly said. "The line is usually shorter for the line that says are you willing to do the things necessary to win. That line is always a little shorter. We just have to make sure that our guys are going to continue to do the little things necessary to win, and that's all.
"We want them to have emotions. They should be angry. They should be upset, but we have to redirect those emotions into caring about winning," Kelly added. "We're just six weeks into the season. This process is a process. I know that's going to be a terrible quote for everybody, but that's the reality of it. I'm OK with that, and we'll continue to work on getting to where we need to get to."