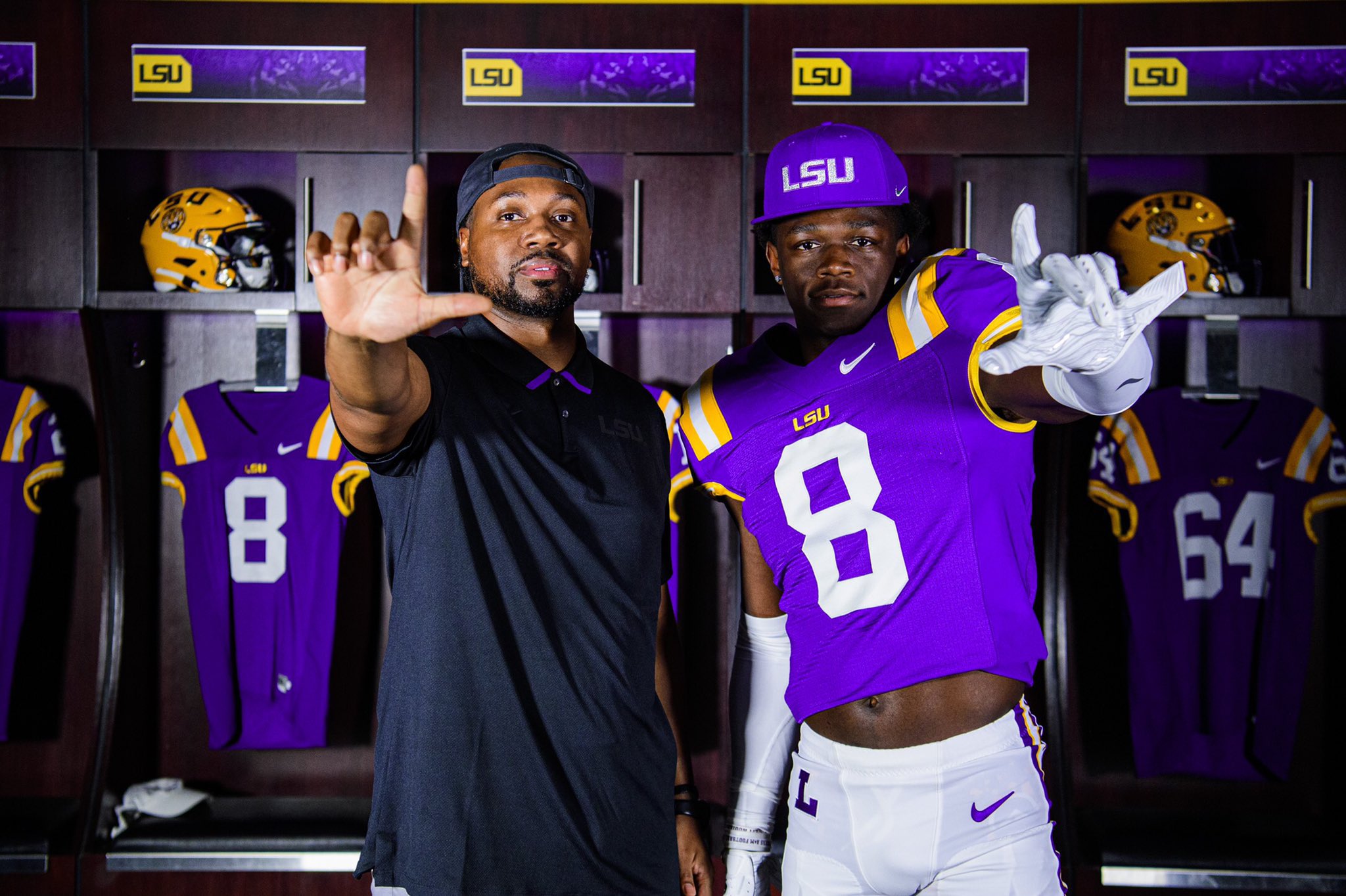 Less than a week before the start of the NCAA's early signing period LSU's Class of 2023 gained a full head of steam.
The Tigers picked up one of the top defensive backs in the country Thursday, securing a commitment from five-star safety Javien Toviano of Martin High in Arlington, Texas. He also has the versatility to play cornerback in college.
"Coach (Brian) Kelly, his first year was remarkable," Toviano told Rivals.com. "He had a team full of transfers and portal players pretty much and making a title run in the SEC. The culture just completely switched as soon as he got in that building. People that believed in him are reaping the benefits from it."
The addition of the 6-foot-2, 185-pound Toviano, the nation's fifth-best safety per On3Sports, pushed LSU's commitment total to 25. The Tigers have a total of five safeties committed in their current class with No. 11 Kylin Jackson of Zachary, No. 16 Ryan Yaites of Denton, Texas, No. 42 Michael Daugherty of Loganville, Georgia and No. 62 Ashton Stamps of Archbishop Rummel in Metairie.
"LSU was a school that came on as of late," Toviano said before making his choice. "It showed me I was a priority for the past six to eight months. I've been there a lot. I know a lot of you probably think that's where I'm going.
"The priority that they've made me really stood out to me," he continued. "It made me feel like I'll be the next DBU alumni to attend."
Toviano, who will sign next Wednesday and enroll early at LSU, made his announcement during a news conference. He stood wearing an all-black track suit, then reached into a bag to reveal a purple LSU hat and unzipped his jacket to show a black LSU t-shirt. His family members were also all wearing LSU shirts following his declaration.
LSU also stacked a fourth five-star prospect to its class, according to On3Sports, to boost the consensus top five-rated group to as high as No. 3 per 247Sports. The Tigers also have pledges from five-star players in offensive tackle Zalance Heard of Neville, wide receiver Shelton Sampson Jr. of Catholic High-Baton Rouge and defensive edge rusher Dashawn Womack of Baltimore, Maryland.
Toviano is rated as high as No. 25 overall nationally by Rivals.com and No. 3 in Texas.
With cornerbacks coach Robert Steeples leading the charge, LSU picked up a commitment from Toviano over Texas A&M, Texas and Michigan. He made his official visit to Baton Rouge Sept. 9 and hosted LSU coach Brian Kelly and Steeples for an in-home visit on Dec. 7.
"Their approach was out of the blue," Toviano told On3Sports. "They worked the hardest getting me on campus. There were a lot of places I planned on getting to that didn't work out, but somehow, it was LSU always getting me on those visits.
"Persistence was the key to recruiting me," Toviano added. "All of the schools did a good job of being persistent, but LSU was unwavering."
With a 77-inch reach, athleticism and instincts, Toviano is considered one of the top safeties and helped Martin to a 10-2 record and second-round appearance in the state playoffs against Lewisville this season. He was credited with 38 tackles, two interceptions, two forced fumbles and three pass break-ups. He also carried 41 times for 415 yards with eight touchdowns on offense.
Toviano had 105 tackles during his three-year career, three interceptions, five forced fumbles and 17 pass break-ups.
He's one of six LSU commitments scheduled to play in the Jan. 3 Under Armour All-American Game – the day after the Tigers' face Purdue in the Citrus Bowl in Orlando at Camping World Stadium. The other players invited to play in the game are cornerback Daylen Austin of Long Beach, California, Yaites, Heard, Sampson and Womack.