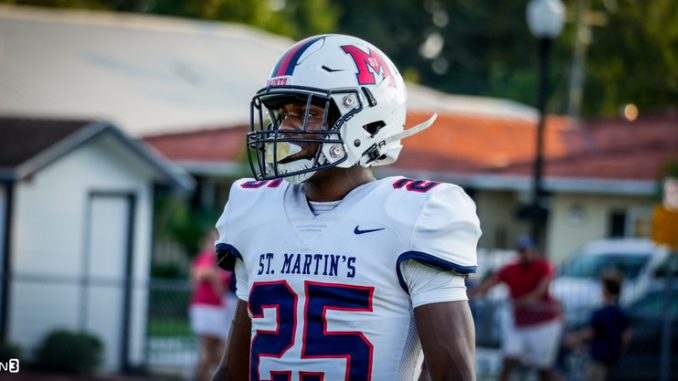 For the second straight season St. Martin's Episcopal in Metairie received an opening-round bye in this year's Division IV select state playoffs
A good reason why St. Martin's is back in such a favorable position has the been the standout play of junior running back Harlem Berry.
"He's brilliant," St. Martin's football coach Marcus Dizer told On3 Sports. "We do not win games without him."
With 4,000 rushing yards to his credit the past two seasons it's easy to understand why the speedy 5-foot-11, 180-pound Berry is considered the nation's No. 1 running back according to both On3 and ESPN.
Now he's ready to tell the world where he's headed to college.
Berry has set a commitment date of Dec. 18 and will decide between LSU, Texas and Florida with the Tigers being the prohibitive favorite per several recruiting web sites.
Running backs coach and New Orleans native Frank Wilson is serving as his primary recruiter for the Tigers' staff.
"In all my years, I have never coached or seen a better player than Harlem," Dizer said.
St. Martin's (8-1) enters the start of state playoffs at home against Covenant Christian at 7 p.m. Friday.
Berry's the composite No. 17 overall player in the country, earning four-star status and Louisiana's No. 1 player ranking in his class. He's ranked No. 8 overall by On3.
He put together 4,723 all-purpose yards and 67 touchdowns in 2022, leading St. Martin's to an 11-2 record and trip to the Division IV state semifinalist against Vermilion Catholic. He rushed 193 times for 2,237 yards (11.6 yards per carry) and 37 touchdowns.
This season, Berry has averaged 13.6 yards per carry, with 129 carries for 1,763 yards (eight best in the state) and 33 TDs.
The 4.3 sprinter captured both the Class 1A 100 and 200-meter dashes last season with times of 10.57 and 21.43, respectively, at LSU.