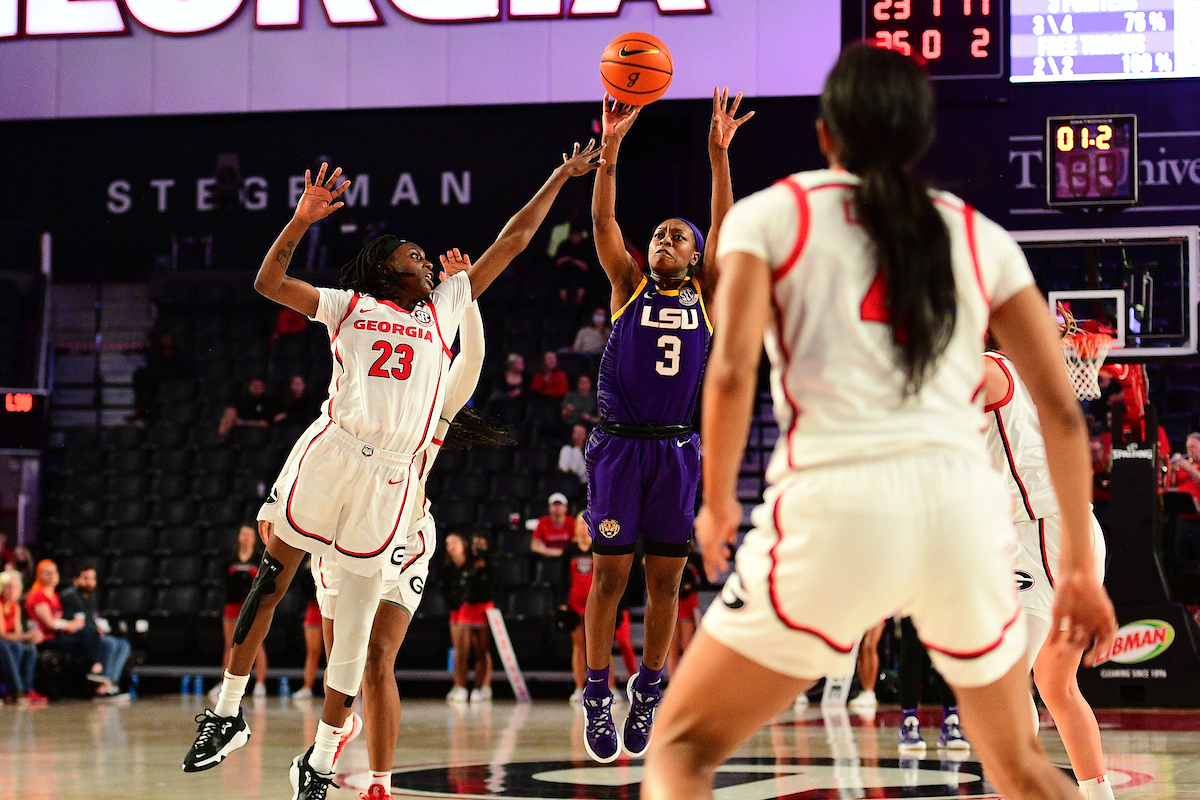 The first Southeastern Conference game for LSU women's basketball coach Kim Mulkey won't be one she'll soon forget.
Tasked with relying on a six-player rotation the No. 19 Tigers fought off a determined effort from No. 13 Georgia and graduate student Khayla Pointer made a pair of key 3-pointers in the last two minutes of play to help the Tigers to a 68-62 victory Thursday in the league opener for both teams at Stegeman Coliseum.
"I told the kids in the locker room it was emotional," said Mulkey, who was inducted into the Naismith Hall of Fame this summer. "I told them that was as fine and as good a win as I've had as a coach. It's the first SEC win, but it's not about me. It's their first SEC with a new coach, a change in philosophy, a change in staff and we're shorthanded without Ryann Payne."
Pointer, one of three Georgia natives, delivered in the clutch and had a team-high 21 points, but more importantly impressed her coach.
"Big time players make big time plays," Mulkey said of Pointer's last three minutes of the game. "Let's go through that stretch where we're losing the lead and the crowd's into it. She turns it over. She misses two free throws. She gets a shot blocked with three minutes ago and the game's on the line. What does she do? She comes right back and basically wins the game for you when she hits a big time three. So great players have to have a short memory. They can't be afraid to fail."
LSU (13-1), which extended its win streak to 13 games, picked up its second win over a ranked team this season. The Tigers return home to host No. 21 Texas A&M at 2 p.m. Sunday.
Without Payne and Awa Trasi who is coming back from COVID-19 protocols, Mulkey watched Pointer, Jailyn Cherry and Alexis Morris play the entire game and center Faustine Aifuwa log 37 minutes.
The Tigers, which once held a 14-point lead in the third quarter, were running on fumes in the fourth quarter and found themselves chasing the red-hot Bulldogs late when Pointer stepped to the forefront.
Pointer, who made all four of LSU's 3-pointers, put the Tigers up 62-60 with a 3-pointer with 2:17 to play and with the game tied at 62-all, the Marietta, Ga. native hit the go-ahead shot – another trifecta – with 1:01 remaining. She also dished out her 500th career assist, becoming the fourth player in school history to accomplish the feat.
Aifuwa, a native of Dacula, Ga., added 17 points and nine rebounds, while Autumn Newby, a native of Lawrenceville, Ga., added nine points and a team-high 10 rebounds – a trio that accounted for 47 of the team's points. Jailyn Cherry also added 10 points.
Georgia's graduate student guard Que Morrison scored a game-high 26 points, trying to take up the slack for the Bulldogs who were without leading scorer Jenna Staiti because of COVID-19 protocols. The Bulldogs, with one of the nation's top defensive teams that allowed 51.4 points, had a four-game win streak snapped.
Georgia carried the momentum from the final six minutes of the third quarter into the final quarter where the Bulldogs took their first lead of the game on a 3-pointer from Sarah Ashlee Barker with 6:56 showing.
That set off a tantalizing stretch of play from both teams, trading the lead seven times over the next six minutes until Pointer's heroics.
Morrison had tied the game at 62-all a minute earlier when Pointer, from the left wing, let go of a 3-point attempt with one second on the shot clock for the go-ahead basket – setting off a 6-0 run over the remainder of the game.
The Tigers added three free throws in the last 10.9 seconds, two from Morris and one from Hannah Gusters.
"I just was so proud of them," Mulkey said. "We pretty much handled the whole game until they went to their little 3-2 zone. They don't play much zone at all. I viewed that a show of respect. Obviously, they think they can't guard you in man, so they go to a zone, and it worked and got them back in the game. We took good shots, (we're) just fatigued and couldn't make them. We had a couple of turnovers there. When they went to the zone that allows you to run and we gave up the lead and the crowd got into it, but we weathered it."
LSU started the third quarter on an 8-0 run for its biggest lead (47-33) when Morris converted a steal into a layup at the 7:18 mark.
Georgia put together its best minutes of the game, taking advantage of a tiring LSU lineup that permitted a 16-3 run over the next six minutes and reduced the Tigers' advantage to three points (52-49) on Jayvn Nicholson's layup.
Pointer's final act of the first half proved impactful, scoring the last six points for a 41-33 halftime lead.
Pointer gathered a loose ball under the basket and completed a three-point play with 23.9 seconds left. Gusters then rebounded a missed shot, found Pointer who worked her way through traffic and banked in a 3-pointer at the buzzer from the top of the key.
LSU made six of its first eight shots, making six of its first eight shots, for a 13-5 lead midway through the opening quarter.
Morrison single-handedly kept Georgia in the game, scoring 11 of her team's 17 points in the first quarter. She exceeded her season's average (12.7) 12 minutes into the game with a pair of free throws and wound up with 17 points, drawing the Bulldogs to within a point (26-25) of the Tigers, but she did not take another shot or score again over the remaining six minutes of the quarter.
LSU held a 32-31 lead after Barker's 3-pointer with 2:27 left when the Tigers finished the last 1:41 on a 9-2 run which Aifuwa ignited with inside a basket.
"We're capable of beating anybody in the league," Mulkey said. "But we're also capable of being beat by anybody in the league. Take it one game at a time. That's the oldest adage. Good win for us. I'm so proud of those kids."