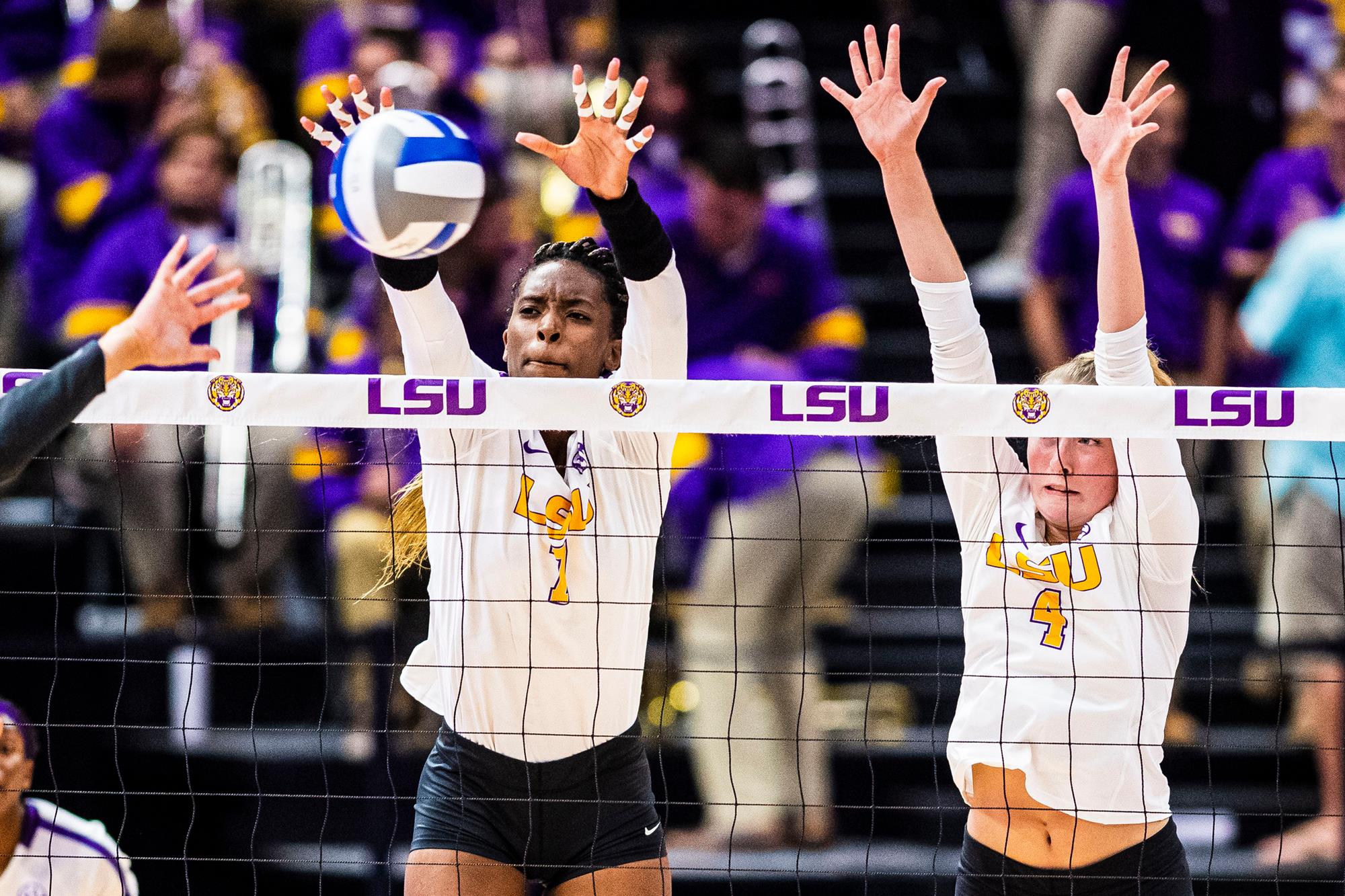 Senior Taylor Bannister led a parade of four players from LSU selected to the 2021 All-Louisiana volleyball team that was released Thursday by the Louisiana Sports Writers Association.
Bannister was named the state's Player of the Year for the third time in her career, Raigen Cianciulli Libero of the Year and Kylie DeBerg Newcomer of the Year. All three were also selected to the squad's first team and freshman Ella Larkin was an honorable mention selection.
Bannister is now a five-time All-Louisiana selection and collected her third postseason award this year after being named to the AVCA South All-Region Team and All-SEC Team. The program's leader in career kills (1,902) finished the season with 3.12 kills per set, 262 total kills, and a .239 hitting percentage, while also tallying 25 aces and 63 total blocks.
Cianciulli, a two-time All-Louisiana Second team choice, became the SEC's all-time leader in career digs with 2,260 after tallying a conference-high 498 digs this season which also earned her honorable mention on the AVCA South team. The Spring, Texas native averaged 4.57 digs per set, ranking No. 2 in the SEC. She compiled 11 matches with 20 or more digs, including a five-match streak that was capped by a 34-dig performance at Mississippi State (Oct. 2).
DeBerg, a transfer from Missouri, became the third player in program history to be named the LSWA's Newcomer of the Year and the first since Sam Dabbs in 2008. She led LSU this season with 397 total kills, 3.71 kills per set, and 39 total aces. This was also DeBerg's third postseason award after being selected to the AVCA South All-Region team and All-SEC team.
Larkin was named to the SEC All-Freshman team, finishing the season ranked No. 7 in the SEC with 8.35 assists per set overall and 9.11 assists per set in SEC matches only. She also contributed 2.79 digs per set (301 total), 60 blocks, 46 kills and 23 aces to her season totals.
2021 LSWA All-Louisiana Women's College Volleyball Team
Player of the Year: Taylor Bannister, LSU
Libero of the Year: Raigen Cianciulli, LSU
Newcomer of the Year: Kylie DeBerg, LSU
Freshman of the Year: Cicily Hidalgo, Southeastern Louisiana
Coach of the Year: Jesse Zabal, Loyola
First Team
RS – Taylor Bannister, LSU
OH – Kelsey Bennett, Louisiana
OH – Kylie DeBerg, LSU
OH – Lexie Douglas, Tulane
OH – Cicily Hidalgo, Southeastern Louisiana
OH – Simone Tyson, Loyola
Libero – Raigen Cianciulli, LSU
Second Team
OH – Cali Assaley, UL-Monroe
MB/OH – Demari Drake, Dillard
OH – Emily Gauthreaux, Nicholls
OH – Coco Gillett, UL-Lafayette
OH – Aryn Johnson, McNeese
OH – Symone Wesley, Northwestern State
Libero – McKenzie Johnson, Louisiana Tech
Honorable Mention
S – Siena DeCambra, Louisiana; S – Taylor Henigsman, Tulane; S – Ella Larkin, LSU; MB – Vivica Price-Spraggins, Xavier. Libero –Haley Hoang, Northwestern State; Simone Moreau, Loyola.