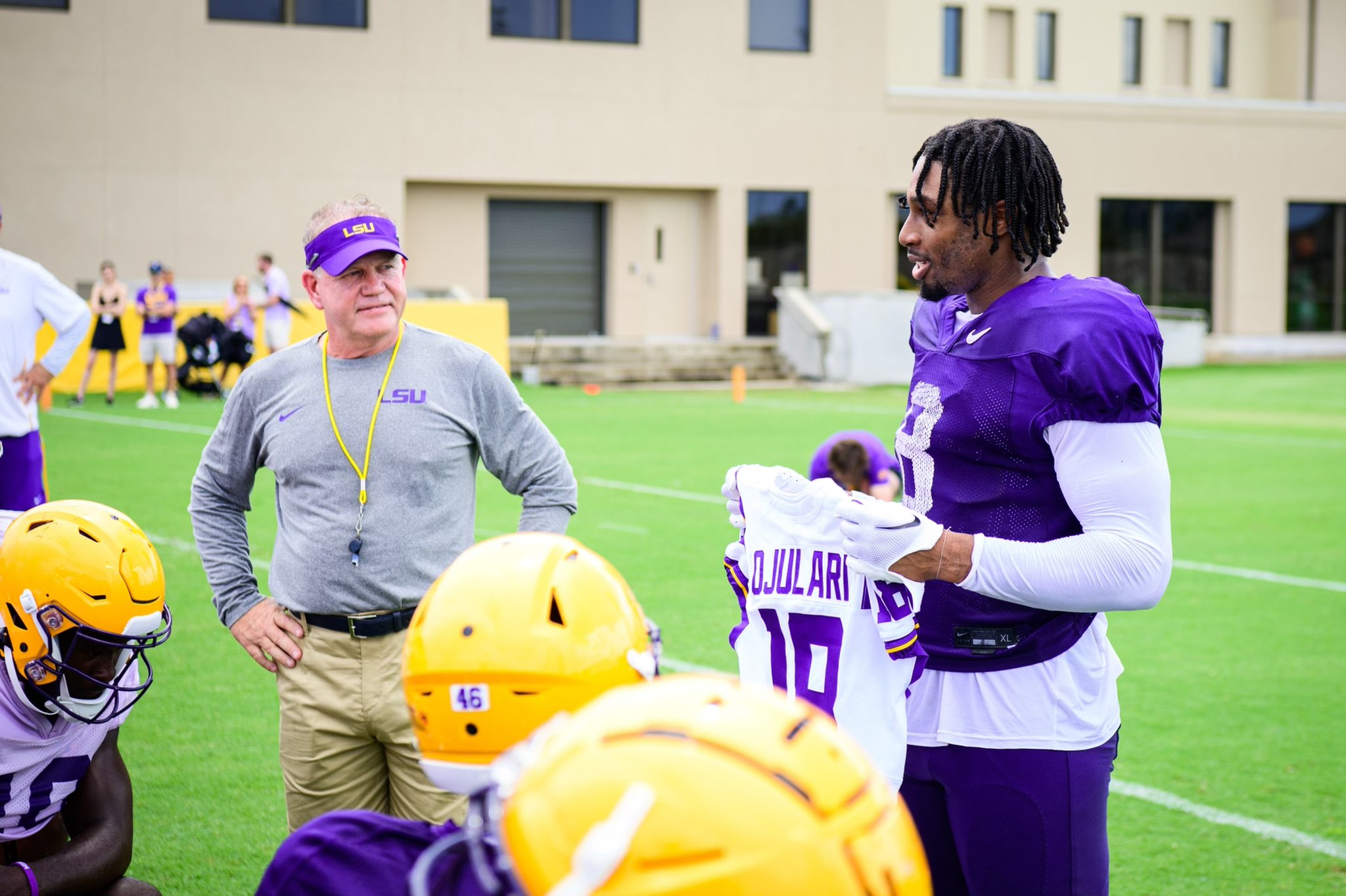 With the anticipation that true freshman Will Campbell will move back to his starting spot at left offensive tackle for Saturday's road game against Florida, first-year coach Brian Kelly filled in the rest of the pieces along the rest of the line.
Kelly, speaking after Thursday's practice, said that Miles Frazier and Anthony Bradford would "most likely" start at the team's left and right guard spots, respectively, when the Tigers (4-2, 2-1 in SEC) meet the Gators (4-2, 1-2) at 6 p.m. at Ben Hill Griffin Stadium.
ESPN will televise the game and 98.1-FM will broadcast in the Baton Rouge area.
"That seems to be the best combination for us right now," Kelly said.
Whatever the combination, it will mark LSU's sixth different offensive line group this season that will also include Charles Turner at center and Emery Jones Jr. at right tackle.

Kelly also updated the status of several other injured players with all of them except linebacker West Weeks out of action this week.
Safety Major Burns has continued to work himself back into a playing role from an upper neck injury and remains on course to play in the Nov. 5 home game with Alabama, Kelly said.
"He's been on our scout team and done a nice job," Kelly said.
Kelly said that running back Armoni Goodwin, who has missed the past two games with a hamstring injury, may be ahead of schedule and return to next Saturday's 2:30 p.m. home game against Ole Miss. Ohio State cornerback transfer Sevyn Banks suffered a bruised spinal cord against Auburn and has undergone "normal protocol and procedures" in his quest to return to action.
"He's in the training room," Kelly said of Banks. "He's begging to travel. He's anxious to get back and do the things necessary, but he's a way away. He's where Major was after the first week."

Here's what else Kelly had to say:
Any similarities between Florida's run game and post opponents?
"I think there's some similarities to Florida State. They have really good backs, the quarterback's certainly someone you know. He has a lot of the traits that (Hendon) Hooker has from Tennessee. But it's a really good offensive line. It'll be probably our biggest challenge in terms of a team that runs the ball really well. On the road in the SEC, you get new challenges. A spread offense (Tennessee) that we really struggled with, and we'll have to do a great job now against another SEC opponent that that runs the ball very well. That's what we've been working on all week."

Any interaction with Florida coach Billy Napier?
"I haven't. He did a great job at Louisiana. I know the climb, Grand Valley State, Central Michigan, Cincinnati. You have to do so much more with less and he did a great job and put a consistent winner out there. You have to be creative. You have to be willing to take chances. You've got to put together a great staff. You have to build great relationships and he's done all those things. He's at this level because he's earned it, he didn't do it because he got lucky. And he'll do great at Florida. He's a great hire for Florida. I've got a lot of respect for what he did. We both have the same challenges. We're rebuilding our rosters; we've run into each other in recruiting as we're trying to build up the depth on our teams. You can see that we're out there in the recruiting world. So that's probably where we'll see each other a lot over the next few years."
On Joe Foucha's role this week?
"It was really the system of offense that we were going against. He's much more of a downhill, close to the box safety. Jarrick (Bernard-Converse) is much more in space, cover safety and we just felt more comfortable with him in the game plan. Joe is going to be asked to do a lot this week, so you'll see a lot of them in the game plan this weekend."

Evaluation of passing game thus far?
"I think the passing game has been up and down. I think that you just need to look at the statistics. At Auburn, we were less than 100 yards passing (85). This past weekend, we were you know what, 250-275. I think we got to 300, but that was late in the game where they were playing prevent to keep ball from going in the end zone. I think it took some strides forward, but I would call it inconsistent at this time and it needs to be much more consistent. That's why we're 4-2. We need more consistency in the passing game. And I think we've taken some steps forward. We're better than we were at the start of the year, but we still have some room to grow."

Besides wins, what are you looking for to gauge progress in program?
"I think it's a little bit of everything. It's how they handle their responsibilities away from football … The classroom. We've got a lot of work to do in the classroom. The attention to detail when it comes to just the day-to-day habits that we're trying to build with our football team. Those are transformational. You take those with you to the practice field. Your alignment is right, your assignment is right. All of those things go to execution and trusting that you're going to do it the right way. Everything from what you ate late at night when no one's watching you, to what time you go to bed. To the people you hang around with. All those things are part of a process of making choices and making good choices that are championship habits and championship teams have those habits. Look, they have choices. They can choose to be average, or they can choose to be excellent and elite. To be elite, to be excellent you got to do hard things. You've got to go to bed early. You've got to turn your cell phone off. That's kind of what I'm talking about more so than you know how they ran the route or what play it was called."

On players-only meeting addressing special teams needs?
"I think that their conversations were more about commitment and effort. Special teams is an effort play. Everybody's focusing on that one play. You know when there's a special teams play, all eyes are on you. I think just the realization and the recognition that we need more effort, we need guys playing at a higher level on those particular plays. And the guys that are asked to be on those teams are front line guys and we've got to get them playing at a higher level."